Issey Miyake doesn't consider himself solely as a fashion designer. True enough, Miyake's work encompasses various fields of design. His contributions to design don't come from his concepts and ideas alone, but also in his innovative use of textiles and materials.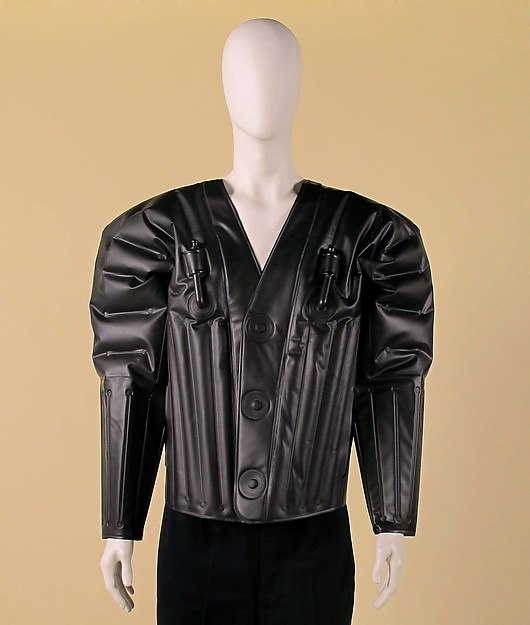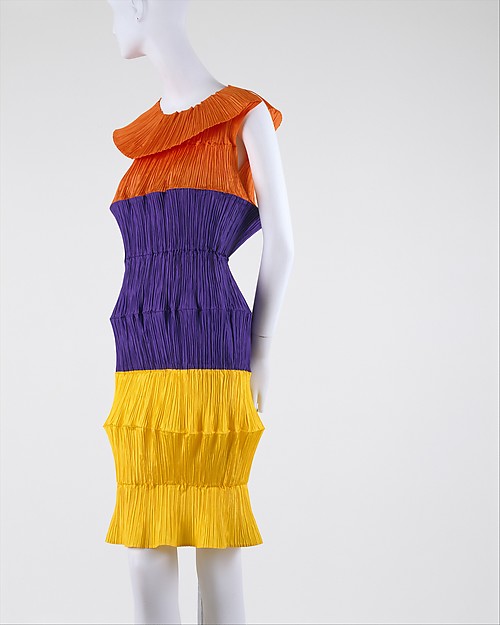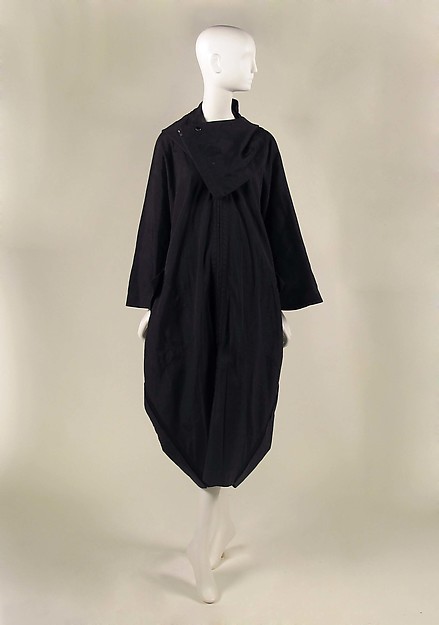 Miyake's design philosophy lies in the principle of a "'Piece of Cloth,' a concept which explores not only the relationship between the body and clothing, but also the space that is born between them." He constantly experimented on the way the clothes moved in relation to the human body. The silhouettes of his clothing can often shape the wearer or be shaped by the wearer. Some pieces have drapey silhouettes with fluid fabrics that bounce, crease, or stretch depending on the wearer, making each piece look different on various body types; some take on the shapes of cocoons or thorns  (among other things), and can be further manipulated depending on how the wearer fancies it to look. The fluidity and freedom he gives to his clothing makes them unique because it requires a collaboration with the imagination of the wearer to further highlight Miyake's creativity.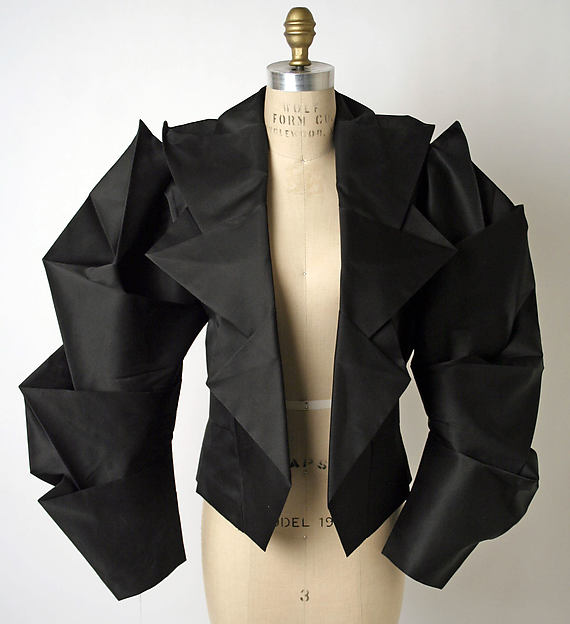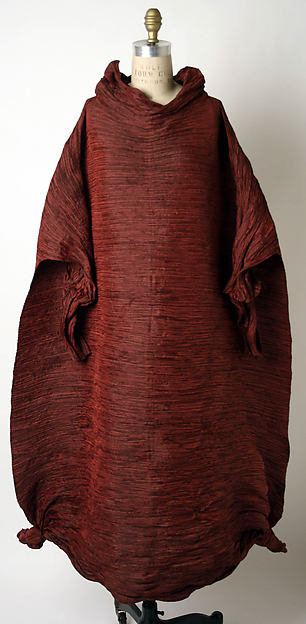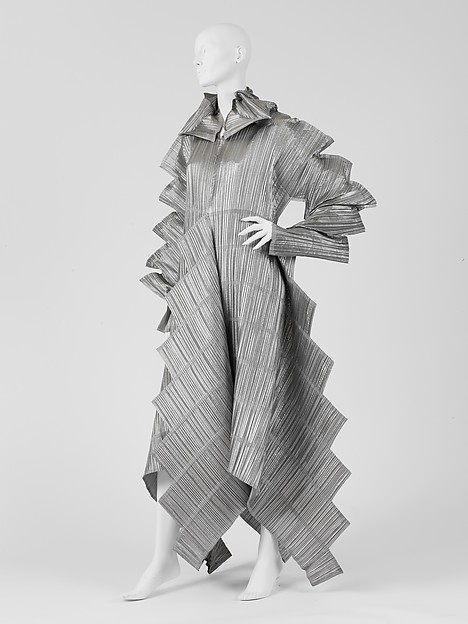 Miyake was known for experimenting with various types of materials including silk, rattan, cotton, paper, wool, and polyester for his clothing. He used cutting edge technology to playfully shape, pleat, and crease these unconventional materials. His most famous innovation was the pleated polyester fabric, which he and his team mastered in 1988 and patented in 1993.  The popularity behind this product branched into a separate line altogether, Pleats Please Issey Miyake.
The clothes are created first, then they are layered between paper and heated, creating pleats on the fabric. This technique is done so masterfully that it never flattens, crumples, or becomes deformed, making it incredibly easy to store and care for.
Another groundbreaking innovation was the A-POC manufacturing method which uses "computer technology to create clothing from a single piece of thread in a single process," resulting in a piece of clothing consisting of one fabric with no seams.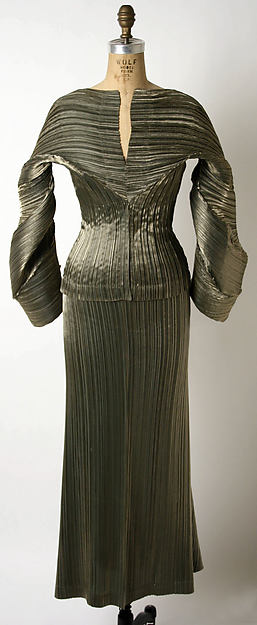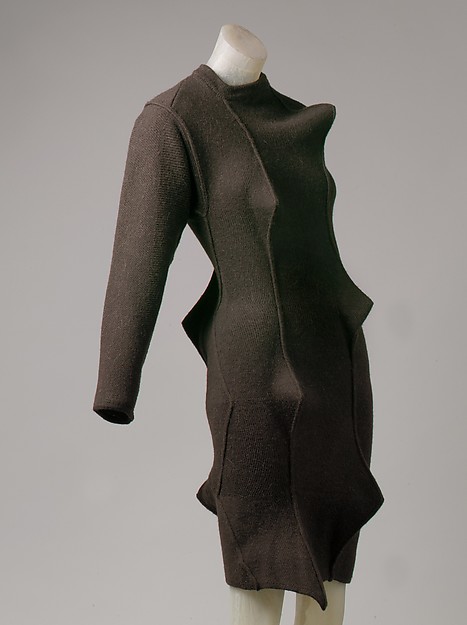 Miyake and Iittala
Two of Miyake's forays into homeware design were his collaborations with Finnish homeware brand Iittala and Italian lighting design brand Artemide.
Miyake's collaboration with Iittala includes tableware such as placemats, plates, and table napkins, but also includes glass vases, tote bags, and pillowcases. All of them have a distinct Issey Miyake look, with geometric patterns and pleats dominating the collection. The color palette was inspired by the "colors of nature" and consists mostly of neutrals but also has a muted pink shade and a rich green shade to add some life into the collection; the two hues they chose are also very versatile and complementary to the rest of the pieces. The design theme is "blossom," probably referring to the white and pink sakura of Japan.
Both Nordic and Japanese design have similar principles such as minimalism and timelessness, which is why I think this collaboration became so successful.
Miyake and Artemide
The collaboration with Artemide was just as incredible, featuring origami-like lamps made out of recycled polyester fabric that can be flattened for safekeeping and unfurled to showcase the structure of the lamp. Because of its unique shape, light does not transmit outwards the same way it does in a conventional lamp. According to Miyake's website, they were inspired by the Japanese philosophy regarding the relationship between the light and shadow. They used a quote from Jun'ichirō Tanizaki's essay In Praise of Shadows:
We find beauty not in the thing itself, but in the patterns of shadows, the light and the darkness, that one thing against another creates.
Issey Miyake Today
Nowadays, Miyake no longer designs the clothes but he still plays a big role in the creative processes in his company. The current creative director of the main Issey Miyake line is Yoshiyuki Miyamae, who I believe is doing a fine job in capturing Miyake's innovation and playfulness in his own designs.
No matter how old Miyake's designs are, they still remain timeless up to now, and the technology and techniques that he introduced have changed the design world forever.
SaveSave