Last year, I took part in a pilgrimage to Mount Putuo, one of China's five major Buddhist religious mountains. Hauled along by an energetic tour guide who explained everything in either Mandarin or Fukien (ergo I didn't really understand much), we snaked around the busy streets of Shanghai and paid our respects to a multitude of ancient Chinese temples in the nearby provinces.
Now when you think of the word "pilgrimage," you think of a quiet, spiritual experience through a billowing cloud of incense smoke, of monks draped in bright orange robes, and of fellow pilgrims offering a small prayer to the assembly of Buddhist gods before them. All of these things were there, but multiply the pilgrims exponentially. We literally had to make our way through a sea of humanity just to get to the different temples within Mount Putuo.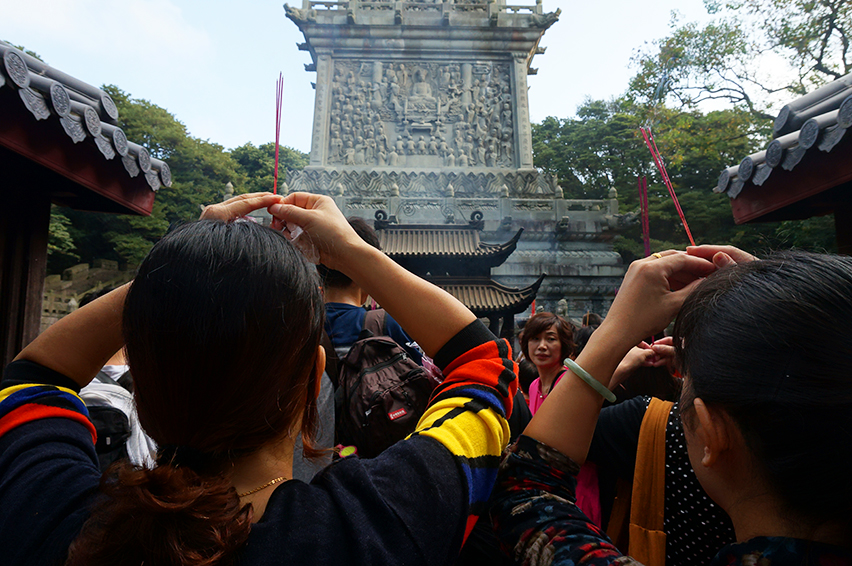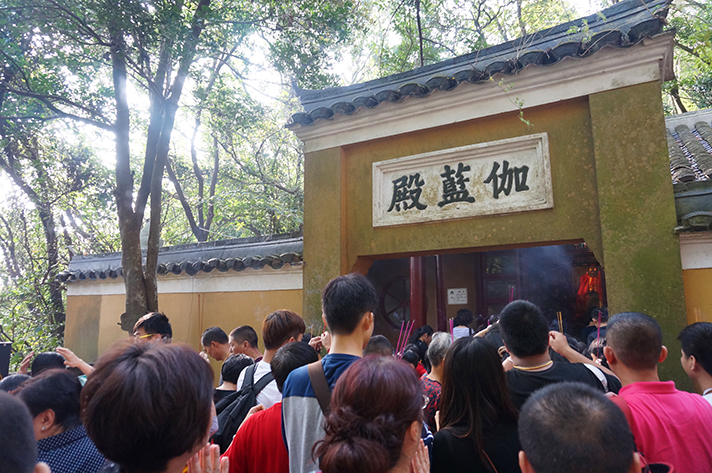 The weather was hot and humid as we navigated through the crowd, trying to avoid getting burnt by the hundreds of smoldering incense sticks that were being wielded around like weapons. Finally, after a tiring day of climbing up and down stairs (and after a lifetime's worth of breathing in incense smoke) in Mount Putuo, we were finally whisked away to the secluded village of Wuzhen Water Town.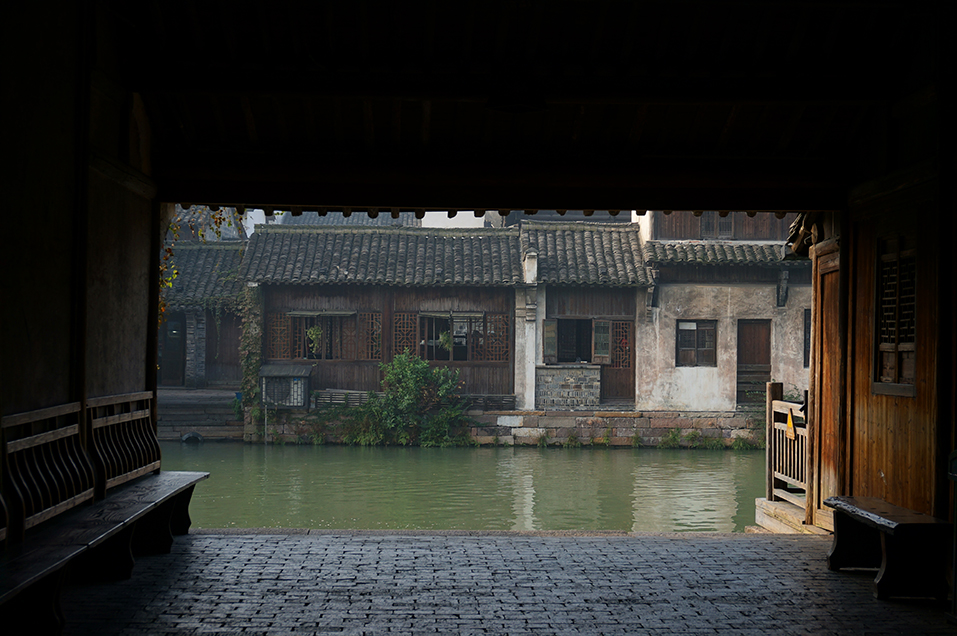 It was like being transported back in time. Lining the sides of the canals were small, traditional houses with their mossy roof tiles, weather-beaten walls, and ornate wooden windows. Constructed with a mix of rough concrete, exposed bricks, and dark wooden panels, the village gave off a feeling of an unpolished hidden gem, something that has remained untouched for centuries. It would really seem like you were back in ancient China if it weren't for the occasional air conditioning system that popped out of some of the houses.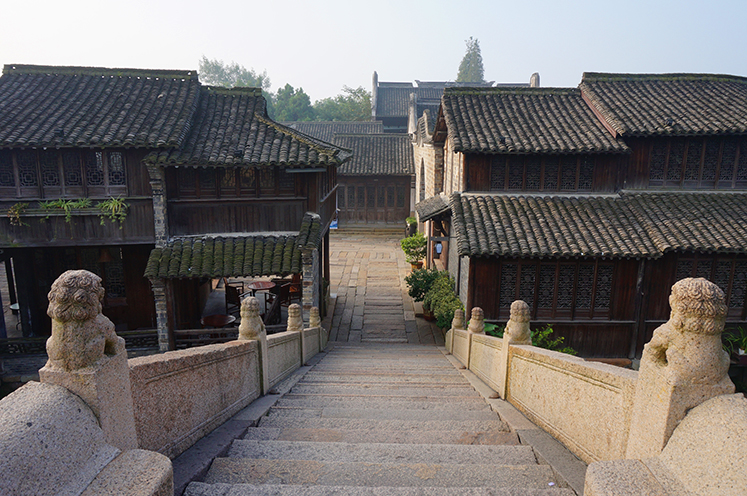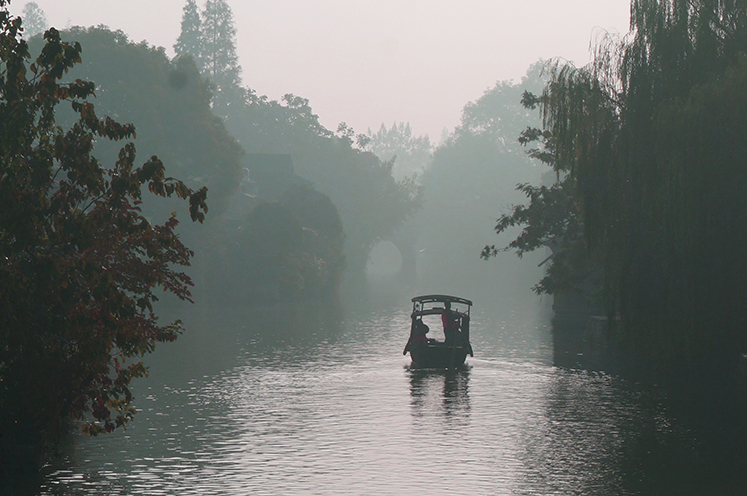 In the mornings, the sun cast a soft glow onto the picturesque village of Wuzhen. The mix of neutral grays, innocuous whites, and deep browns of the houses' walls and rooftops were accented with bursts of green from the trees and shrubs that grew along the riverside. With the morning fog and its palette being so close to nature, the scene looked like something straight out of an ancient Chinese landscape painting.
As the sun set, however, the streets and houses were lit up, mantling the village in a mystical, almost eerie glow. Red and yellow paper lanterns lent their otherworldly light in dim alleyways. The morning's calm and cool undertones of Wuzhen melted away into a tinge of warm amber. Ruby and gold-colored reflections danced along the dark waters of the canals, disturbed only by passing wooden boats.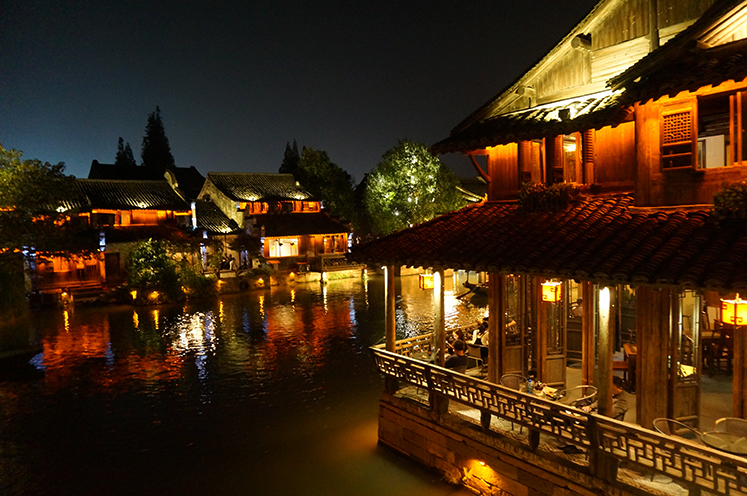 It's amazing how a difference in lighting can change a place so dramatically! Wuzhen Water Town was the perfect destination after such a tiring day at the temples. Its quiet, provincial atmosphere was peaceful, warm, and welcoming.
Though separated from the hustle and bustle of the big cities, the village pulsated with its own unique kind of energy—you just need to wait until the sun sets.