There are quite a few ways to get the paint color you want. One of them is by mixing your own paint color with the use of colorants. Colorants are added to a container of paint, such as Boysen Permacoat Latex or Boysen Quick Drying Enamel, to change its color. They are best used when you want to achieve pastel to medium shades. Interested? Learn about them first with these tips from Boysen experts:
Tip #1: Pick the Correct Colorant and Take Note of the Max Ratio
Different paint products will have their own colorants. This all has to do with paint compatibility and simply means you need the correct type of colorant for your specific paint product.
Water-based paints like Permacoat Latex and Healthy Home are tinted with Boysen Latex Colors. Alkyd-type paints like Quick Drying Enamel are tinted with Boysen Oil Tinting Colors. Boysen Acrytex uses Boysen Acrytex Tinting Colors. And finally, Boysen Automotive Lacquer uses Boysen Lacquer Tinting Colors.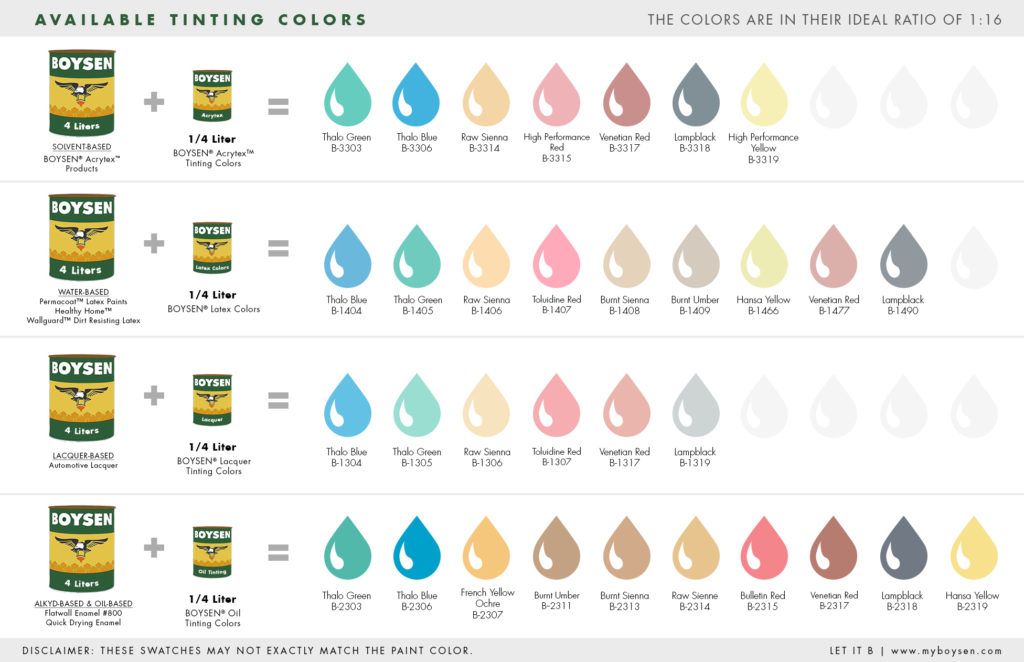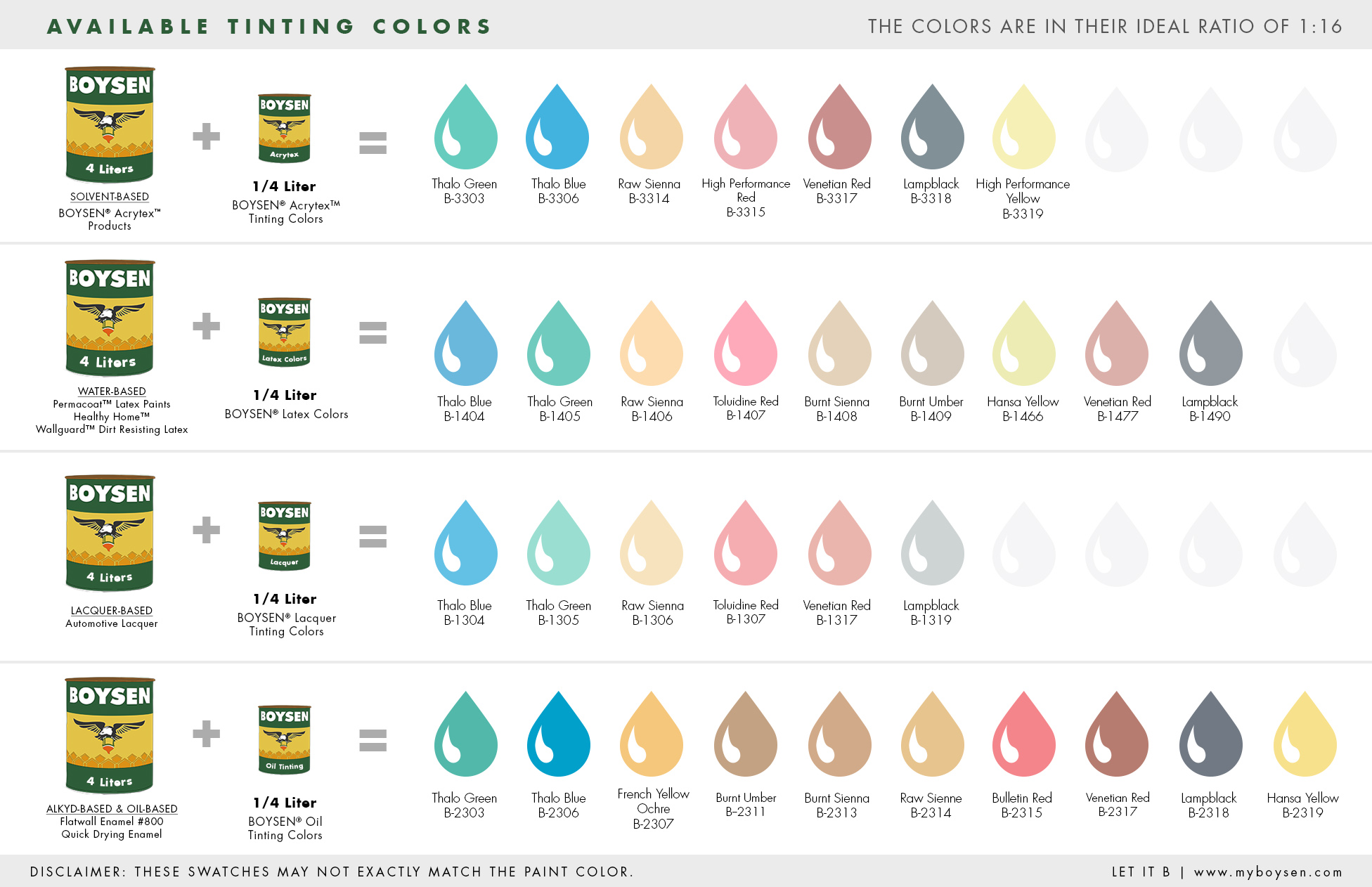 Now that you have the right product, take note of the max ratio. The maximum ratio of Boysen paint to Boysen colorant is 1:16. This means you should mix no more than 1/4 liter or 250 mL of colorant into a 1-gallon (approx. 4.5 liters) container of paint. Otherwise, you risk having uneven color or shine in your final product.
Because there's only so much colorant you can mix into paint, you'll also only be able to achieve pastel to medium shades—no vibrant or dark hues.
Tip #2: Mix Enough and Do a Swatch Test
When mixing your own paint colors using colorants, it's best to have enough paint to cover the whole area you're painting from the get-go. This is so you don't have to mix several batches of one color and risk getting different hues each time.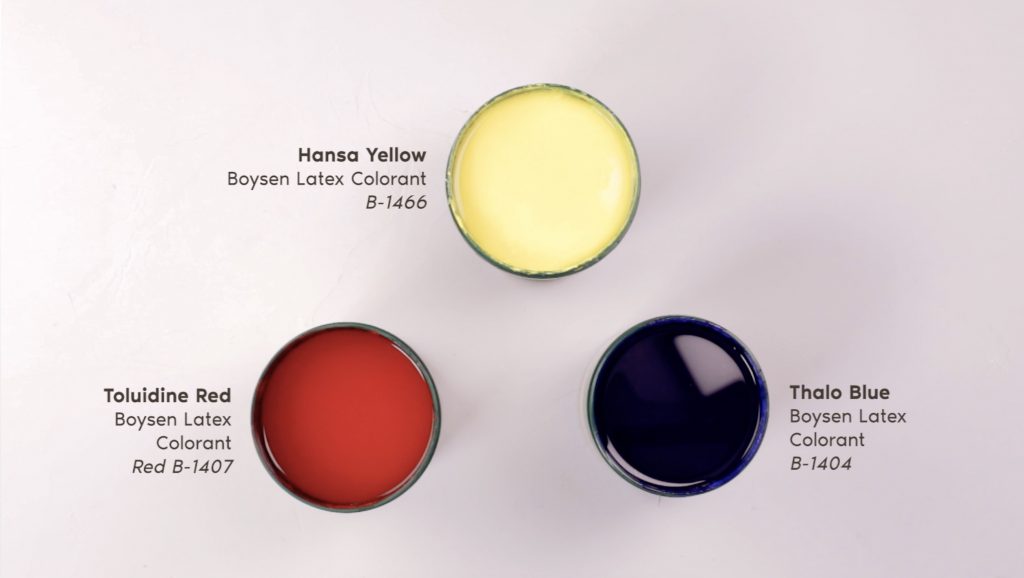 So, compute how much paint you will need beforehand. You can do this manually or with the help of Boysen's paint calculator which you can find on the Boysen website and Boysen app. As an example, you'll be able to paint one coat of a 25 to 30 sqm wall with a 4-liter container of Boysen Permacoat Latex.
Once you have your color mixed, do a swatch test too before you start painting. Wet paint will look different than dry paint. You'll notice that once the paint is dry, it may look a little darker than when you applied it. If you really want to see your paint for what it truly is, wait for a few hours. Aside from color, its sheen will come through as well.
Tip #3: Check the Boysen App for the Colorant Cheat Sheet
Among the many useful painting tools you'll find in the Boysen app is a handy colorant cheat sheet called Mix Your Colors. First, it lets you try several colorants together. Starting with a base of white paint, you'll be able to choose up to three colorants to digitally mix together. It's a test run before you actually mix the colors for real.
Second, it gives you a library of different paint colors you can achieve through Boysen colorants and the "recipe" on how you can get the same results. Pick a color that suits you and it will show you which and how much of each colorant to mix so you can replicate the shade. Easy!
Working with colorants gives you the freedom to customize and achieve exactly the hue you want. Some may also find experimenting and mixing colors fun! And, if all else fails, there's always a Boysen Mix and Match station near you ready to machine mix a batch of paint from a selection of over a thousand colors.
Found this blog post useful? Subscribe to the Let It B newsletter and we'll send you a short and sweet email per week with other posts we think you'll like!