A dictionary defines homebound as:
1 (adj.) moving or traveling homeward, 2 (adj) restricted or confined to home.
For me, homebound can also have a positive connotation—being blessed by having a home where we have the luxury of being able to stay in its safe embrace while riding out this crisis.
Working from Home
Working from Home (WFH) is a privilege that not many of our kababayans have. If you are enjoying this special benefit, where do you work at home?
If this is your first time to WFH, chances are you don't have a dedicated space for this. You can make a temporary office by commandeering part of the dining table. Of course when it's time for meals, you have to put away your work stuff to make way for the ulam and kanin. It's like a pop-up shop, except that you have to take down your "shop" several times a day.
Unless you have another space that you can appropriate, like an extra room (lucky you) or a forgotten corner (where a couple of full storage plastic boxes are stacked), or the sofa (where you're at risk of becoming a pretzel), then you don't have to be itinerant.
That Extra Room
View this post on Instagram
I wouldn't call this an extra room because as far as home offices go, this is a star. Tucked away for privacy, with a huge window on one wall for natural light, what's not to like? Shelves line two sides which are very useful to have for a C-level executive.
I can imagine far-reaching decisions being made in this room. In these turbulent times for business, having this kind of home office is not a luxury but a necessity.
Crafter's Nook
In this space, you will have room to spread your things on an L-shaped table lie this. If you're a designer or a crafter, this nook has your name on it. What's great about it is that you have room to expand, which is advantageous for an artist.
Now is the time to be deliberate and decisive. Define the best course of action and implement with passion. Be a diplomat and negotiate to get it. Or make a beeline for it and claim it.
A Corner Office
Corner offices are not the monopoly of head honchos! You can create one yourself, right there in your home. Just use your charming personality to convince your family or housemates that you really do need that "corner office" in the living room.
And to make it more interesting, paint a geometric shape tilted in an unexpected way with a cool color like this green. This is color blocking and clearly defines this corner office in the living room.
Carving a Space for Your Home Office
When there's a will, there's a way. Be imaginative and find your work spot in your home. Do you like the morning sun? Perhaps the terrace can work for you. Do you like to lounge? There's always the bed or the sofa. No table and chair available? Get down on the floor.
Under the Staircase
Clear that space under the staircase and shove a narrow desk in there. Bring in a good table lamp, better yet a floor lamp. Get a good chair and you're good to go. Just ask the rest of your housemates to go up and down the stairs quietly!
Cuddle with Your Laptop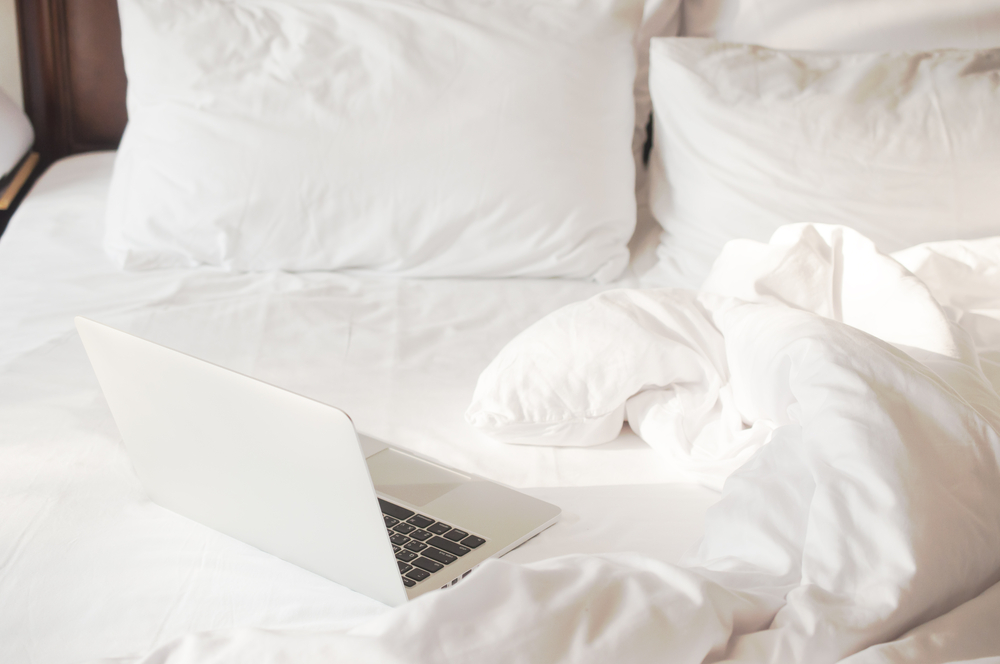 A lot of people do this, I think. Count me in. I heard that this is a bad habit. Bedrooms should be for rest and sleep, and work should be done elsewhere in the house. Oh well! It works for me so I'm going to go with the flow.
The Sofa Solution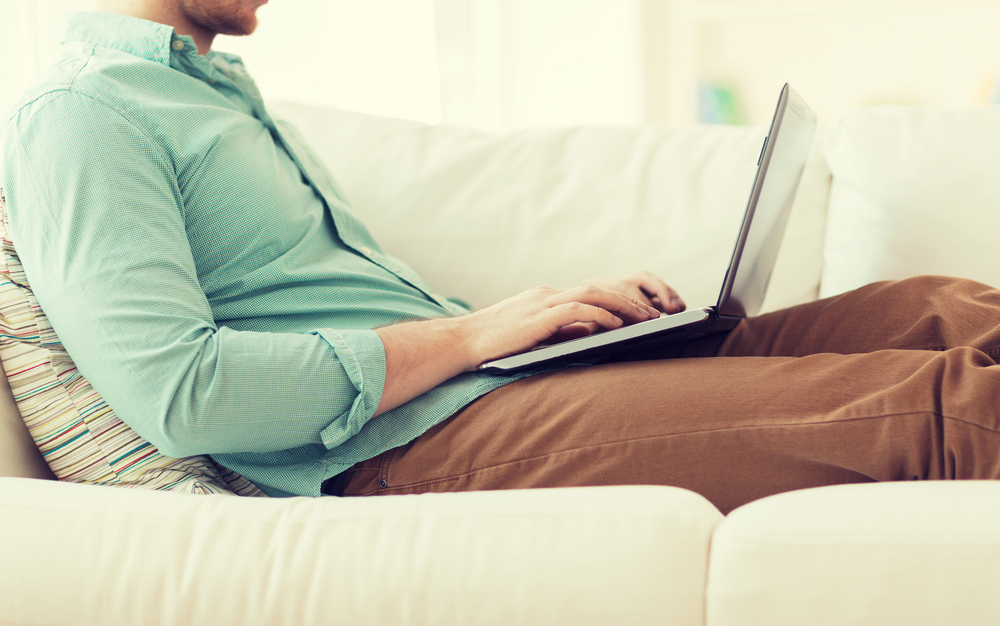 I do this a lot too. This is the reason why I chose a big sofa, although this is as bad for my posture as working in bed. But do try it. It really does work like a charm. You can get a lot of good ideas in this lounging pose. But if you're the type to nod off at a drop of a hat, you'll probably get more naps than getting work done.
Check out these workplaces of our readers who work from home.
Have you got more ideas about working from home? Do drop me a line in the comment section below. Photos are very welcome; please send to info@myboysen.com.
For more Homebound articles, click here.