안녕하세요! If you were able to read that, then this is probably the article for you. The Korean wave hit the Philippines almost a decade ago and it looks like it isn't subsiding anytime soon! It all started with catchy pop tunes, addictive dance numbers, and tear-jerking dramas you binge-watch late at night. Then, samgyupsal restaurants and mini marts started popping out left and right in every corner of the country. We add-tu-cart Korean fashion and makeup brands during big online sales. If this all sounds near and dear to you, the next step is to turn your living space into the much-coveted Korean-style bedroom!
Go Cute
To achieve a Korean-style bedroom, you can either go cute or go cozy. Go cute with little splashes of color here and there in the bedroom. Your color palette is not limited to off-whites and beiges. Get a cute wall print with subdued colors or dried flowers in pastel pinks or yellows. Cover up your cozy floor mattress with muted blues or blush-toned bed sheets.
Go Cozy
To go cozy, stick to the tried-and-tested minimalist color palette of beiges and latte browns. Just make sure to get them in different shades and textures so the room doesn't look too monotone. Gather all the wooden accents you can find from small bedside tables to cabinets. Tie the look together with caramel-colored linen sheets for a perfectly cozy, Korean-style bedroom.
The Korean-Style Bedroom Starter Pack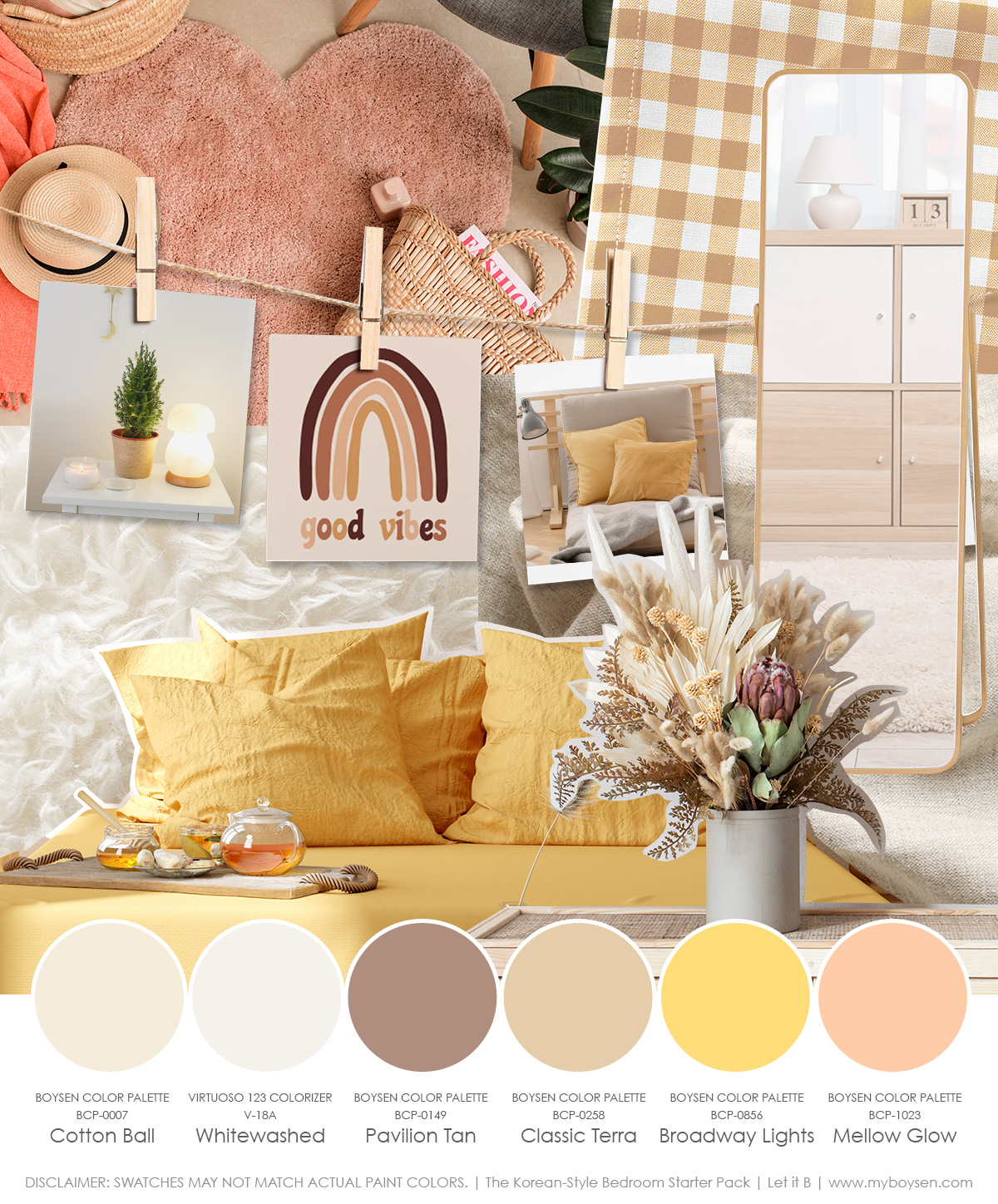 There are some basic items to be on the lookout for to get that Korean-style dream room. First off, get yourself a floor mattress. Of course, with a matching cozy comforter to go along with it. Next, place a small lamp next to your bed. Then, let's not forget the floor length mirror. Almost all of the Korean-style bedrooms I've seen on Pinterest and Instagram seem to have this quintessential item. Place your floor length mirror on top of the softest and coziest rug you can find. Now you can practice those latest dance moves all you want!
Some other small items that you can decorate your space with include small plants or succulents, dried flowers, and wall prints. To make your room a bit more personal, why not hang up some instax shots, too? Oh, and don't forget those bluetooth speakers. How else will you (attempt to) sing along to all those chart-topping K-pop hits?
Some Final Thoughts
Aside from these essential items, no Korean-style bedroom is complete without some calming and soothing wall colors. We've put up some hue recommendations for you to try here too! You just can't go wrong with warm off-whites and soft, pastel shades. If you're wondering what type of paint to have these colors mixed in, try Virtuoso Silk Touch! It dries to a luxurious matte finish that matches the Korean minimalist aesthetic well. Not to mention that it's formulated to be easy-clean, anti-bacterial, and odor-less too!
Do you have any other question on paints, colors, or design styles? Send us an email at ask@myboysen.com. We're always happy to help. 안녕!