The first video tutorial for the Color Me Boysen series is about The Color Wheel Using Boysen Colorants (click the link). This video below is how to get tint and tone using the Boysen colorants.
What is Tint and Tone
In color theory, tint is when you add white paint to colorants or ready-mixed paint to reduce darkness. If you watched the first video with the link mentioned above, you will see that you can come up with pastels using this method.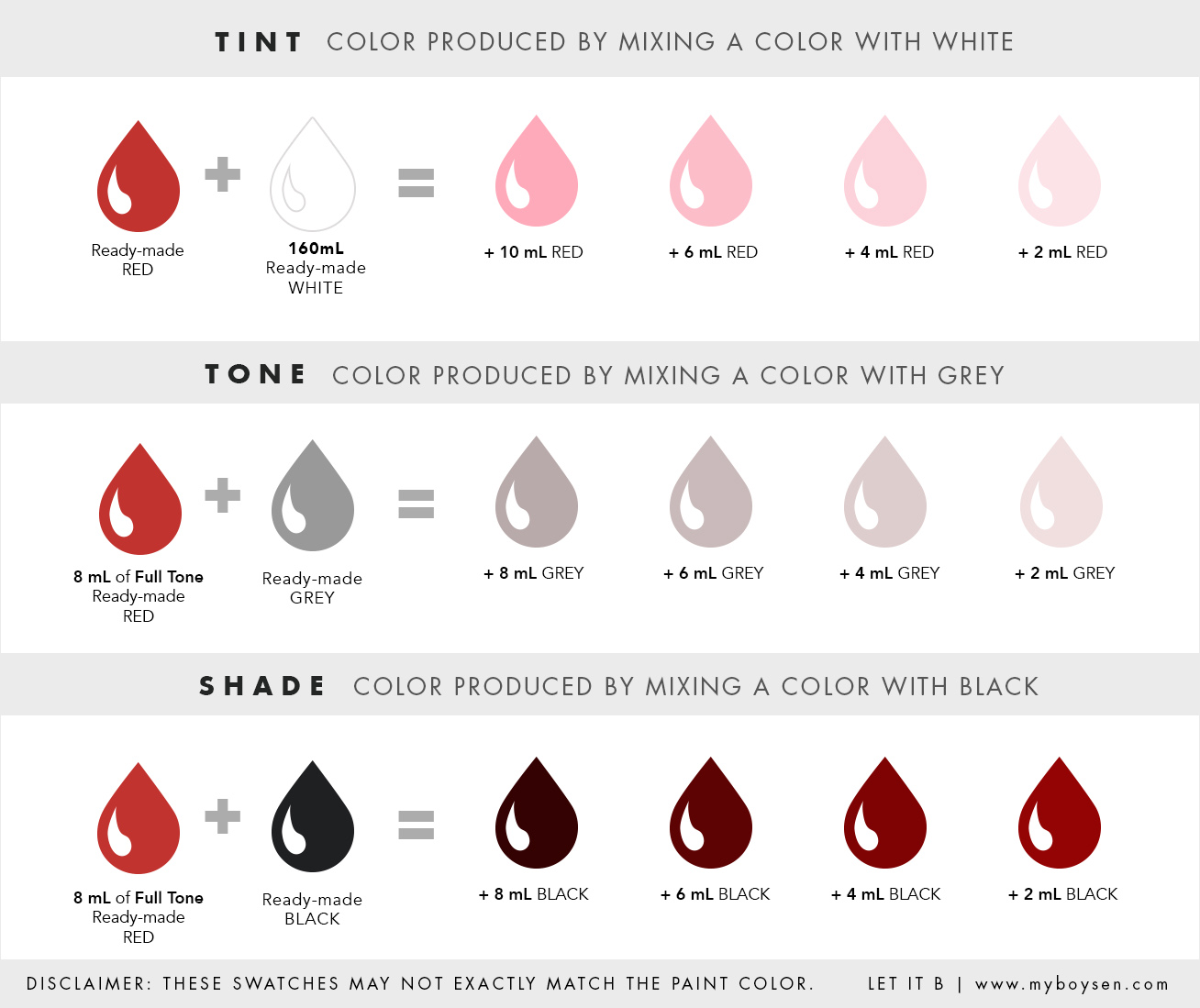 Tone is when you add grey to colorants or ready-mixed paint. You can also achieve tone by tinting and shading at the same time.
Shade is when you add black paint to colorants or ready-mixed paint to increase darkness.
Monochromatic Color Scheme
The monochromatic (also called tonal) color scheme is the simplest to use when this is your first time to do your DIY paint project at home.
Read Choosing Color Combos for Beginners.
All you need to do for a monochromatic scheme is to choose a color you like then use tints, tones or shades of that color. The image below is an example of a green color palette.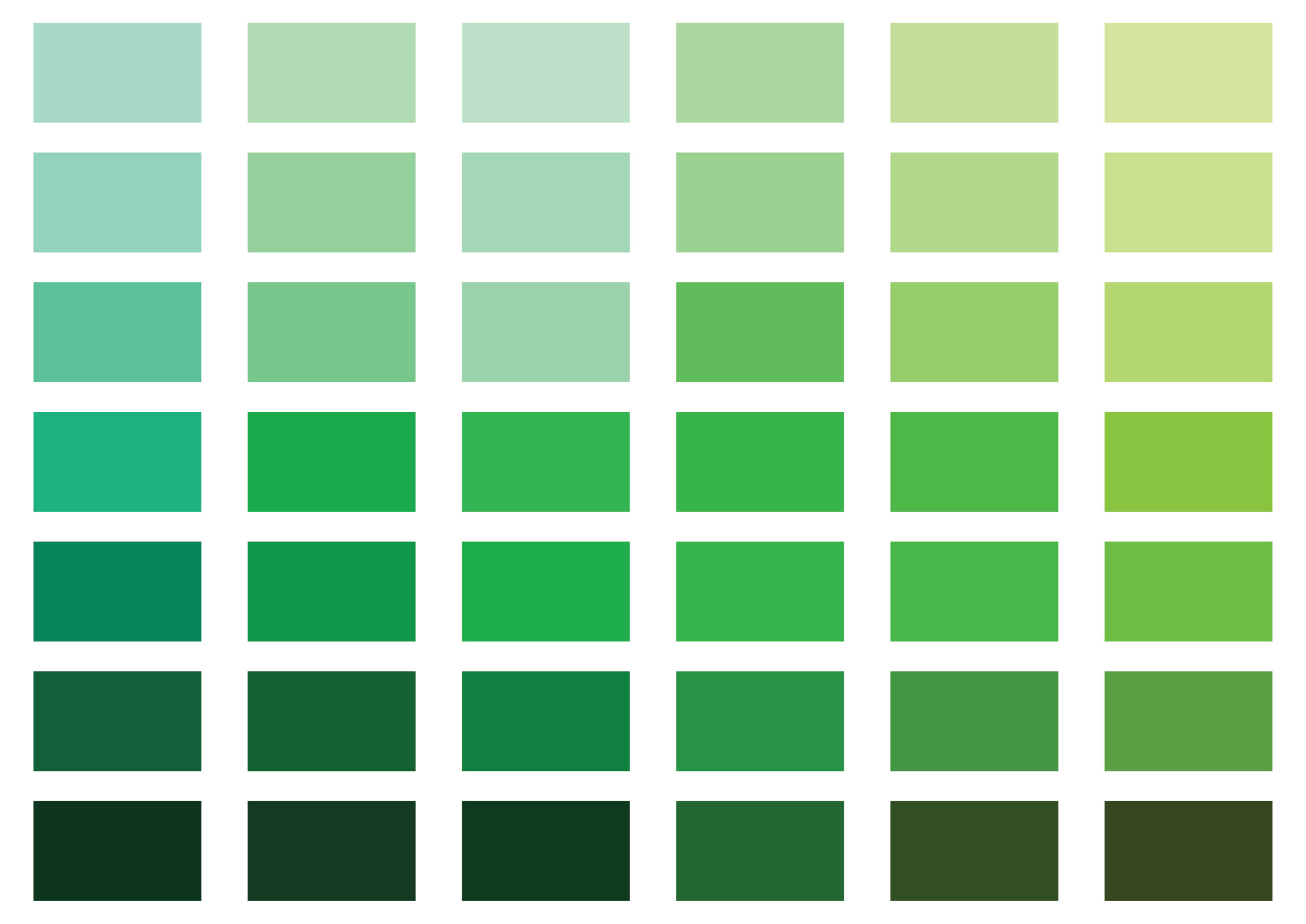 When you use a monochromatic color scheme in your home, the atmosphere created is one of harmony. This is a color scheme that would be good for small spaces as it doesn't break the flow usually created by a different color.
3 Tips to Create a Gorgeous Monochromatic Color Scheme in a Room
No one wants to have a monotonous-looking home. Who wants blah anyway?
There are ways to achieve a gorgeous look using a monochromatic color scheme.
First, use different values of the color. Value is the lightness or darkness of a color. In other words, choose different tints, tones and shades to the color you have chosen for your home.
Second, add textures and patterns to create depth to your space. Textures can be physical or visual. Patterns are repetitive designs that are composed of lines, forms or textures.
Read The 7 Elements of Interior Design to understand more about textures and patterns.
Third, if you are redecorating an existing space, take your cue from the existing textures and patterns you will find in the space, e.g. from the furniture, fabric, even materiality from floor to ceiling. The easiest would be to pick out a dominant color from these elements then extend that color to make a monochromatic color palette.
Photo Inspirations for the Monochromatic Color Palette
Greens
View this post on Instagram
This is a mix of different tones of green. This cool color makes a room feel more restful and calm. The walls have a yellowish tint and looks warmer. The sage bed linen has grey undertones, while some pillows have a deeper grey tone to them. The leaves are of different green tones and their forms and patterns make the whole look more interesting.
Indoor plants make the space feel natural. They also make the room seem more friendly.
Read Improve Your Well-Being with Biophilic Design. This kind of space is what most of us need in these times.
Blues
View this post on Instagram
This is a blue monochromatic scheme. The blue hue is taken from the rug, which is primarily a blue and orange color combination, or a complementary color scheme. But instead of making the room have this kind of scheme, it uses the monochromatic color scheme in the larger surface areas like the blue-grey wall, the chair, the blue bed, and the grey blanket.
Light Browns
View this post on Instagram
Study this beige beauty of a living room with its soft whites, creams, biscuit, sand and camel colors. The lovely soft textures from the sofa, the area rug, the fake fur throw, pillows, drapes, the pendant lamp, and even the weave of the cabinet door, as well as the smoothness of the wooden floors and glass table top, add depth to the space. This monochromatic color scheme consists of light neutrals. The whole effect is warm and inviting because of the different color values and textures.
If you want to redecorate and repaint your home, the monochromatic color scheme is easy to do. Just go visit a Mix and Match station and look at the swatches. Use one color as a base, then find the tints, tones, or shades of it that you like.
For those living in the NCR, Cavite, Laguna, Bulacan and Rizal, please call first to find out if the home depot or hardware is open. These places may be closed because of MECQ until August 18.