Readers have asked how to mix colors so we are starting with a new series called Color Me Boysen. The first episode explains the color wheel using Boysen colorants to explain it further.
Mixing colors is serious business so this is going to be ASMR, guys. No music to distract you. Pay attention and don't snooze.
Magic Ratio of Boysen Colorant to Boysen Paint
The ideal paint-to-colorant ratio in color mixing for Boysen products is 1:16, for example, mix 1 liter of colorant to 16 liters of white paint. Don't go beyond this ratio in order to keep the stability of the paint.
Boysen makes it easy for its customers because the colorants come in 1/4 liter and 1 liter cans, while the white paint comes in 1-liter, 4-liter, and 16-liter cans.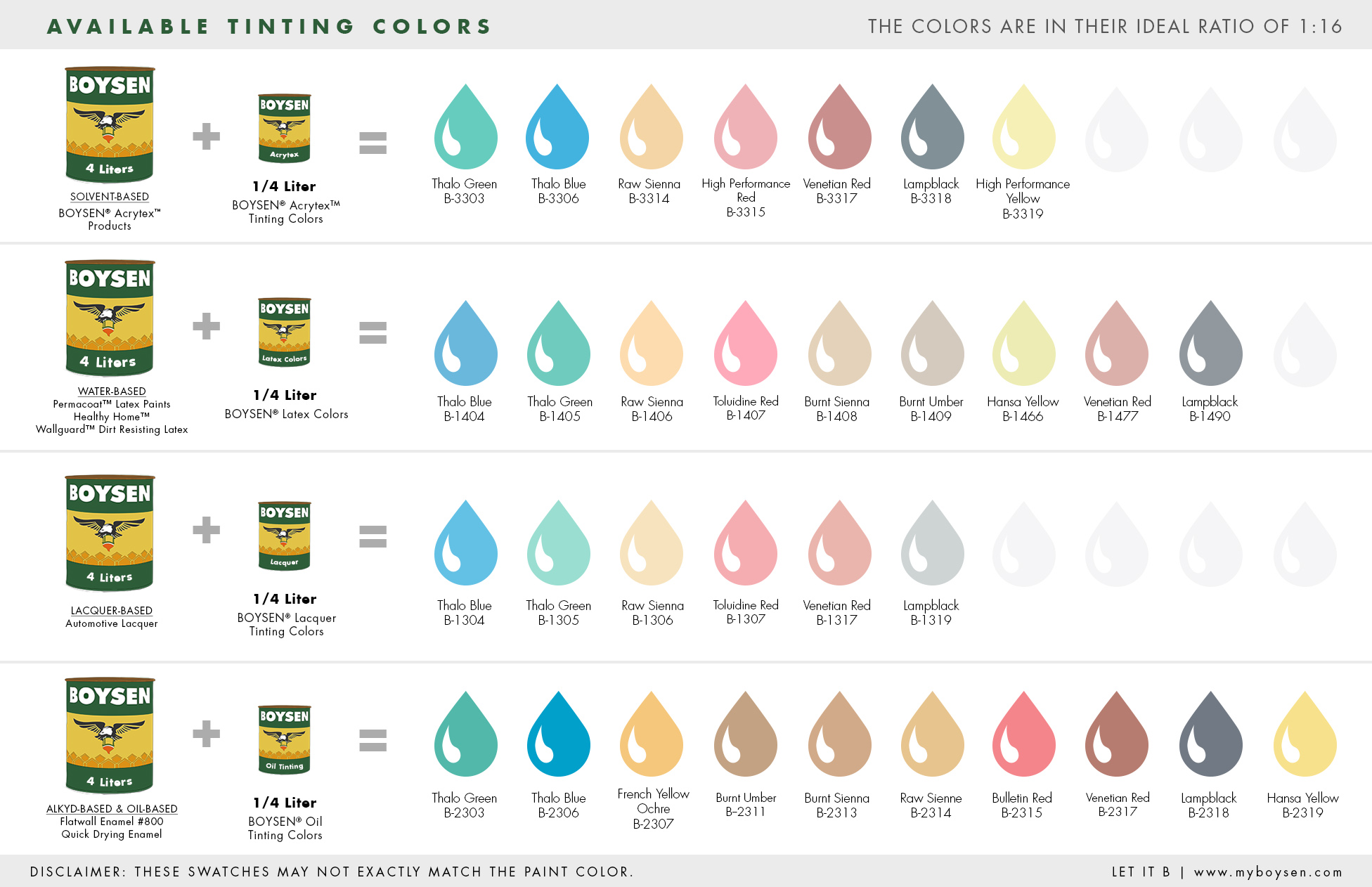 Please use the Boysen colorant that would match the paint product you will be mixing it with. The infographic above should give you a clear idea on how to go about it.
For those who are new to this blog, the paint you will use will depend on the surface you will be painting. Watch this Boysen Painting 101 video.
CAVEAT: Boysen colorants are best used for pastels or lighter colors. If you want dark colors, then it is best to use factory-mixed colors or Boysen Mix-and-Match colors. Alternatively, you can also intermix premixed colors to get your desired shade. For the last option, you must have a color sense which is better than average, or you can experiment and just roll with whatever color you get. So if you get sickly avocado, surprise!
The Color Wheel
If you want to understand the color wheel better, please click and read the following posts.
The post below has a very useful infographic that can help you with your color choices.
The link below is a video tutorial where Kriz shows how you can mix a Boysen colorant with white paint. She also shows how you can test your paint color first to see if it is really the color you want.
Also remember when you're mixing paint, do not use Hansa Yellow B1466 and Toluidine Red B1407 for exterior applications because these colors are prone to fading.
Color is Very Personal
Boysen has thousands of colors available in the market. If you visit any Boysen Mix and Match Station and look at the swatches, chances are you will get confused. The dizer would be happy to show you what's available but in the end, the decision is yours. This is why we've always suggested in this blog that you look for photo inspirations or swatches to bring, and not go there totally clueless.
It is the same thing when you mix your own paint color. You have to know what tint or shade you are aiming for. Don't be too hard on yourself if you don't get it right in one go. Even artists who mix paint almost every day may still find colors hard to pin down.
Just remember when you start experimenting with color mixing that you have the freedom to coat any color on your walls since it's your home. Especially for your bedroom, the color should be something you really like because it's your sanctuary, the place where you sleep and renew yourself every day.
We cannot choose the color for your home. But we can certainly help you with this video tutorial so that you can explore the yumminess of pastels. And we can also help you with technical stuff. Definitely. For any technical question about Boysen paints, we will have an answer for you. Just call our Technical Team at (02) 8363-9738 local 417 to 418 during office hours. You can also send your question to ask@myboysen.com.
Happy mixing!