Boysen's vision has always been to serve the Filipino paint consumers. We ensure that every step we take benefits the very people that make us the number one paint. But for our painters and homeowners to continuously swear by our products, they must first understand clearly what a Boysen product can do.
We've written an article about Boysen Plexibond and how it turns your home waterproof, and we're giving it another round in the spotlight. Since it's been raining nonstop, we've been receiving inquiries about Boysen Plexibond on our Facebook page. We thought another article would help you understand more of what Plexibond is and what it isn't.
In this article, we've round up some frequently asked questions about our featured Boysen product and made an infographic to answer each one.
Here are six important dos and don'ts when using Boysen Plexibond: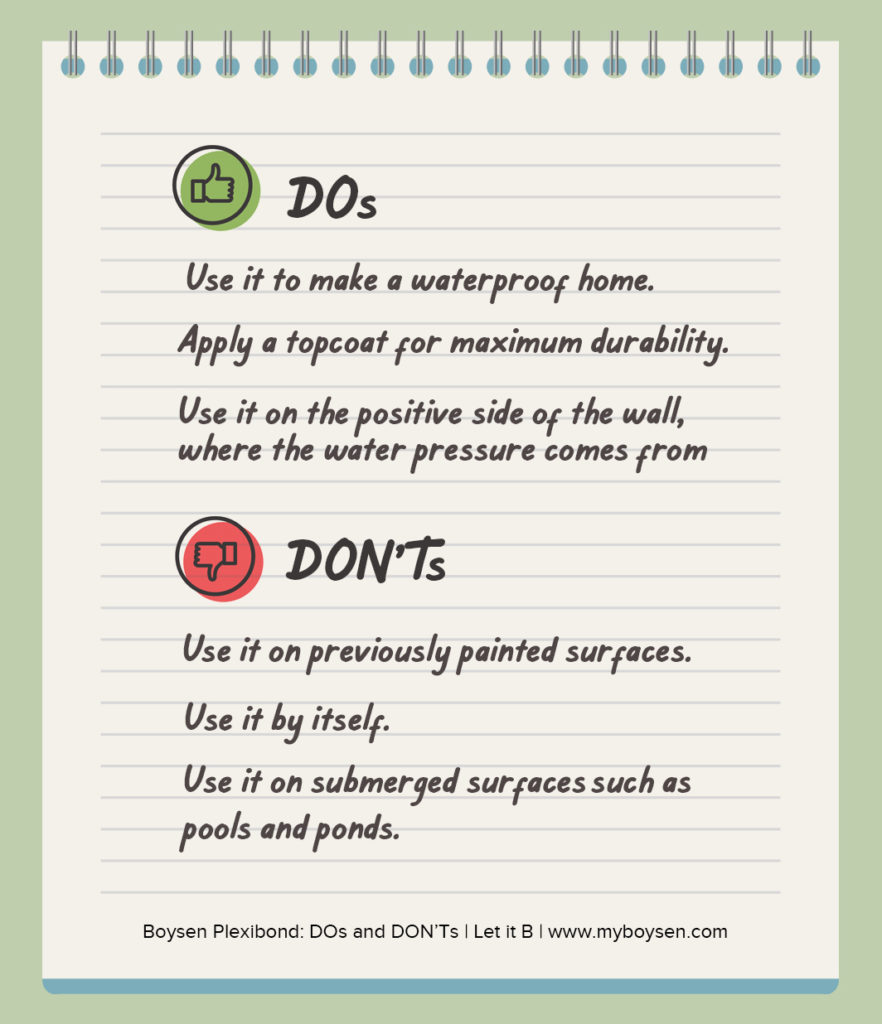 To recall our previous post, Boysen Plexibond is a specially formulated water-based acrylic polymer designed for mixing with Portland cement. We've had several inquiries about this and to give emphasis, note that you can't use it on its own. A 4 Liter can must be mixed adequately with a 6.5 to 7.5 kg cement, this will serve as the solution to your water leakage problems. Use it on roof decks and firewalls provided that there is no existing paint or tiles.
Although the mixture works firmly on its own, we recommend you to apply your choice of topcoat for maximum durability and added protection. Choose from the wide-range of Boysen products to ensure quality and compatibility. Click here to find your paint. It is also advisable to use Boysen Plexibond on the positive-side of the wall or the side where the water pressure comes from.
DON'T apply Boysen Plexibond over a previously painted surface. Since it is a mixture of acrylic polymer and cement, it weighs heavier than a usual coating. To serve its purpose for a long time, it needs a bare and sturdy surface to adhere to. Scrape off the existing paint and prepare the surface properly before applying Plexibond to ensure a leak-proof paint job. Another popular question is whether or not you can use it on swimming pools – the answer is a BIG NO. Although it is a waterproofing system, you might want to reconsider using Plexibond on submerged areas such as pools and ponds due to the subjectivity of its use and exposure.
Learn more about this product and how you can prepare this cementitious waterproofing system through this instructional video:
Know better! Consult with waterproofing experts or contractors if you are not certain about your painting project. Research about your floor plan and the history of the area you will be working on to guarantee a waterproof success!
Browse the rest of our product highlights to know a little bit more about the Boysen quality. For tips and suggestions, call (02) 363-9738 local 417 to 418 during office hours or write an email to ask@myboysen.com.