Bluprint came out with several articles on designs of architects for COVID-19 quarantine spaces.
Under DOH Memorandum 2020-0108, "persons under investigation (PUIs) and positive COVID-19 patients who exhibit mild symptoms with no co-morbidities and non-elderly are advised to be sent home for strict self-isolation and close monitoring by local health authorities."
This is worrisome because they can easily infect household members.
The situation has deteriorated further because four major hospitals announced on March 24 that their facilities are full and they can no longer accept COVID-19 patients: St. Luke's Medical Center in the cities of Quezon and Taguig, Makati Medical Center, and The Medical City in Pasig City. Also thousands of health care workers have gotten sick and are now under quarantine.
DIY Home Isolation Room
A very helpful article written by Denny Mata came out in Bluprint on March 23. The article talks about healthcare architect Dan Lichauco's sketch of a DIY home isolation room which he posted in his FB page.
For those who have several rooms in the house, a DIY home isolation room is a workable solution. Choose one that has its own toilet and bath so that the patient does not have to go out of the room. Please click here to read the explanation of Architect Lichauco on how you can prepare this room for a household member who is a COVID-19 patient.
For those who do not have the space in their homes to practice self-quarantine, you are urged to coordinate with your city government so they can help you find a place. You can also call the DOH COVID-19 HOTLINE: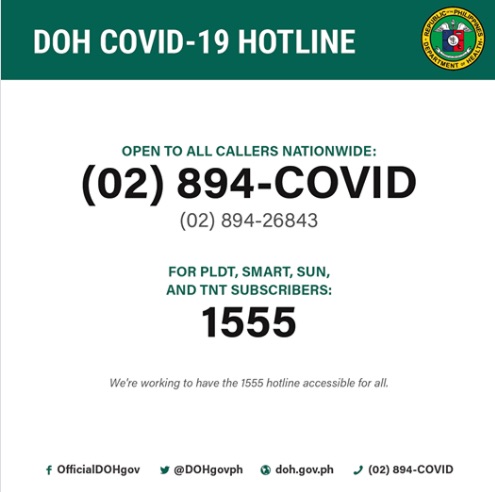 COVID-19 Emergency Quarantine Facilities
On March 26, two additional hospitals announced that they too reached maximum capacity: De Los Santos Medical Center in Quezon City, and Chinese General Hospital and Medical Center in Manila.
William Ti, Jr. of WTA Architecture and Design Studio (WTA) posted on FB a design for emergency quarantine facilities for PUIs turned away by the hospitals. He said, "Beginning tomorrow [March 26] we will be building 4-6 of these facilities in hopefully 2-3 day spans starting with the Manila Naval Hospital and Army General Hospital in Fort Bonifacio and the Camp General Emilio Aguinaldo Station Hospital and Joint Task Force NCR."
You can read the details in Denny Mata's Bluprint article dated March 26.
Proposed Health Care Facilities
There are other articles in Bluprint that discuss architectural concepts that could address health care demands of pandemics like this novel coronavirus crisis:
The compact hospital model Sagip Kanlungan of JRS + Partners 
Options for COVID-19 containment or intensive care facilities suggested by architect Dan Lichauco and landscape architect Paulo Alcazaren
Architects may not be in the frontline but they are using this time to design quarantine spaces to help the Filipino people during this COVID-19 pandemic.
"For donations, volunteers, inquiries, and consultations on the COVID-19 emergency quarantine facility, you can get in touch with WTA Architecture and Design Studio via Facebook or email at contact@wtadesignstudio.com."