Terrazzo is the combination of chips—granite, quartz, marble, shell and glass—and a binder like epoxy resin or cement. This originated in Venice more than 500 years ago. It was considered then as a cheap building material because it was made of discarded marble chips from the production of big marble slabs that Italy, up to today, is known for. Workers used this material on the floors of their homes, also on terraces, hence the name terrazzo.
The material was brought to the United States in the late 17th century by European immigrants, some of them highly-skilled Italian terrazzo artisans. In the 1920s, marble, metal, and plastic strips were discovered, which controlled shrinkage and prevented cracks in the material. After that, electric grinders were used to produce an excellent finish. Then came the use of White Portland cement which made possible the use of different colors for terrazzo. Further innovation brought about the precast terrazzo tiles of any size, design, and color. Chemicals (sealers and cleaners) were also developed to enhance the finish and beauty of the material. This versatility and the durability of the material have made it a favorite of interior designers.
In the 1920s, terrazzo was a good fit for the Art Deco design movement. It was big in the 1970s and was used for flooring in many homes. In 2018, terrazzo became a huge home trend. In 2020, this material was used in one of the 2020 trends of Ambiente ("world's leading consumer goods trade fair"), called precise+architectural because of its textures and varied colors. Terrazzo is also a high quality and sustainable material, and one that has a creative versatility prized by interior designers.
A Mood Board for a Blue Terrazzo Tile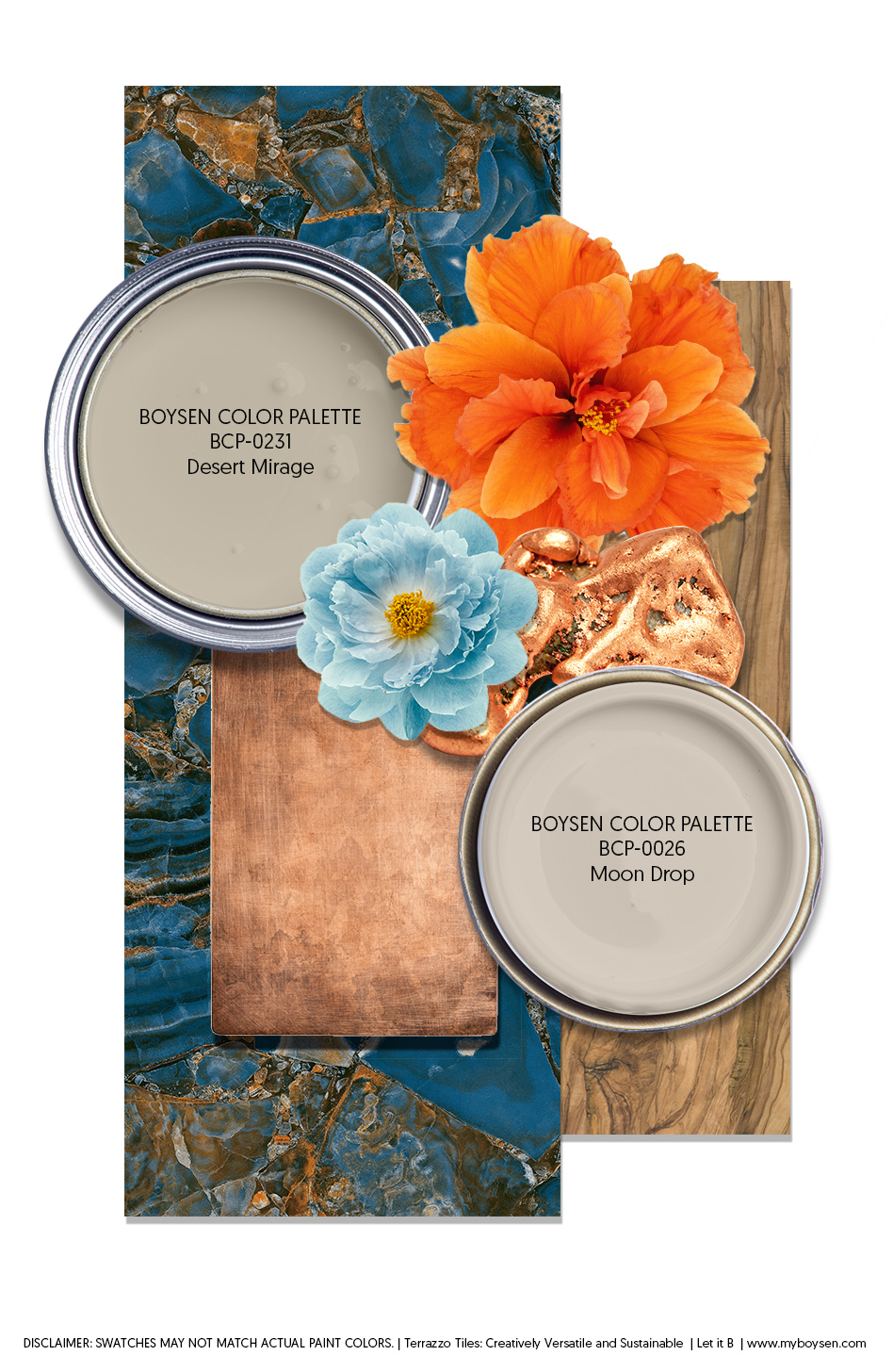 There are so many colors available for terrazzo tiles. Since the design is speckled, what should guide you would be its primary color. What you see above is a blue terrazzo tile, and we have combined that with light neutrals like Moon Drop | BCP-0026 and Desert Mirage | BCP-0231.
Tip: Use a neutral hue for the paint color and use the terrazzo as an accent. Pair it with other natural materials like wood or metals like copper as shown above. Both pick out the warm colors found in the terrazzo tile and are good complementary colors to the tile's predominant blue hue.
Interior Design Tip for Terrazzos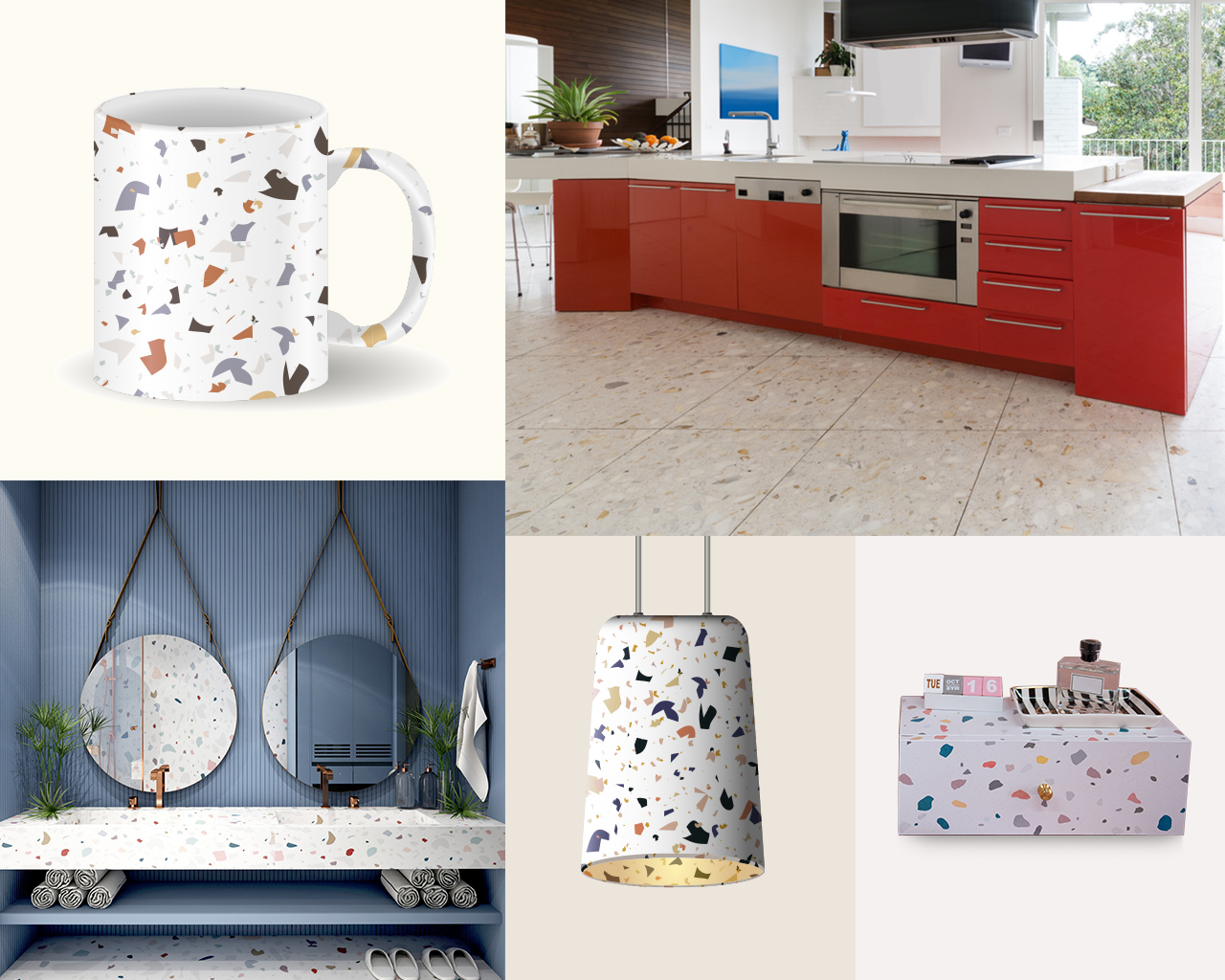 Avoid using the terrazzo to cover most of the surfaces. For example, choose a single color for your floor tiles if you want to use terrazzo tiles in the countertop or backsplash. Many designers think it's overkill if you put this material all over the floor, countertop, walls. And it is, especially since it stands out because of its speckled design. So many colors in one place all at once. Aim for balance instead of in-your-face impact. In fact, if this material is used sparingly, on an accent wall for example, the more it stands out.
Tip: If you want to use this on huge surfaces like floors, then choose a terrazzo tile that is subtle and has a neutral (or monochromatic) color palette.
The visual texture of terrazzo already guides you to look for subdued paint colors for your walls, preferably light neutrals unless you are striving for a certain dark and dramatic mood for your space. Also go for less-textured materials or less contrastive textures in upholstery, drapes, and home accessories. Strive for balance. Read the 7 Elements of Interior Design.
For more design inspirations, click on this link.