Today, we are launching the four palettes of Color Trend 2022/23 in the Boysen Mix and Match Stations. We had a teaser about this latest color trend called FLOURISH in this post. There are four color palettes in this latest color trend—BREATHE, MOVE, BLOOM, LIVE—with each palette having six colors, making it a total of 24 new paint colors that are being introduced this year.
On top of the pandemic which has been in our midst for two years, there are political, economic, and social events that make this world more difficult to navigate. So the palette Breathe comes at a good time. We cannot flourish if we do not do this basic life-giving process, literally and figuratively.
The Colors of the Breathe Palette
Muted reds comprise most of the colors of Breathe. A mellow green and somber charcoal complete the palette. An eco-chic urban dwelling would look good with this palette, especially when combined with furniture and accessories using natural materials. Add plants in the interiors and you will have a relaxing and refreshing home.
Below is a contemporary home with walls awash in a very light, peachy paint color called Morning Yoga.  Use light-colored wooden furniture, and make the color of your floor light too to give your space an airy feel.
Below is a dining room with walls painted in the color Herbal Tea. This gives a darker and cooler feel to a space while still having that relaxing and refreshing vibe by having white or off-white trims and ceilings. The light wooden floor with flecks of dark grey in the grain give a traditional and comforting feel.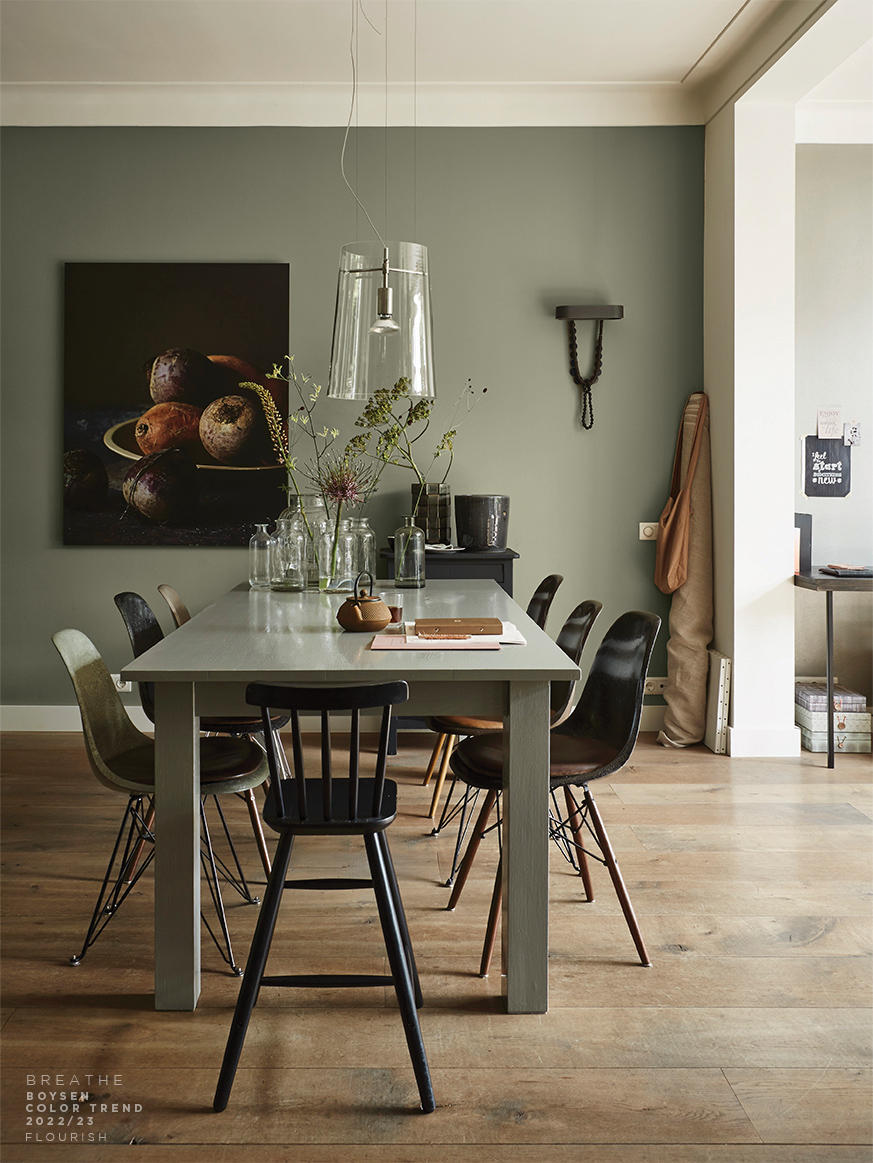 The Breathe palette has a very dark color called Charcoal Mask. You might ask how can one achieve a relaxing space with something so dark painted on the wall? The trick is to keep other surfaces light. Do you want to see how it's done? Go to the Boysen Color Trend 2022 website and explore the Breathe palette.
Discover the Breathe Palette
Summer is upon us, the perfect time for (re)painting. Before you reach out for the usual paint colors, go visit a Boysen Mix and Match Station first and just explore the Breathe palette. It is a palette of the times: When changes in the world are opening new doors, it is an invitation for us to look at new ways of living.
We can always look to the past and choose paint colors that remind us of those times when we were young, where home was a place of comfort and safety. We can also go with the Scandi trend of white walls and ceilings that has held the world in its grip for more than a decade now. Or we can forge ahead with colors that feel more contemporary, more fitting to the times.
The pandemic represents a rare but narrow window of opportunity to reflect, reimagine, and reset our world" – Professor Klaus Schwab, Founder and Executive Chairman, World Economic Forum.
The Breathe palette is a warm set of colors that can gently jump-start us out of the cocooning we've been in for the past two years. The warm hues are muted, and the feeling the palette gives is happy. Call it an invitation to reset your world softly and gently.
Subscribe to Let it B to find out more about Boysen's Color Trend 2022/23. Just type in your email address on the subscribe space on the right side of the blog so you will get fresh updates as soon as they are published.