Make 2022 a happy new year, Homies!
During this last day of 2021, we hope you are in a homey state of mind which I'd describe as comfortable, cozy, full of love for your family, friends, and yourself, and oh so thankful that you are here where you are.
We've all been through so much since this pandemic started in 2020—individually, as a unit, as a community, as a nation, as part of the world. Add to that are the natural disasters and their aftermath that some of us have had to endure. When things get overwhelming, I hope that you have the spiritual, emotional, and mental fortitude and support from family and friends to make life not only bearable, but also beautiful.
There's a Latin proverb that goes, "Fortune favors the brave." We send you these protea flowers which symbolize strength, courage, and resilience. We are in the middle of so many changes in the world and we all need courage to live through these. Let us use these challenges to transform into our better selves so we can maximize and learn from these experiences that we have lived and will live through.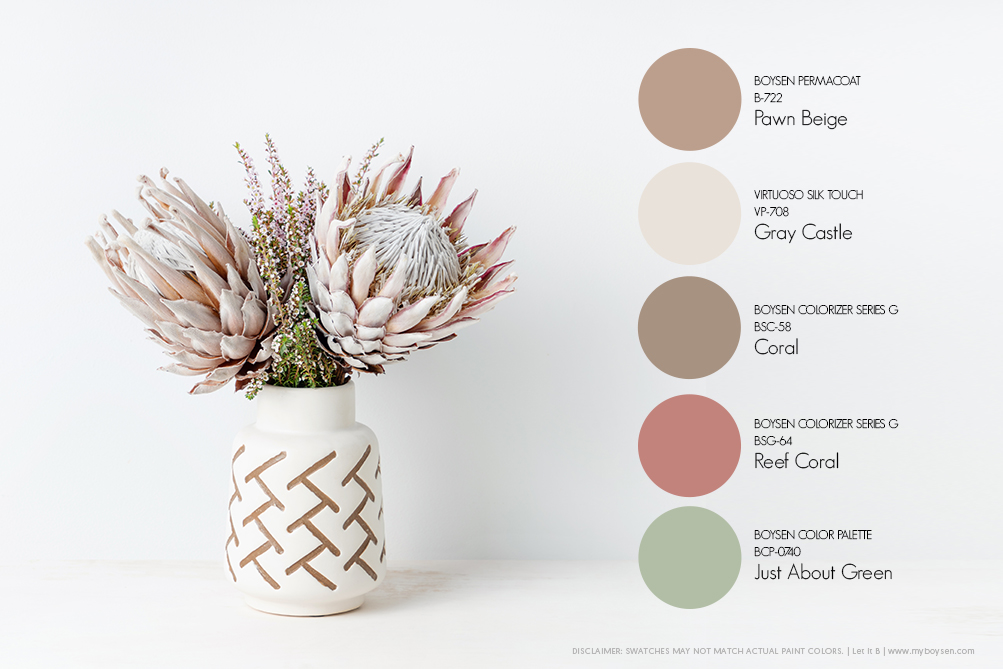 What resolutions are you thinking of to make the best of the new year that is almost here? Whatever you have in mind, don't be too hard on yourself. Greet the new year with warm colors that will give you that fire to live with a lot of heart. Use orange for energy and optimism, red for passion and determination, and pink for love and kindness.
How the Year 2022 Looks for Boysen
Boysen has plans for the coming year, just like you, just like the rest of the world. But we can only go on with the broad strokes because so many things could change in an instant, just like what we experienced since the beginning of 2020. All I can say right now is that it is going to be a colorful year!
First is The Color Library, Boysen's concept store with a collection of more than 1,300 carefully curated Boysen paint colors. We look forward to welcoming you, our customers, in this new channel. If you will be visiting IKEA in MOA Square and you will be coming in from the main entrance, you won't miss it. You will be able to buy any paint color in The Color Library in 200 mL and 1 L containers. Just imagine the possibility of being able to test the paint color of your choice on the surfaces of your home, and being able to see how the color looks as the light changes throughout the day.
Second, we are looking forward to launching Boysen Color Trend 2022 in the first quarter of the year. Twenty-four colors are waiting in the offing to be introduced to you! The Color Team has worked hard on that and we are so excited to be doing this again after a glitch in 2021.
That's as far as I will go. Let's just wait for the new year to unfold.
Meantime, please subscribe to Let it B to get fresh updates immediately, or to our YouTube channel for videos on DIY tutorials.
Have a colorful 2022, dear readers!