If you are a regular visitor to this blog, we may sound like a broken record but we'll never get tired of reminding you that the most important part of the painting process is surface preparation. You have to get a clean and smooth surface before you paint. Improper or inadequate surface preparation is always the root of painting troubles and back jobs. You need the right products to help you prep your walls before you paint them. That's why Boysen developed a line of construction chemicals called Konstrukt for hassle-free surface preparation.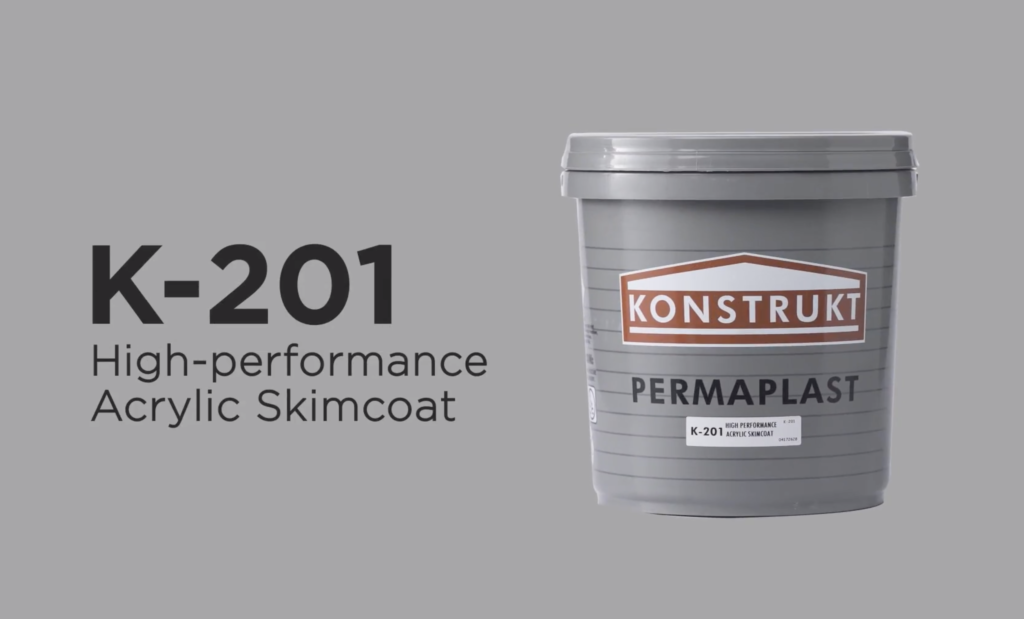 One of those products is Konstrukt Permaplast K-201 High-Performance Acrylic Skimcoat, a specially formulated bonding paste that corrects surface imperfections before painting. It repairs bubbles, honeycomb, and other concrete defects like waviness and plumbness from 2 mm to 3 mm thick. It has excellent paint compatibility, which means you can use it with different concrete paint types like water-based, solvent-based, or elastomeric.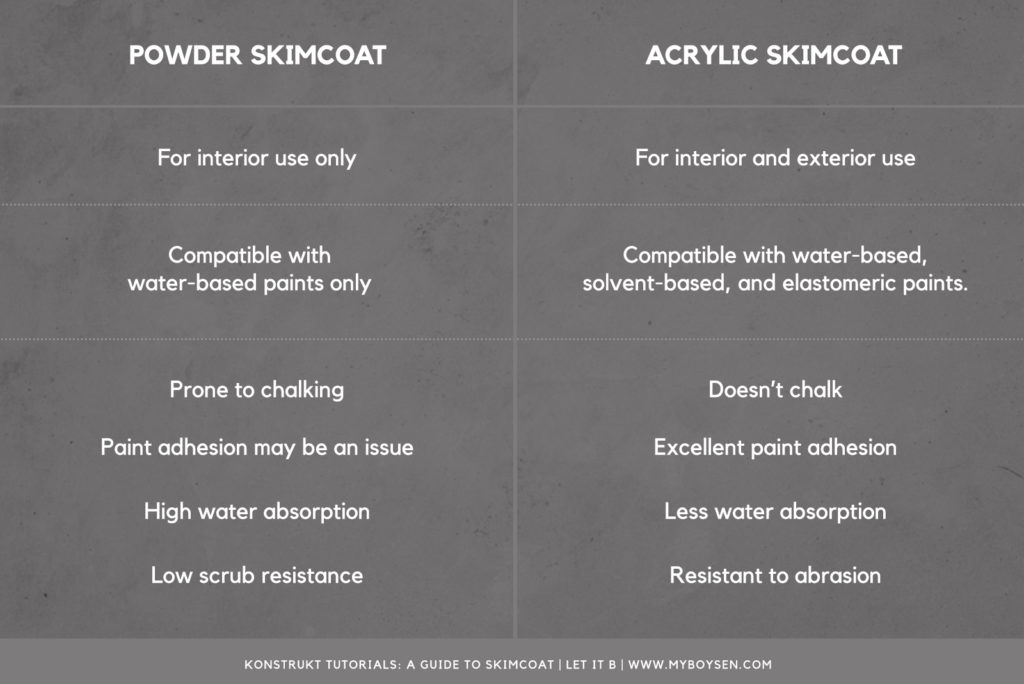 What makes the Konstrukt Acrylic Skimcoat unique is its acrylic formulation. It has excellent paint adhesion, bond strength, and paint compatibility. Compared to other powder skimcoats, Konstrukt Acrylic Skimcoat is more durable, and it doesn't chalk. That's why Boysen paint experts recommend that you use an acrylic skimcoat because you can rest easy knowing that you don't have to redo your walls when repainting. This product saves you time and money in the long run.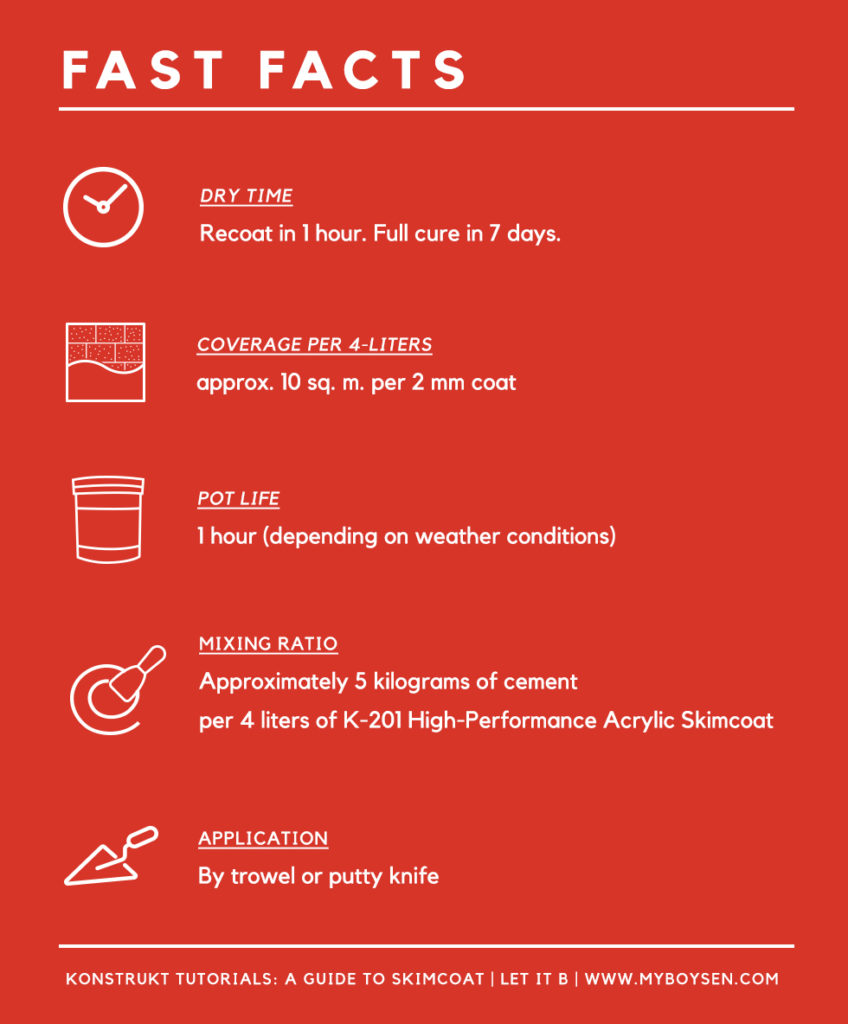 How to Use Konstrukt Permaplast K-201 High-Performance Acrylic Skimcoat
You can use the Konstrukt acrylic skimcoat on both interior and exterior concrete surfaces. Below is the step-by-step procedure on how to prepare the mixture and how to apply it.
How to Prepare the Surface Before Konstrukt Acrylic Skimcoat Application
The bare concrete has to be cured for at least 14-28 days before applying the skimcoat. If there are concrete defects that are 3 mm to 5 mm thick, then you should apply a render (Konstrukt Permaplast K-202 High-Performance Acrylic Render) first. Make sure you have a clean surface; wipe off dust or dirt. Then, dampen the concrete surface before applying the skimcoat.
How to Prepare the Konstrukt Acrylic Skimcoat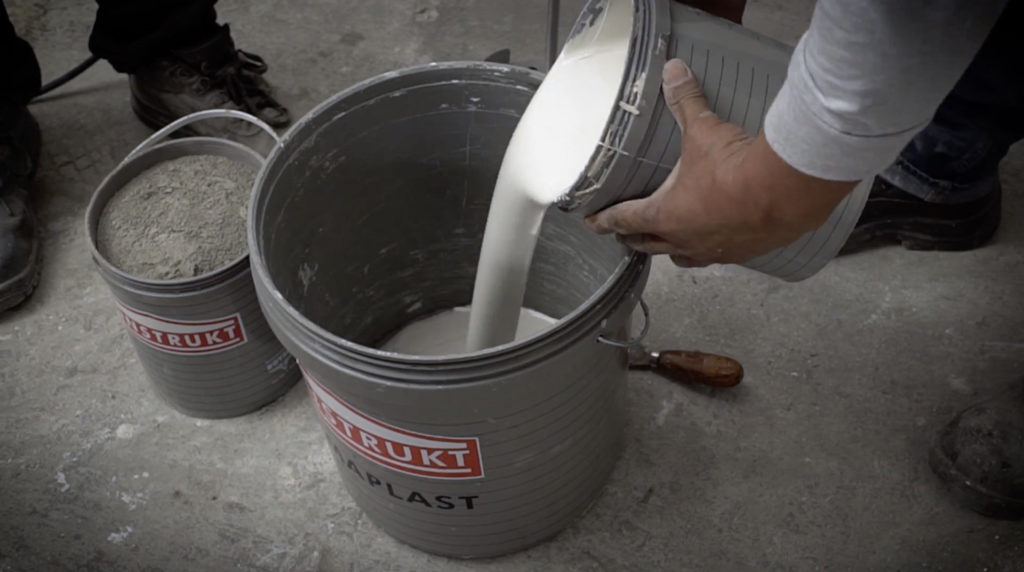 In a plastic container, mix 1 part Konstrukt acrylic skimcoat with 1 part sifted cement until it has a lump-free and homogeneous consistency. The mixing ratio is 1:1. You may use Portland cement to get an ordinary cement finish, or use white cement to achieve a white finish. Do not add water to the mixture. Plan your approach, work efficiently, and use the mixture within an hour.
How to Apply the Konstrukt Acrylic Skimcoat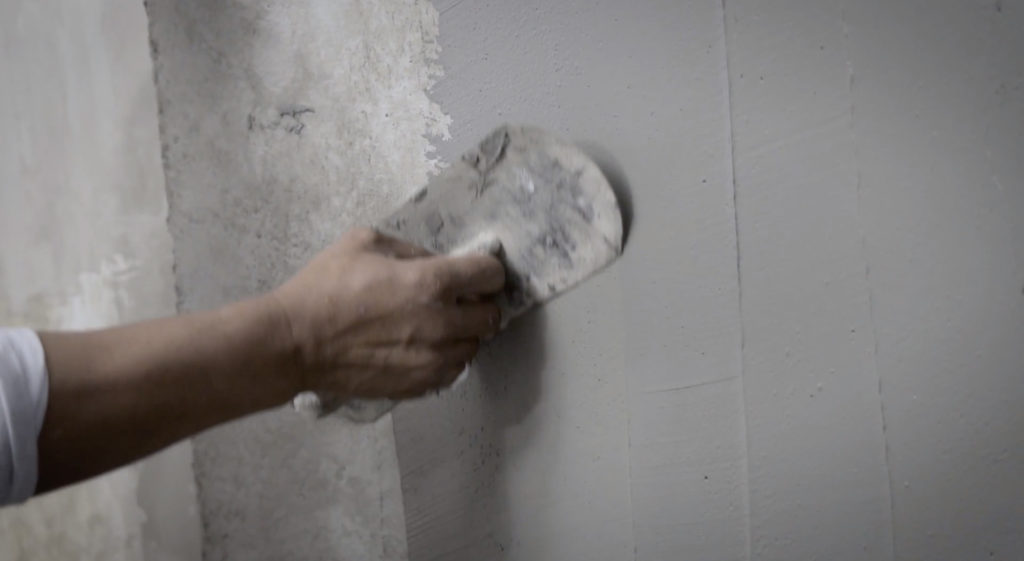 Use a steel trowel to apply the skimcoat and cement mixture thinly on the concrete surface. Firmly press the edge of the trowel on the surface until all areas are covered. Wait an hour before you apply the second coat. Then, inspect the surface to check if trowel marks are visible.  If the marks are noticeable, let the surface dry for another hour and sand it to further smoothen it. You don't need to apply a neutralizer on it anymore. Let it cure for 7 days (or 14 days in extreme weather conditions) before painting.
Watch this video to help you visualize the preparation and application process.
Your Questions Answered
We gathered all the frequently asked questions about skimcoat. Here, we came up with important points to remember when using the Konstrukt acrylic skimcoat.

No, you can't use skimcoat on previously painted surfaces. You can only apply it on bare concrete surfaces. You can apply putty on primed surfaces to cover hairline cracks and minor surface imperfections.

No, skimcoat is not the right product to use for waterproofing. It's designed to fix surface imperfections on bare concrete surfaces. Use Boysen Plexibond Cementitious Waterproofing System instead.

No, you can't use skimcoat on concrete floors. Apply skimcoat only on bare concrete walls.

No, skimcoat is only made to repair surface imperfections on concrete walls. You may use putty to smoothen wooden surfaces for hairline cracks and minor surface imperfections.

No. We only use skimcoat on bare concrete surfaces.  Use putty or masilya on primed surfaces to correct hairline cracks.

No. You have to apply primer first on the surface. The primer serves as a sealer for the concrete surface and helps the topcoat to adhere better. Please follow the standard painting system.
Got more burning questions about skimcoat or other Konstrukt products? Talk to the Konstrukt technical team! Ask us anytime online and write an email to ask@myboysen.com.
Subscribe to the Boysen Blog for more painting tutorials, painting tips, DIY project ideas, and design and color inspirations.