The Boysen FB page is a hive of activity. One of the most liked categories is #FromHousetoHome which showcases paint ideas for accent walls. Some are easier than others to replicate, and the paint colors vary with each design and interior space.
An accent wall is an area in your house which can be an interesting feature in your interiors and can be a talking point. See it as a huge canvas where you can express your creativity and give that stamp of individuality, just one of the ways to make your house a unique home for you and your family. To misquote Burt Bacharach, a chair is still a chair but a house could be a home by just picking up a brush and unleashing your inner artist with some cans of paint.
For this article, let's go organic and celebrate biophilic design. To see the full image and its mood board, please use the slider in the middle and move it left and right.
The mood boards will help you choose the materials and colors for furnishings that you will put in the space.
Stalk Flowers Sketch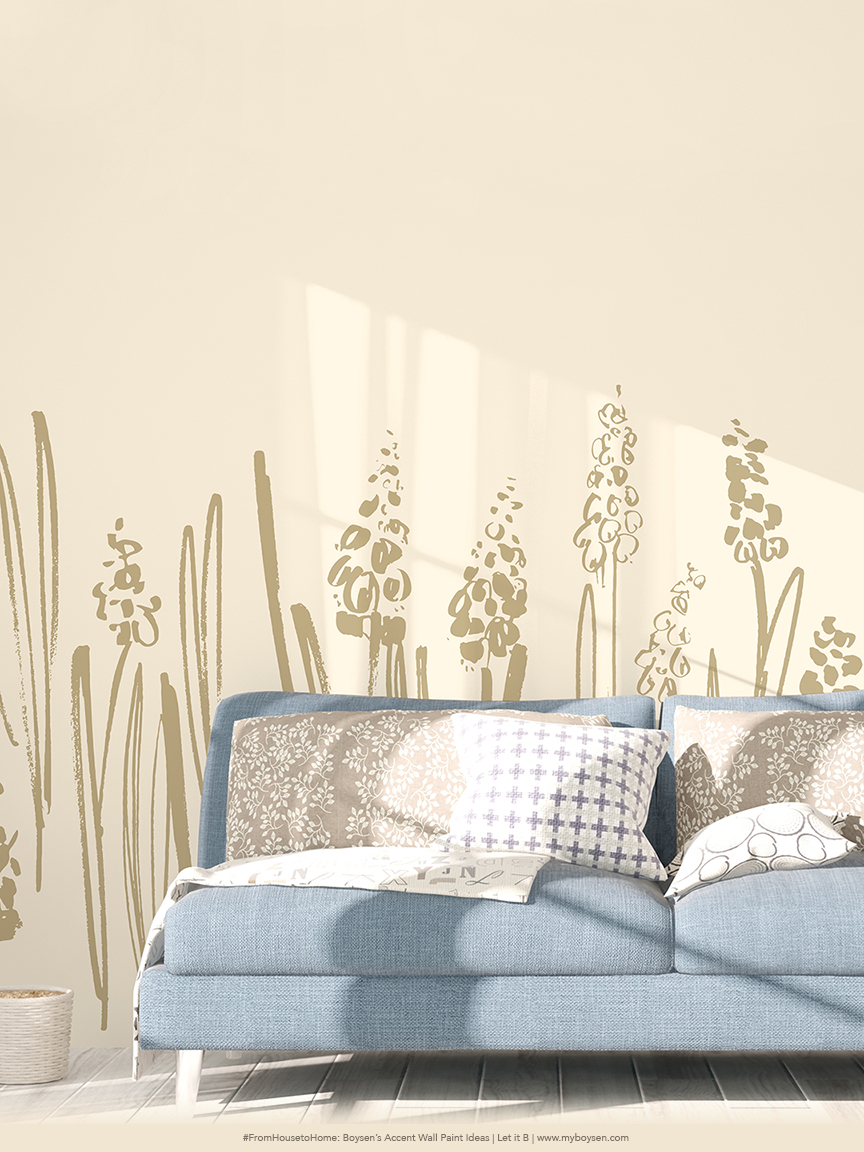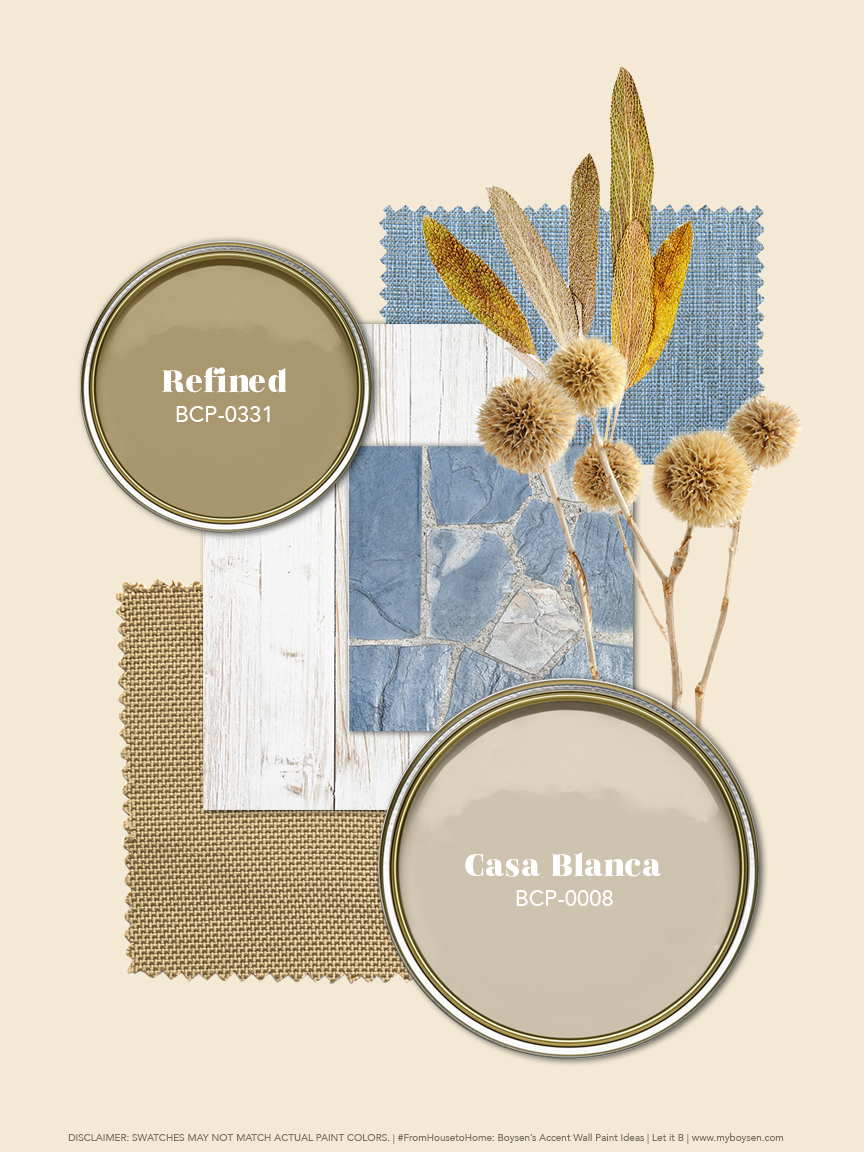 This living room with a light blue and brown color scheme brings to mind a meadow drenched with the smell of sweet blooms and soft, summer promises. Creamy walls capture the light and bounce it gently around the room, illuminating all corners. This is such a soft, relaxing place to sit in when you need the time during the day to just be.
The stalk flowers which are playfully sketched on the cream wall gives the space an illusion of height so this is a perfect way to "extend" the vertical space, and gives the feeling that there is more room to breathe.
Framed Monstera Leaves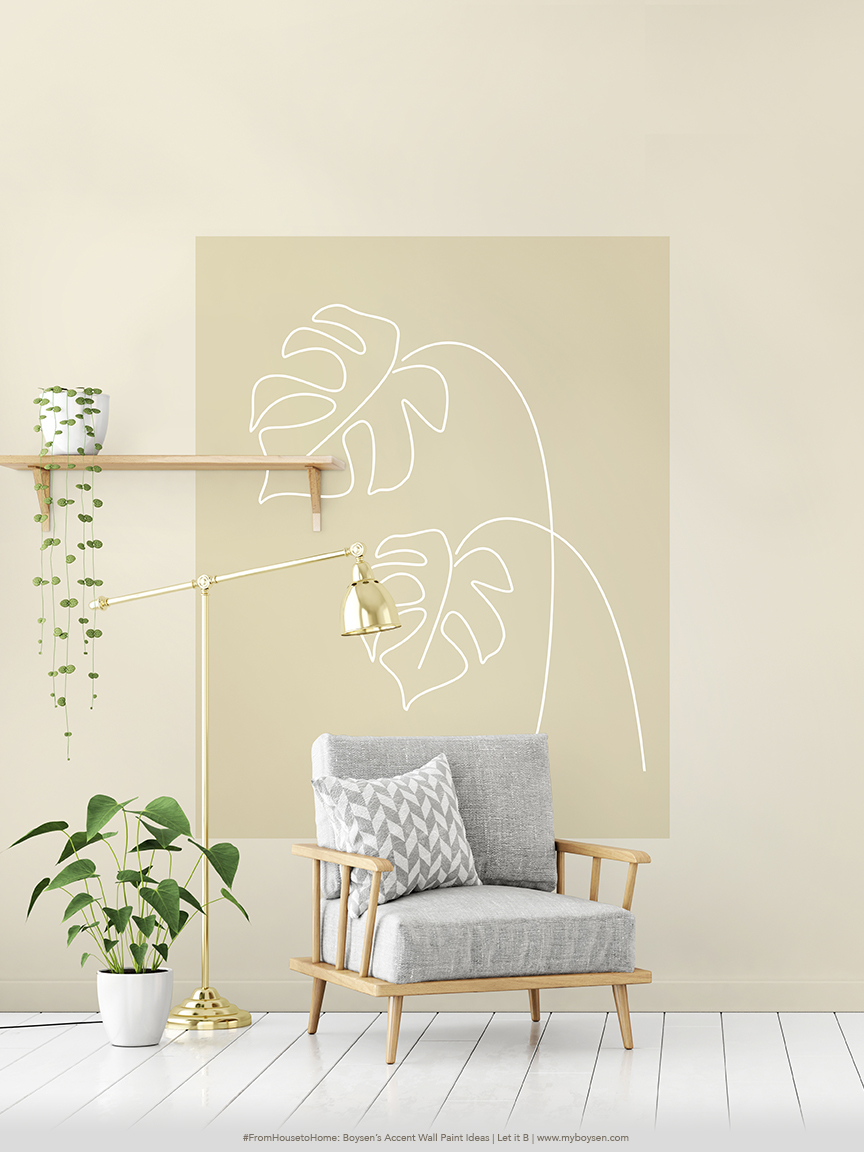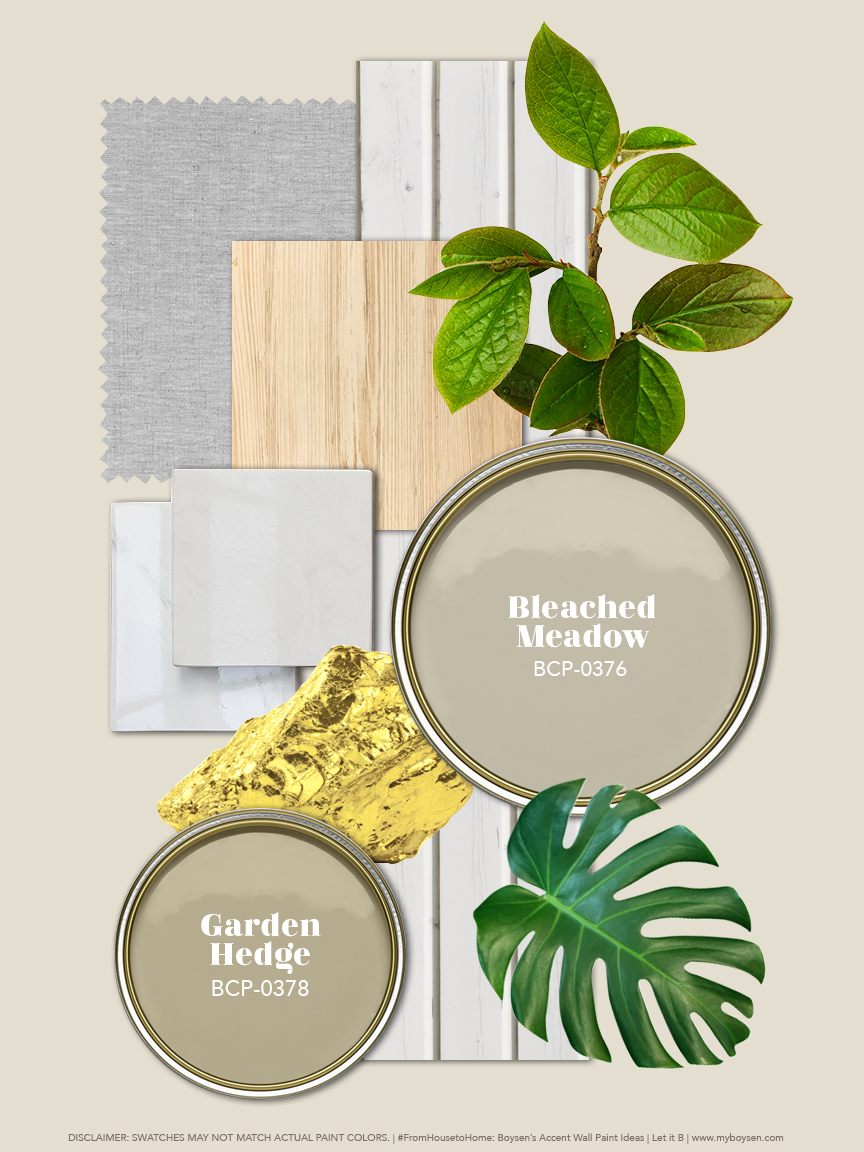 This line drawing of monstera leaves is fairly easy to make. Frame it in a rectangular shape in a portrait orientation, then add real plants around the space to give this nook an additional freshness. If you don't have any paintings or artworks to hang, then this is something you can do.
The use of beige monotones makes this a very restful space. The white floorboards add to this room's fresh and cozy Scandi feel. Add a small table in front for your laptop and this should be a good space for your Zoom meetings.
If you want to just relax, get into your favorite sitting position and read a book or just close your eyes to rest them.
A Leafy Twig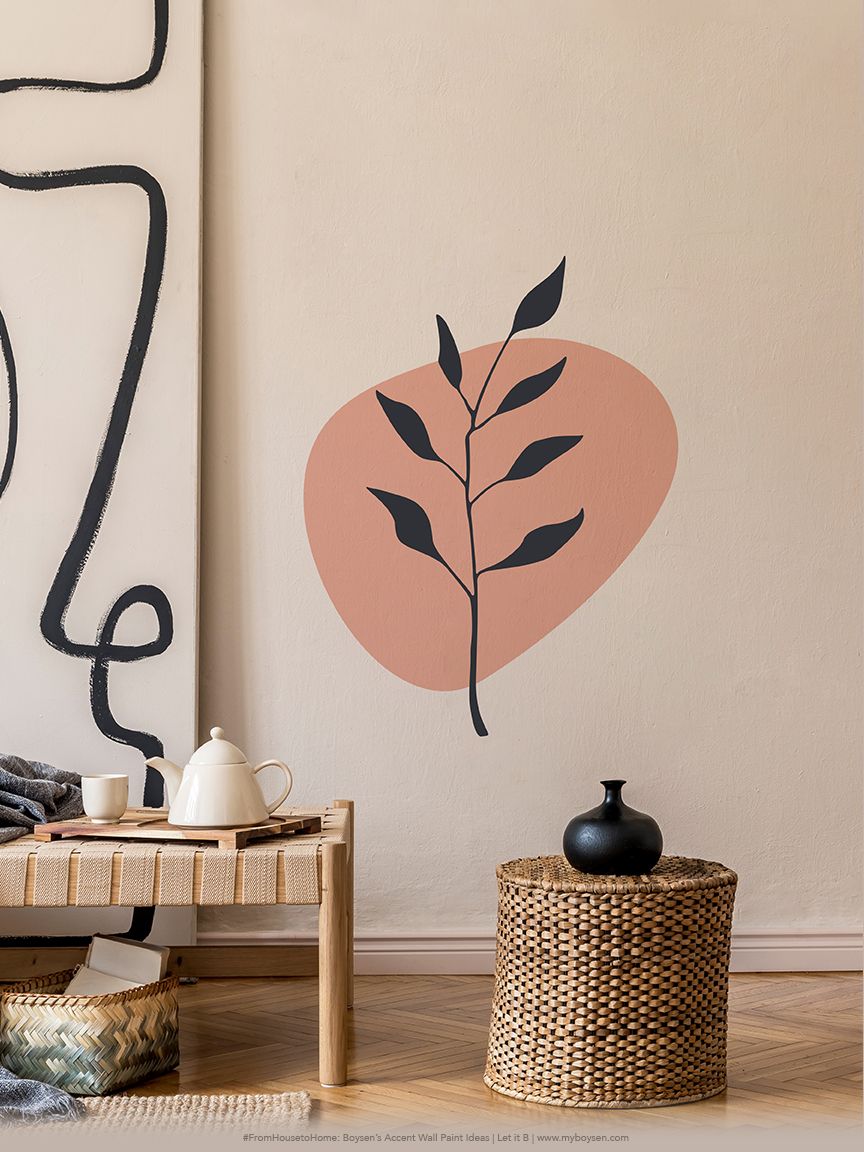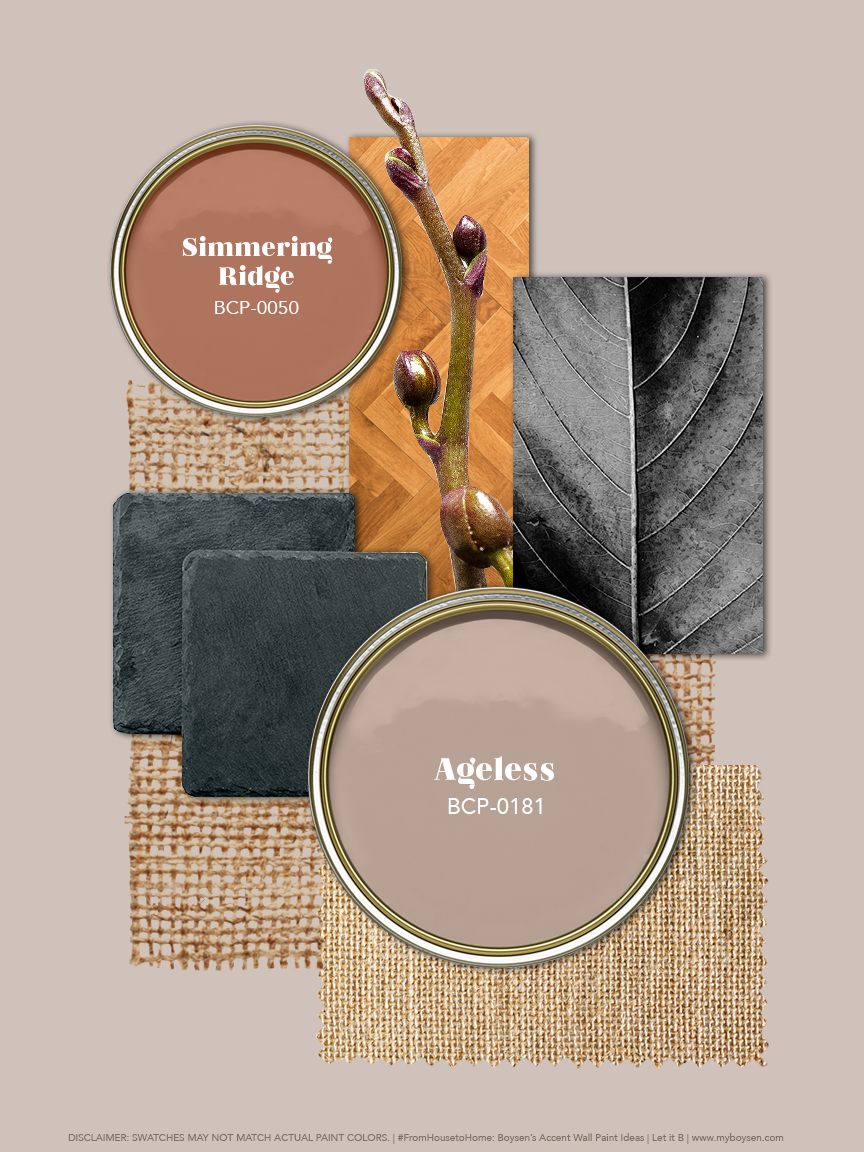 Another easy way to personalize your wall is to illustrate a leafy twig atop an oval free form to bring in a representation of nature into your home. Don't strive for perfection, just paint the leaves in a carefree manner. You can add the black squiggly line on the left. If you have a kid, maybe you can ask him or her to join you, and make this a fun, family activity during a weekend.
This time the colors are different to the whites, creams and browns of the previous two accent walls. But the subtle reddish tones still give a relaxing feel with a hint of excitement to the space.
For more #FromHousetoHome wall paint ideas, subscribe to the Boysen FB page. Then, you can go through the DIY tips you will find in this link to give you more confidence to start your accent wall project.
Happy painting!