Not many of us are daring enough to paint our home exteriors black. But black could be beautiful especially if you have greenery. The foliage against a black background can look really stunning.
We have a post showing the clean and classic white as the paint color for home exteriors, and up to today it is a favorite article of our readers. White is simply gorgeous, also as a background for the plants and trees you may have at home.
A Classic and Clean Look: The Versatility of White for Home Exteriors
If it were up to me, I would be confused. I have a tendency to want to just blend in with my surroundings and not stick my neck out. But isn't it time to stand out? Black home exteriors will definitely do that.
Most of the homes in the Philippines are painted white, beige, or light colors like pale yellow and mint green. Terra cotta is also a favorite for Mediterranean style houses even if it is a darker hue. Homes could also be the color of the exterior siding, like concrete, stone, bamboo, or wood.
But what if we were to paint our exteriors black? How will that look?
Inspirations for Black Painted Exteriors
I've trawled IG to look for black home exteriors to show you how beautiful it also is, just like white. Look at these and find out for yourself if any appeals to you.
Black Fence
View this post on Instagram
This is the image that actually captured my imagination first. So simple, I know. This is just a pocket garden with a simple table and two chairs. But I can really see myself here, drinking coffee, reading a book, or working while I soak up the morning sun. The privacy feels so delicious!
The black color makes the space look bigger because it seems like the borders recede. Having the plants against this dark backdrop also makes the green look more vibrant.
View this post on Instagram
This garden terrace offers a restorative nook for the residents to enjoy nature even more up close than just staying inside the house.
I love the rough and tumble of the plants since I prefer a natural-looking garden to a manicured one. The black boundary fence brings out the beauty of the lush greens.
Tip: If you notice with the above two photos, the floors are light grey. For the second one, white stones are also used. This kind of color palette makes the black fence stand out even more and gives the space a more relaxed feel, not a heavy one.
By the way, such spaces in a property really increase its value.
Black Beach House
View this post on Instagram
This holiday escape is New Zealand's answer to a beach house. What I love about the architecture in New Zealand is that it really strives to embrace the nature that surrounds the structure, and design the structure to maximize what nature has to offer, like views, wind flow, natural light. Read about the Under Pohutukawa house.
Our architects consider these too (read about Critical Regionalism). However, New Zealand architects may work more often with their magnificent, striking landscapes that have hardly anyone around. Again, we have those too but we have to travel far and wide, sometimes in discomfort, to get to those wild, natural places in far-flung parts of our country.
For example, I heard about a friend who bought a beach property and excitedly renovated it. The first night he and his family stayed there, they found out that a neighbor was so fond of karaoke that it usually was an all-nighter kind of "serenade". The dream of peaceful nights listening to the waves shattered as did their eardrums with the raucous singing by vocal belters.
It's also a matter of population. There are about 5 million Kiwis for a land area of about 268,000 square kilometers. There are 107 million Pinoys for a land area of 300,000 square kilometers. This means, Kiwis have 18 people in a square kilometer. And we have… ta dah…356 Pinoys in one square kilometer!
That figure does not give an accurate picture though because we have to consider that our population is not evenly distributed throughout the country. Some cities are crammed with a lot more people compared to other areas in the countryside. In Metro Manila, there are 21 million people in a land area of 619 square kilometers. It really is mind-boggling to think that there are 34,000 people in one square kilometer! I can't wrap my head around that. Can you? No wonder Metro Manila is considered one of the most densely populated cities in the world.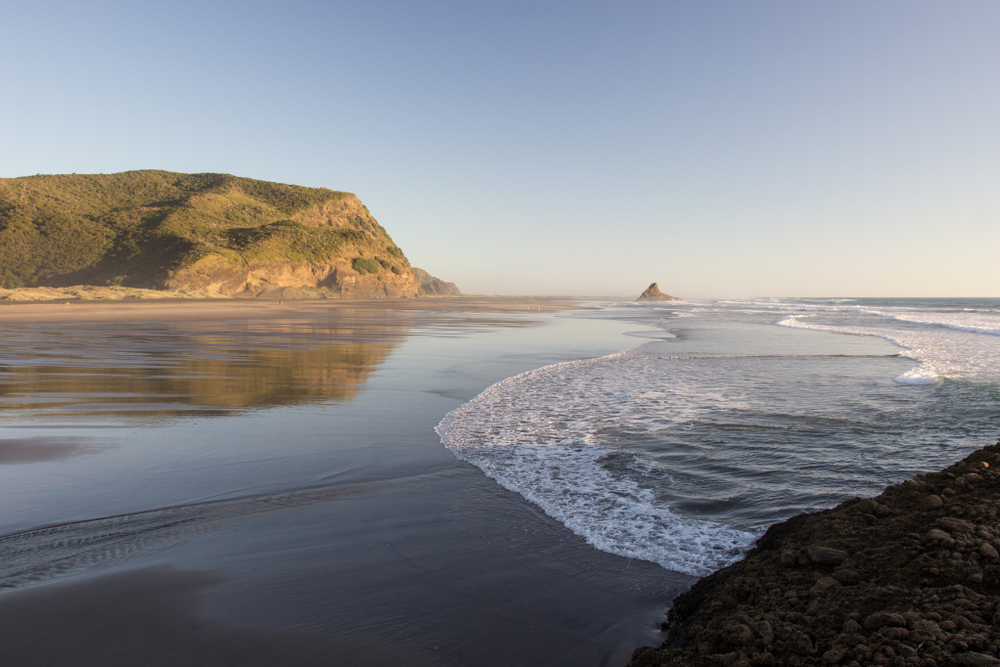 But back to this beach house, please read the caption written below the photo. It says that this beach house is located in the Karekare Beach area. Have you seen the film The Piano by Jane Campion? If you haven't, I urge you to watch it because then you would understand what dramatic landscapes mean. The story is beautiful too and just as dramatic as the landscape.
Black Gem
View this post on Instagram
This is a black gem of a house. This image shows just one perspective and it already got my imagination going so much that I wanted to know more so I did my research.
Designed by Boston-based Sebastian Mariscal, this Californian home responds to its surroundings so seamlessly. You can move in and out of the home without breaking stride. Walls slide open to let nature in. The mix of wood, stone, plants, and tasteful furnishings just makes this place breathe. It must really be wonderful to be able to live in a home like this.
The knotty cedar cladding was stained ebony and pretreated for the seaside air. The stark contrast of the black against the landscape makes it look imposing.
If you love reading about homes, follow this link and discover more about this black beauty.
Make an Entrance
View this post on Instagram
Pared-back drama is what I would call this, if there is such a thing. It's very deliberate—the vertical lines of the black cladding, the light grey stone floor, ecru stones, and right smack off-kilter is this bright green cactus that makes a statement without even trying.
How's that for a grand entrance! And you haven't even entered the home yet!
This is a design that tells you, you don't need a lot to make an impression.
Garden Terraces
View this post on Instagram
View this post on Instagram
These two are beautiful garden terraces. As you can see, the foliage really pops against a black background. Also, black makes the spaces feel more intimate. Seeing these makes me look forward to those times when we don't have to socially distance anymore or wear masks. I want to be able to laugh out loud again with loved ones and not be scared of droplets. I want to be with my friends and family and not have to think about maybe killing someone because I am asymptomatic.
Garden terraces are prized in a country I previously called home, the Netherlands. The same is true for other parts of Europe. People in these countries love to go out and eat on the terrace, be it a restaurant or a home, even when the sun is flickering. Heck, even in winter, they just give you woolen blankets and point a terrace heater in your direction so that you are able to steadily hold your cutlery and make sure that you are able to deliver food from plate to mouth without creating a mess on your face.
The Dutch have what they call a Skirt Day in the Netherlands, that's officially on April 22, when it is supposedly warm enough to don a skirt. You know what the average temperature is in April? 12°C (54°F).
To give you an idea, the temperature during our rainy season when we consider it cool and comfortable is usually 28°C, much like these days. Makes me think of this song 'kay sarap ng simoy ng hangin'. A chilly day in Baguio would be 10°C. We wouldn't go around in a flirty skirt and a light top, right?
But years of living there in the Netherlands, I really get it, I do, I really do! There is something so special about being outdoors especially during a lovely sunny day (never mind the temperature) when all creatures are abuzz—from bees, wasps, flies, ants, birds, flowers…and me. Pretty flowers are nodding their heads in the breeze, busy bees are buzzing from bloom to bloom, flies flit around to annoy you, birds chirp in unison (better than the karaoke singers mentioned above, definitely), white fluffy clouds against a bright blue sky float so close you can almost touch them…
So any food you share with your friends and family like in those garden terraces is just icing on top.
The smell of barbecue could perk the appetite of people anywhere. The smell of liempo roasting on a grill is heaven. I swear when you smell that and you hear the fat sizzle on live coals, you'd have no need for appetizers. Open a bottle of soda and that fizzy sound makes you forget that this drink is supposed to be unhealthy. And when you see the ice-cold beer frothing in the glass, you'd feel like a golden bubble yourself, all happy and effervescent.
Garden terraces are prized possessions here too. Instead of the cold, we just have to expect humidity and all the pesky flies, mosquitoes, ants…flies, mosquitoes, and more mosquitoes. Speaking of BBQ meat, we have so many kinds, from all parts of animals. Then there's fish, clams, mussels, squid, crabs, shrimp, vegetables, fruits, desserts! When Pinoys have a barbecue, it's usually a feast! That's what I love about us. We really know how to eat and celebrate!
And moreover, many of us really think we know how to sing. Sing, dance and be merry—those fit the garden terrace setting very well. That and loud conversations, talking together at the same time, rehashing old jokes that still make us laugh our heads off. In a corner, pwedeng may hugot, may drama, may iyakan. Keri lang iyan. As long as we're together, that's all that matters. Burdens shared are burdens lightened.
Back to Black
Let's get back to the business of black. Are you now considering the possibility of using black for your exteriors?
Here is an infographic that can help you choose the kind of paint available for concrete, wood, and metal surfaces.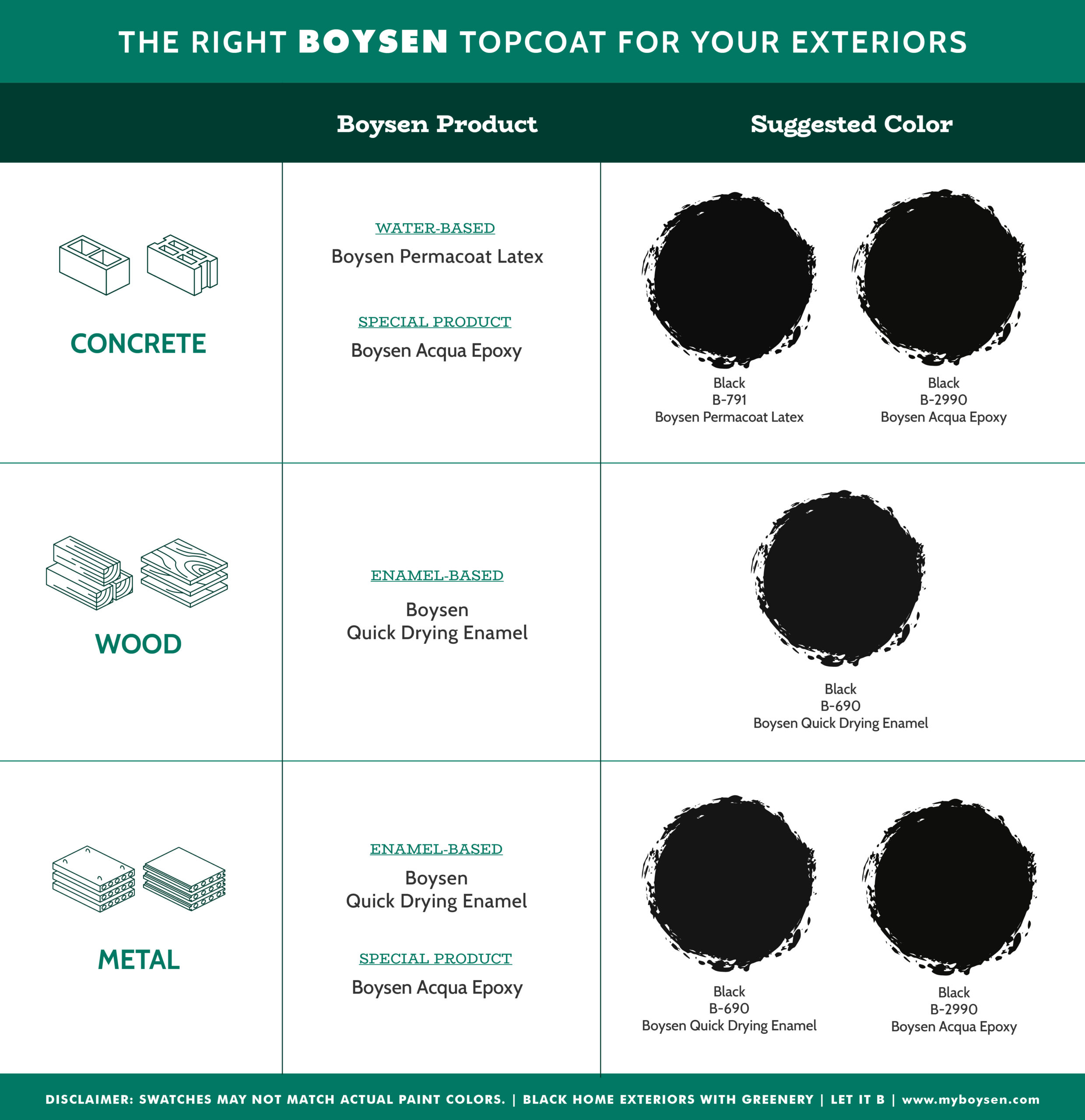 For black, the biggest advantage is that this darkest of colors does not show stains as much as white, although Boysen has paint with dirt-resistant properties so you can go white if you like.
The advantage of white is that it reflects heat so for homes in a tropical country like the Philippines, this is a very important consideration.  We have BOYSEN KNOxOUT paint that cleans the air, which comes in white.
White reflects heat while black absorbs it.
Boysen has a roof paint called Boysen Cool Shades which has been proven to bring down the indoor temperature so that you can save on your electric bill. To maximize the effectivity of this paint, there's no other way to go but white.
If you are convinced to try black but don't want to go the whole nine yards, then start with your boundary walls or fences and just some parts of your home like trims for example.
Good luck to the early adopters and those who love to experiment. If you do paint your exteriors black, please send pictures to info@myboysen.com.