Express yourself with colors: That's what we believe at Boysen. We also believe that selecting paint colors for your home is a personal choice. So don't give that choice away to anyone else, not even to your interior designer, if you have one. Sure, let him or her pick out some colors but the ultimate decision is yours.
If you are not so confident about colors and there's no professional to guide you, then there is always a color that you can pick that would make your home look light and bright. I'm talking about white. This color is a classic and will remain relevant through all the trends that the future will bring. White paint is also the perfect backdrop for other colors that you may want to bring in, like hues in home accessories and furniture.
In this post, let me show you how stunning exteriors and interiors look with white as the primary color.
White In Home Exteriors
Painting your home exteriors white will make your house look timeless. Another advantage is that white does not fade through time as quickly as other colors. However, the best benefit is that white deflects sunlight hitting the exterior surfaces. This translates into a cooling effect for your interiors.
Click on the image above to see the 6 white colors that would make your house elegantly stand out in your neighborhood.
My personal choice is Boysen Tulle White. It's light and bright without giving a clinical cast to your exteriors or your interiors. Boysen Tulle White BCP-0706 is clearly a long-time Pinoy favorite. When the public speaks, there's no arguing that!
White in Home Interiors
All the interior spaces that are shown here use black as accents. These can be found in the furniture or home accessories used in the space.
The operative word is accents. I wanted to show how just a little black can go a long way. To use more black would change the mood of a space. Instead of bright and light, it may look dramatic and intense, which is not the intention in this blog.
Vibrant and intense colors are wonderful too. But for those of us who are not so good at colors, the pairing of white as a primary color with black accents, would be easier to pull off.
Foyer
The moment you enter the door, this foyer will embrace you with its serene vibe. Drop your keys on the key dish at the console table beside the door. Breathe a sigh of thanks that you're home safe and sound. Leave all the stress that you experienced during the day at this space. Take off your shoes before walking into the living room.
Have your little rituals of gratitude and cleansing before you go deeper into your sacred sanctuary. You and your loved ones deserve to have a loving you when you are home.
An Elegant Living Room
I love Crittall windows, the black steel-framed windows. Although I doubt if these are the OG. It's good though that there are other manufacturers making them now. I don't know though if these are available in the Philippines. If you know a local source, please share in the comment section below.
Many of these steel windows today are double glazed, thermally efficient, and may have protection against rust.
In this living room, the black lines of the windows complement the white walls, and give the space an elegant and interesting vibe. That these open to the grounds outside makes the space more stunning.
Dining Room
Here are the black steel-framed windows again! They can be opened to bring nature into the dining room, and allow you and your family to have unforgettable gatherings. Entertaining? This white space can elevate conviviality. Even if you are serving simple fare, you will surely create happy memories.
The black lines from the windows against the white surfaces create this tasteful atmosphere. The pair of metal pendant lamps give the place more flair.
A Stylish Kitchen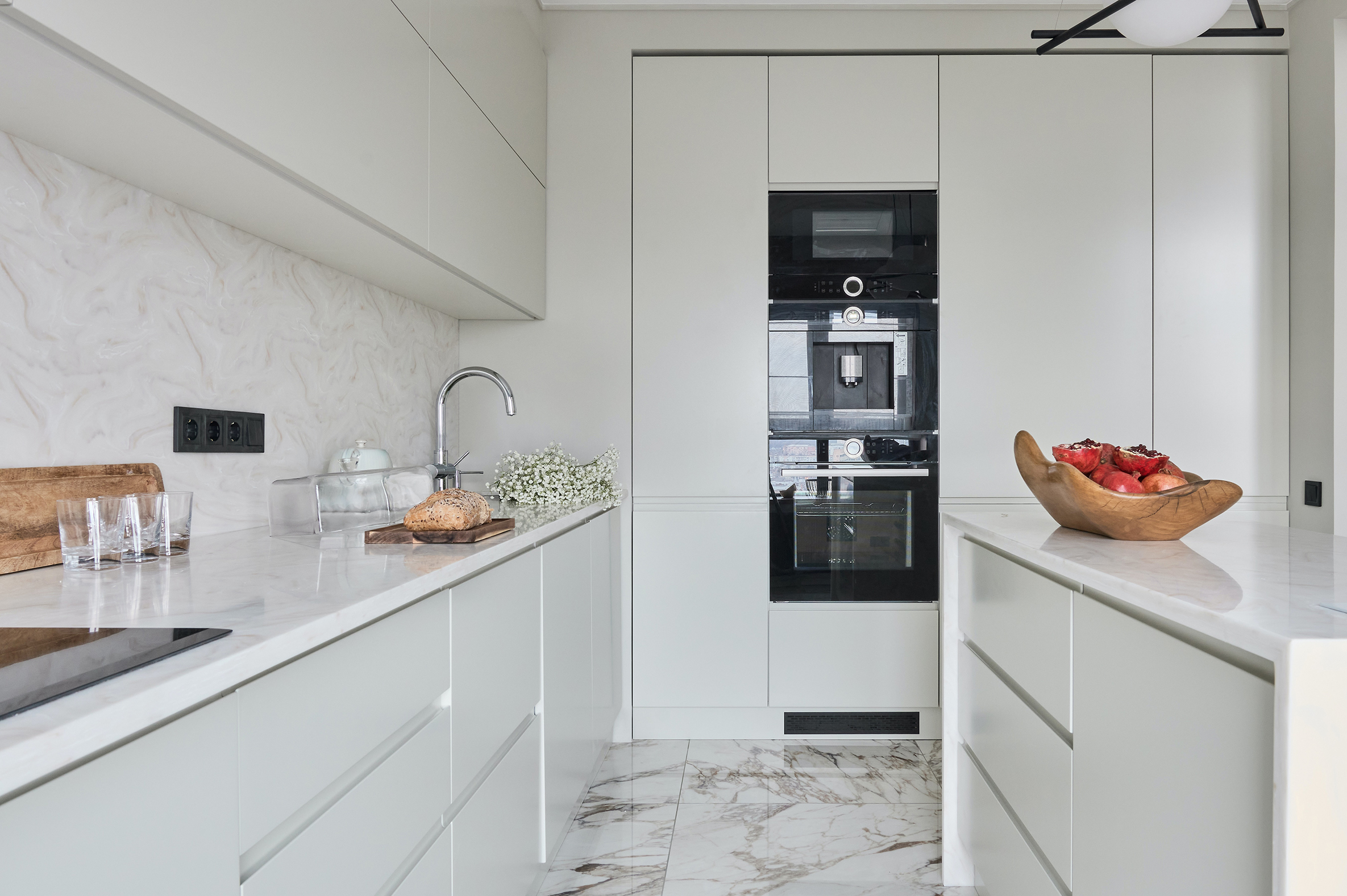 I have so many dream kitchens. This is one of them. I love the white expanse that makes the place more spacious. Touches of black from the pendant lamp, the kitchen appliances, electrical outlets, and the subtle veining patterns in marble tiles used on the floor, splashback, and counters transform the space from sterile to stylish.
This kitchen has a minimalist look because clutter is hidden in cleverly designed storage solutions. If you want a good paint for the kitchen that gives that glossy appearance, get an expert to apply duco finish on your cabinets using Boysen Automotive Lacquer.
A Classic Comfortable Bedroom
This classic bedroom looks spare because of the monochromatic white tones The lines of the four poster bed draws the eye but because the posts are thin and elegant, nothing jars. A crystal chandelier adds a sophisticated touch. The look may be classical but comfort is top of mind.
Pristine white sheets encase the high bed. Definitely, this bedroom is a place to float to la la land and dream happy dreams.
Stylish Retro Bathroom
What's not to like about this retro bathroom. The huge rain shower guarantees a delicious ablution. Fittings are made of antique brushed brass. A marble vanity accents the black and white space with its deep green color. To finish the retro look are the ribbed glass screens and geometric tiles.
This bathroom exudes a more masculine vibe, but it also fits feminine sensibilities. It is functional and snazzy.
There is a new term coined in the interior design world today: spathroom. It brings back the luxury in the daily ritual of bathing, and putting some effort into making the bathroom a place for rest and relaxation.
Make every me time count, that includes showering or bathing.
To Wrap-Up
Colors are wonderful magical tools to have when you are decorating your home. But when the selection gets too tough for you, there's always a go-to color combo that never fails. That's black and white.
For this post, I opted to have black as an accent color and gave white the starring role.
For more color inspirations, subscribe to Let it B and get updates in your email inbox as soon as we publish new content.