Steel corrosion—more commonly called and known as rust—is the enemy of metal. It can be tough to beat and is a paint problem that's best dealt with early on. To help you out, we asked experts from the Boysen Technical Team to give their advice and recommendations on how to deal with rust on a metal surface that needs painting.
But first, why is rust such a big deal anyway? Not only is it unsightly, if left untreated it spreads to more and more areas of your metal surface, eventually eating away at it. Soon enough, the metal may look so dilapidated that you'll have no choice but to replace it entirely. To combat this, you need to act fast at the first sign of rust. Nip it in the bud before it becomes an even bigger headache!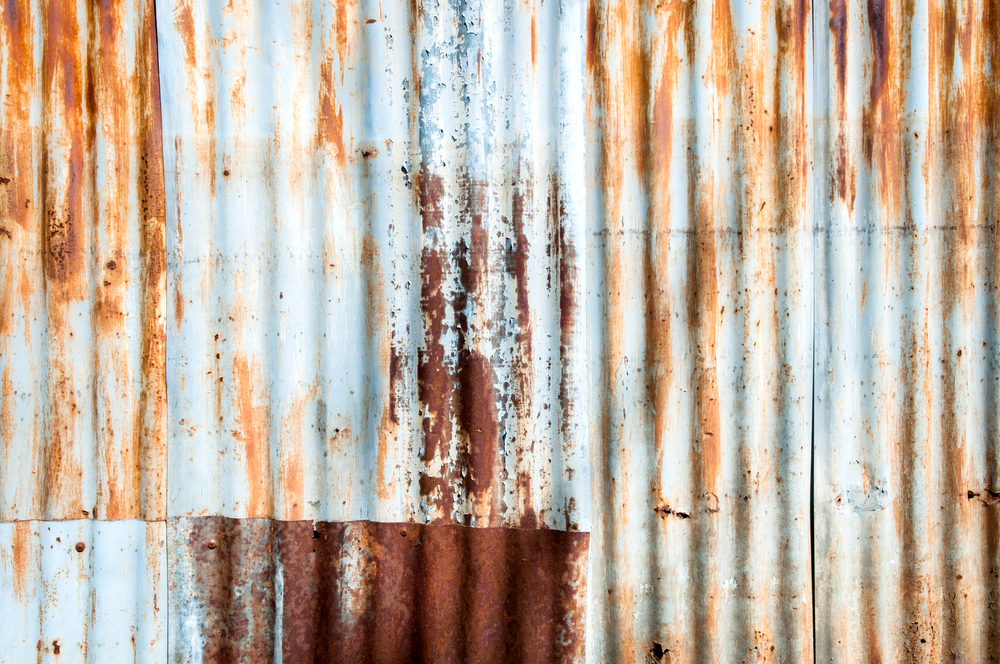 Ready? Here's your beginner-friendly guide to dealing with rust on a metal surface you want to paint:
Step 1: Check the Condition of the Rusted Areas
Typical metal surfaces that a Filipino DIYer may want to paint include metal gates, galvanized iron sheets (to serve different purposes such as for fencing), and even metal furniture (such as outdoor benches and tables). If you notice any of these rusting and decide to paint it, the first thing you need to do is an inspection.
Check how deep and how much of the rust has covered the metal. If the rust has created holes or has caused your metal to become dilapidated, it's best to replace it. There's only so much that chemical rust treatments and paint can do. This is, again, why dealing with rust is better done now than later. Otherwise, if the metal is whole and intact, proceed to the next step.
Step 2: Treat the Rust
Now the real work begins. After inspecting if your metal can still be saved, the next thing to do is to remove and treat the rust that's on it. This is typically done by first manually removing the rust and then using a chemical treatment afterward.
Begin by taking a steel brush and sandpaper to get rid of as much of the rust as possible. If you still see rust even after brushing and sanding, take Boysen Metal Etching Solution and apply liberally on the areas. If all of the rust was removed with the brush and sandpaper, you can skip this step.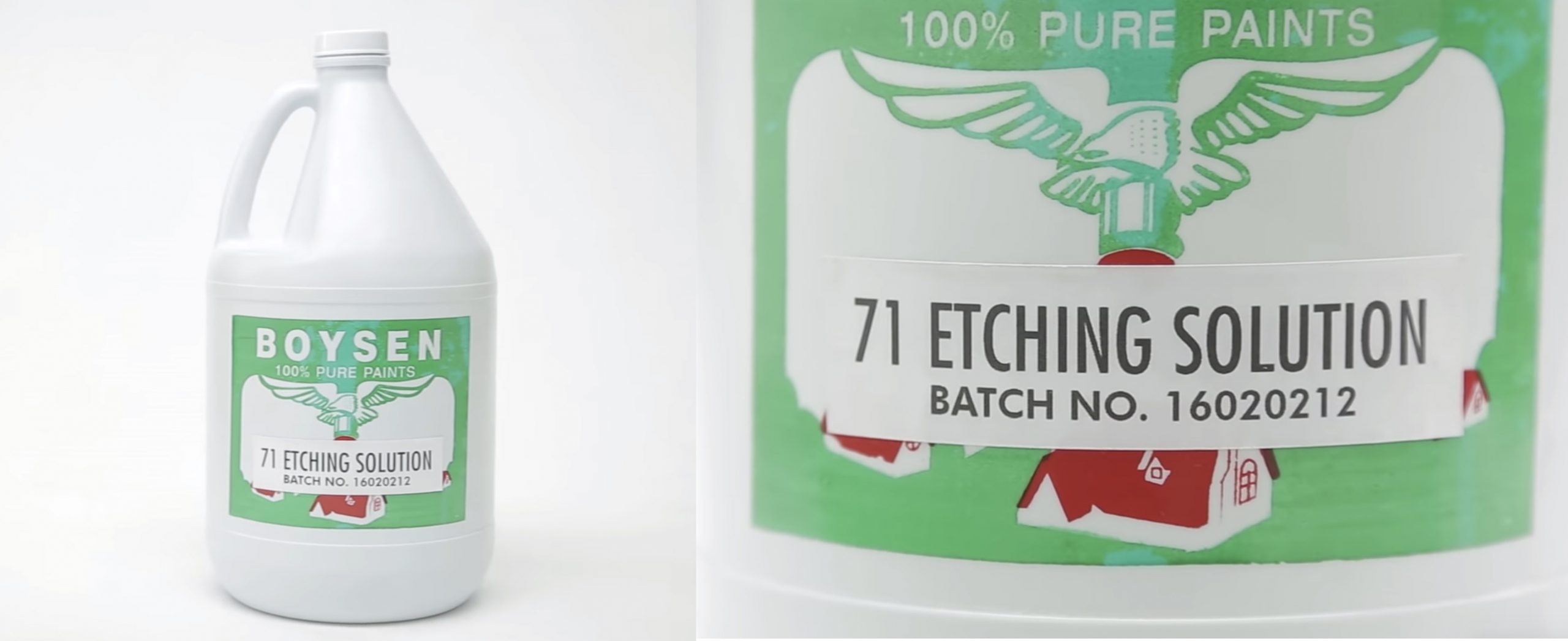 Boysen Metal Etching Solution is a chemical solution rust converter. It reacts with rust to prevent it from spreading and further damaging the metal. After applying the rust converter, wait for 10 to 15 minutes. Thoroughly wash the area with clean water, then wipe the area with thinner using a rag.
Important to take note: Boysen experts advise that you be thorough with Step 2 as this part of the process is crucial. The problem will only come back (or even worsen) if you do not do a good enough job of removing or stabilizing the rusted areas.
Step 3: Apply Primer and Topcoat
Now that you've dealt with the rust, it's time to protect and beautify your metal with primer and paint.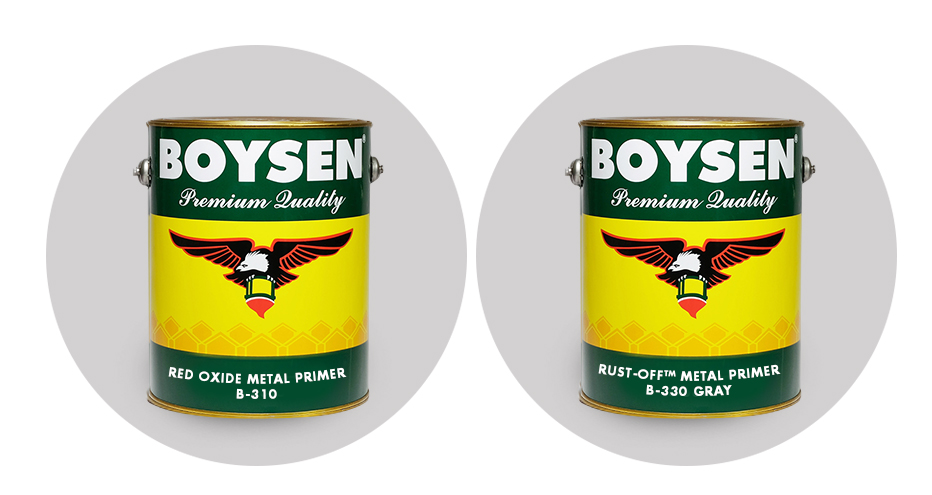 You can opt for Boysen Red Oxide or Boysen Rust Off. Both are alkyd-based metal primers that have reliable rust-inhibiting properties. Use these on interior and exterior steel and iron surfaces. (Tip: Boysen Rust Off comes in a light gray shade which makes it a good choice if your chosen topcoat color is white or any other lighter hue.)
Paint products you can use as topcoat after are Boysen Quick Drying Enamel, Boysen Acqua Epoxy, Boysen Cool Shades, and Boysen Roofgard. Remember to wait at least 8 hours for your primer to fully cure before applying your topcoat.
Final Reminders
Metal, more often than not, will rust over time. It's especially likely to happen when the protective layer of paint on it has started to age. Therefore, the best way to not see rust on your metal for a long time is through proper surface preparation and choosing quality paint.
And, when you do signs of corrosion, put a stop to it before it spreads and destroys your metal any further by following the steps above. Vigilance and periodic maintenance are key. Good luck!
If you have any questions or inquiries about Boysen products, the Boysen Technical Team will be happy to assist you. Send an email to ask@myboysen.com or call (02) 8363-9738 local 413 to 418 during office hours for a one-on-one consultation.