Welcome to another year of booths, exhibits, and the like! Let's kick off another exciting and productive year with the Interior & Design Manila 2023.
Interior & Design Manila 2023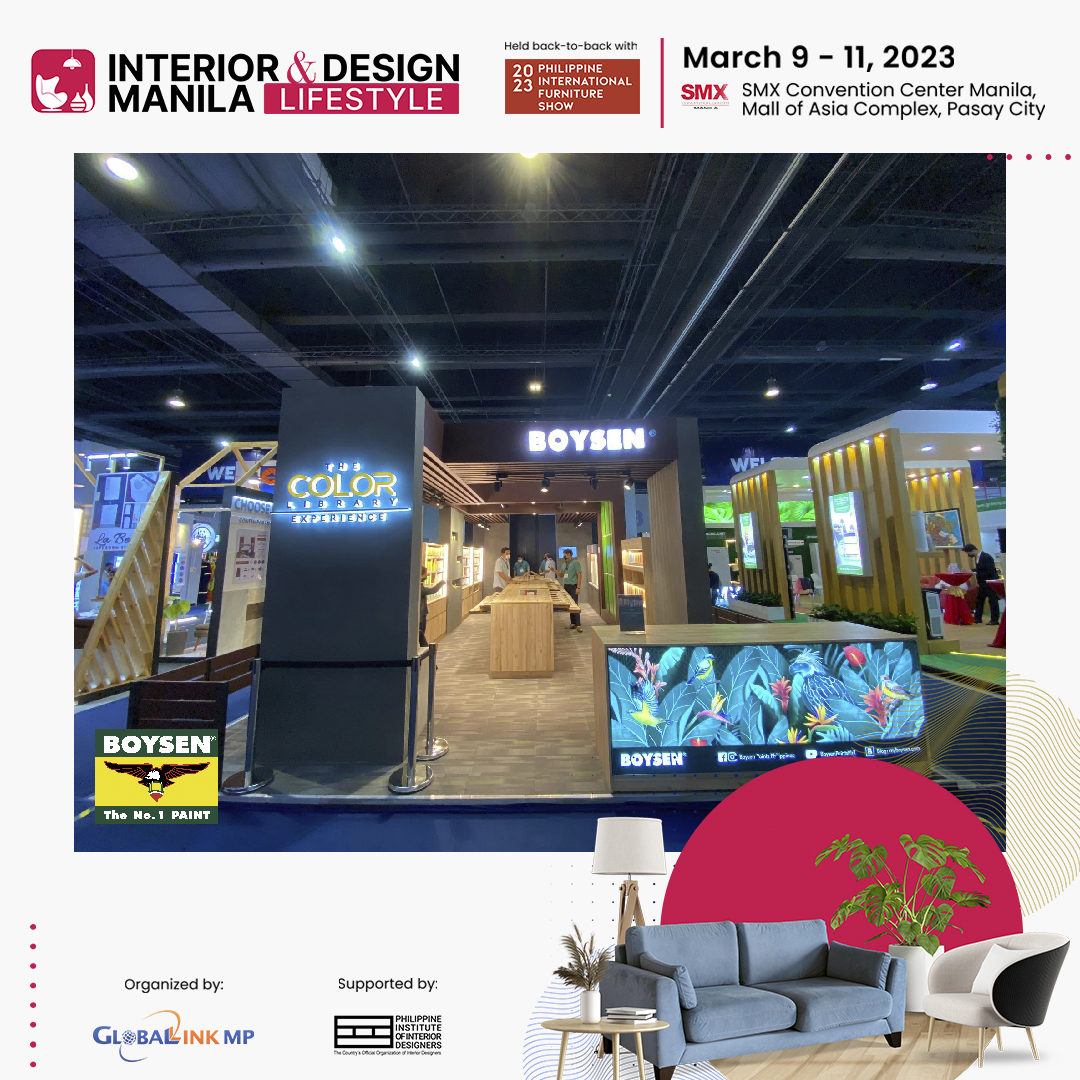 The first of many exhibits scheduled this 2023, Interior & Design Manila will happen on March 9 to 11, that's from Thursday to Saturday. As always, this exhibit will be in the SMX Convention Center Pasay, inside the Mall of Asia Compound. What can you expect in Interior & Design Manila 2023? Definitely a lot of interior styling options such as furniture, appliances, and, of course, paint!
Building the exteriors of your dream house is just the beginning. Watching it form from the ground up is something else, that's for sure. But, in my opinion, the fun starts with interior decorating. What will your kitchen look like? What about the living room? Better plan ahead for the coziest bedroom, that's our number 1 priority!  A good night's sleep after planning and budgeting your dream home is definitely a must have.
The Boysen Color Library Booth
What can you expect in this year's Boysen booth? Well, here's a quick checklist.
? Over 400 colors to physically browse through
✨ A dedicated shelf area for our decorative finishes
? Actual painted panels of our most popular products
? Large panels of the Konstrukt Lunar Series decorative cement finishes
? Our latest brochures for your personal collection
? Boysen's friendliest and most helpful marketing executives to ask your most burning paint-related questions
? Probably the best Instagram spot in the whole event (I'm personally biased, though. Hehe)
The Color Library Concept Store
Furniture shopping can be such a thrilling experience especially if you can visit a showroom. You don't know how many mattresses I laid down on trying to find the perfect one for my bedroom. Now, you can do a similar try-out with paint! There are two ways. First, you can use the Boysen App to visualize different colors in your space. You can read more in the article down below.
5 Useful Features in the Boysen App You Need for Your Painting Project
Aside from going the tech-savvy route, you can also choose to purchase small 200-mL sample paint pots from The Color Library concept store to try out the paint in a small area of your wall. This way, you can also see for yourself how it matches the lighting your house has! Drop by Boysen's concept store along MOA Square (super near IKEA if you're planning to look at furnishings as well). We have over 1,300 Colorbooks for you to browse through and even more colors to check out in The Color Library App.
Ask for help from our friendly neighborhood Color Consultants in store if the amount of colors available is borderline dizzying for you. They're always happy to help.
We'd Love to Hear From You!
Aside from technical paint know-how, we also have a ton of color inspirations in the blog for you! Sign up for our weekly email blast to get your dose of paint and DIY inspirations. If you have any other questions on paint or our exhibit schedules, send us a message on Facebook and Instagram or send an email at ask@myboysen.com. We're always happy to help.
See you in Interior & Design Manila 2023!