Through the years, there has been a significant shift in designing powder rooms, both in commercial and residential spaces. Gone are the days of just laying out a standard cubicle with a decent water closet, sink and toilet paper holder to match. Nowadays, if you visit a friend's house or a chic new bistro, you might find an elaborate buffet of toiletries, an intriguing wall paint selection, or a refreshing floral decor.
Your home or space is an extension of who you are or the establishment you're representing and the powder room is most probably one of the most used areas by visiting guests.
Here are a few residential powder rooms worthy of another visit.
U Residence (2.875 sqm)
Designed with a Modern-Industrial aesthetic in mind, this powder room explores the subtleties of using cement- finished walls (Konstrukt Skimkote) to give way to the bold bathroom fixtures and graphic accent tile design. Mood lighting was placed to soften the rough finish of the room.
T Residence (3.74 sqm)
This powder room breathes luxury and finesse. Upon entering this space, you are greeted with a tall elegant floral arrangement complimenting the wall (Virtuoso) and floor finishes.
Cove lighting was used to add luxuriousness to the space.
R Residence (3.52 sqm)
This monochromatic masterpiece explores understated class. Using finishes of the same color, the designer opted to play with textures and dimensions, creating a clever take on accent tile layouts.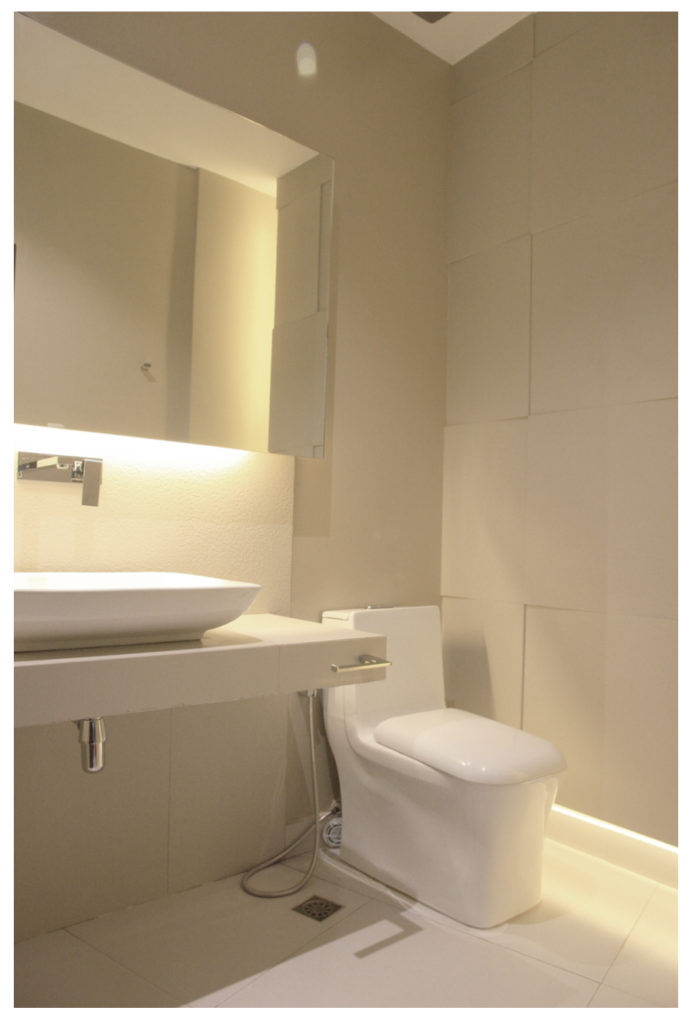 Click this link to read about other interior spaces.