Aside from its trusted paint products, Boysen also takes pride in creating murals that are impactful in more ways than one. Take for example the Boysen KNOxOUT project along EDSA whose murals uplift expansive stretches of the thoroughfare while helping purify the air.
Now, another Boysen mural joins the roster, and its impact—varied again though not quite as public this time—is just as appreciated. Appreciated by whom? By the Boysen employees themselves.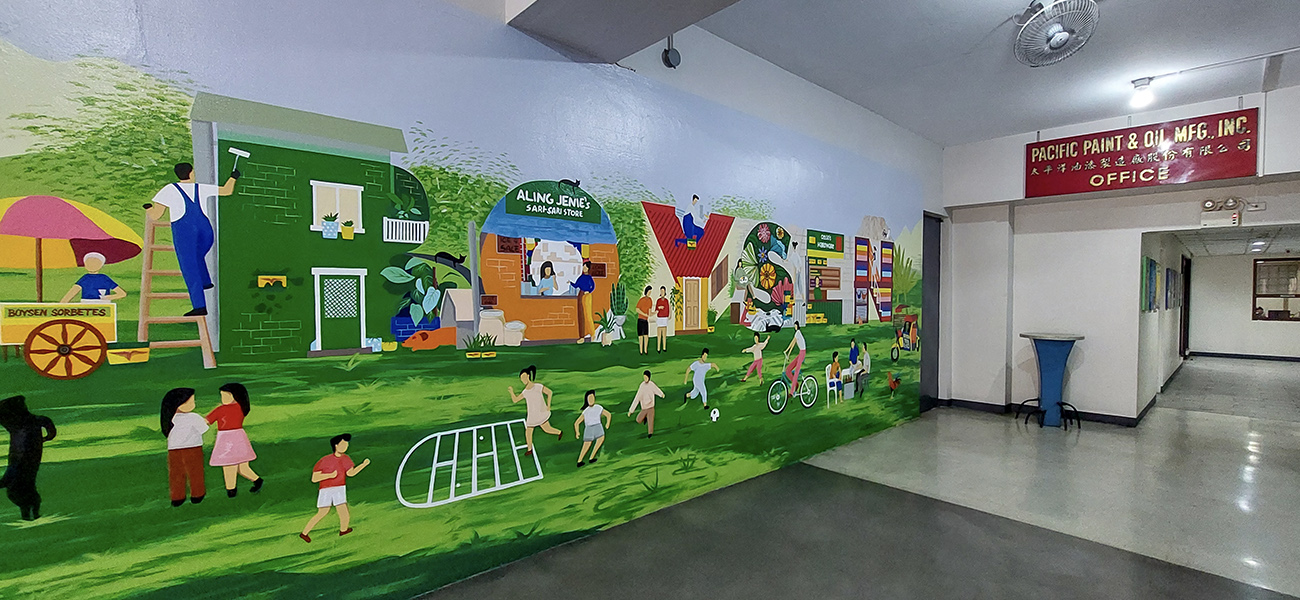 Inside one of Boysen's office buildings is a newly finished mural along the hallway entrance. Where it is now there used to be just a plain wall where a few Boysen products were mounted and displayed. It was time for a change.
"We wanted something that reflects who we are as a paint company. Boysen tayo. Kailangan colorful," says Angie Wong who works in the Production Department housed in the building.
It was she and her colleague, Ronalyn Diaz, who requested for a mural design for the space which was subsequently fulfilled by the paint company's Communications Department.
A Boysen Community

The result is a mural filled with charm and character—a surefire looker to anyone who passes by it. Boysen is spelled out in big, blocky letters. Woven into each is a mini tableau depicting scenes typical in the everyday lives of Pinoys. For those familiar, this is directly inspired by a Philippine style of painting called Letras y Figuras.
The letters together paint a charming, familiar picture. The O is of a sari-sari store. The Y is a characteristically Filipino home with its corrugated metal roofing—it's currently being repainted. Two women stand just outside engaged in chitchat or, quite possibly and equally as likely, tsismis.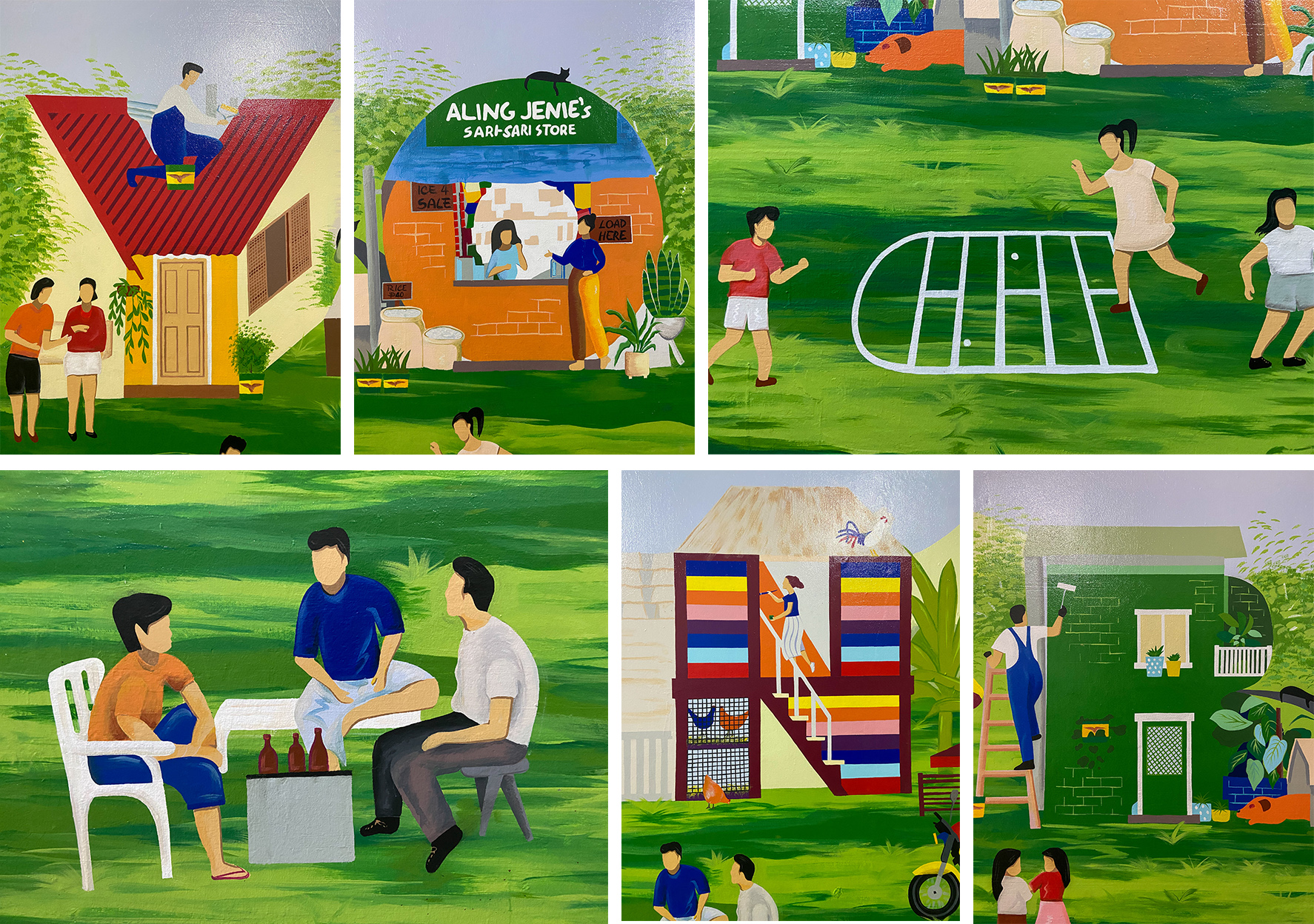 It's lively around the Boysen letters too. Kids play piko, men sit around a makeshift table on mismatched chairs, and a rooster idles about.
Boysen in Filipino Culture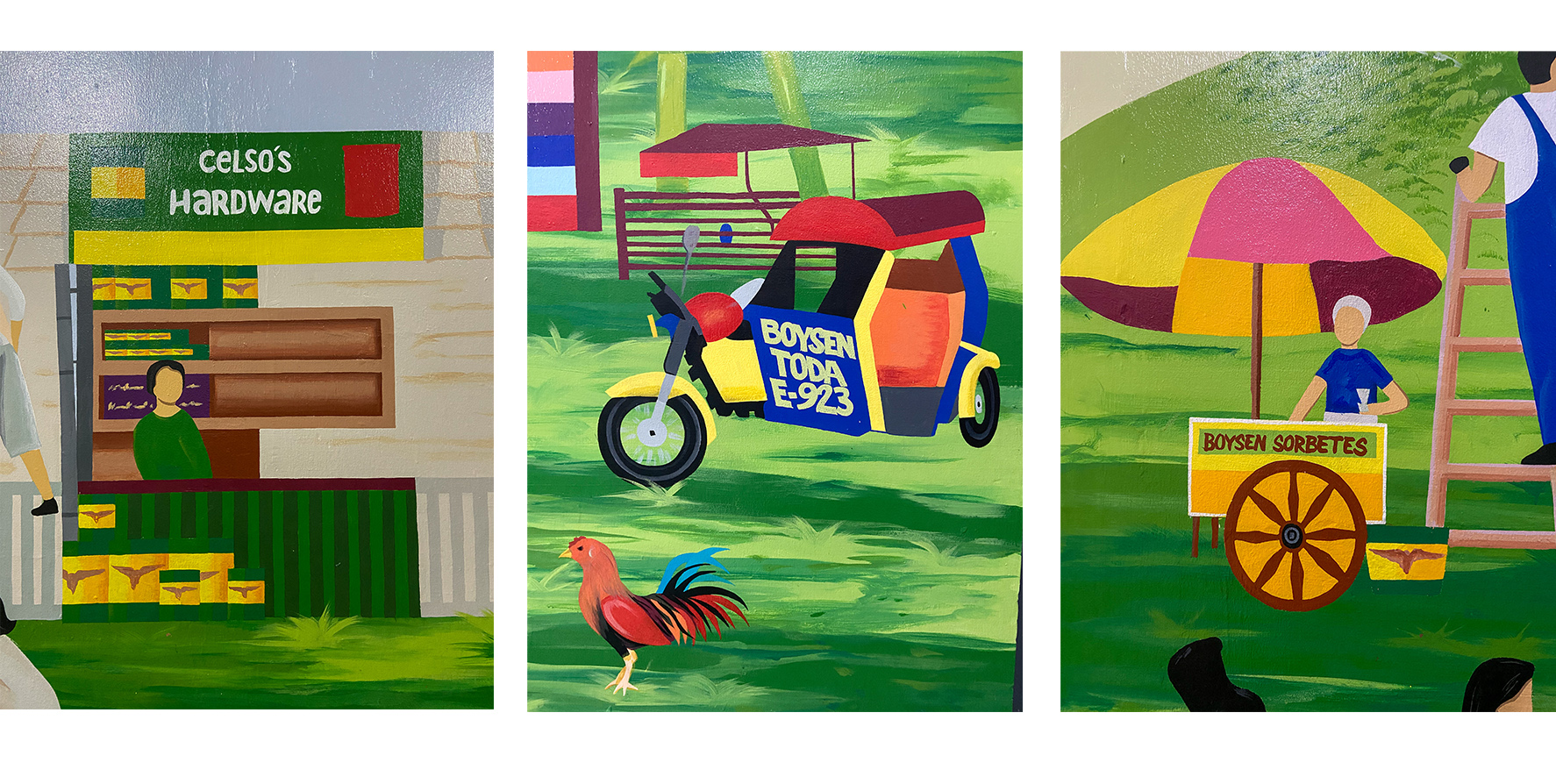 Tj Fuentes, an artist from the Communications Department responsible for the design, said his goal for the mural was for it to be more than just something that beautified the area. "Throughout the years—70 now as we just celebrated our anniversary—Boysen has been a partner in building Filipino homes and communities. I wanted that to be the main theme and message," he says.
"Naging part na ng Filipino culture ang Boysen," TJ adds. "There are Boysen painters in the final artwork but you'll also see details like Boysen cans turned into plant pots. It's not just paint. You see Boysen even in the little things."
Above and Beyond
When asked how they felt about the finished mural, both parties, the Production Department and Communications Department, responded with enthusiasm.
"Nakakaganda ng mood!" says Ronalyn. So much so, she says, that they've added standing tables so employees, clients, and visitors can feel free to stay in the area and admire the wall. They're hoping to add bar stools soon to go with the tables. Transformed from being just a mural, it's now a communal space for everyone in the building to enjoy.
As for Tj, he commended the painters who did a good job transcribing his artwork.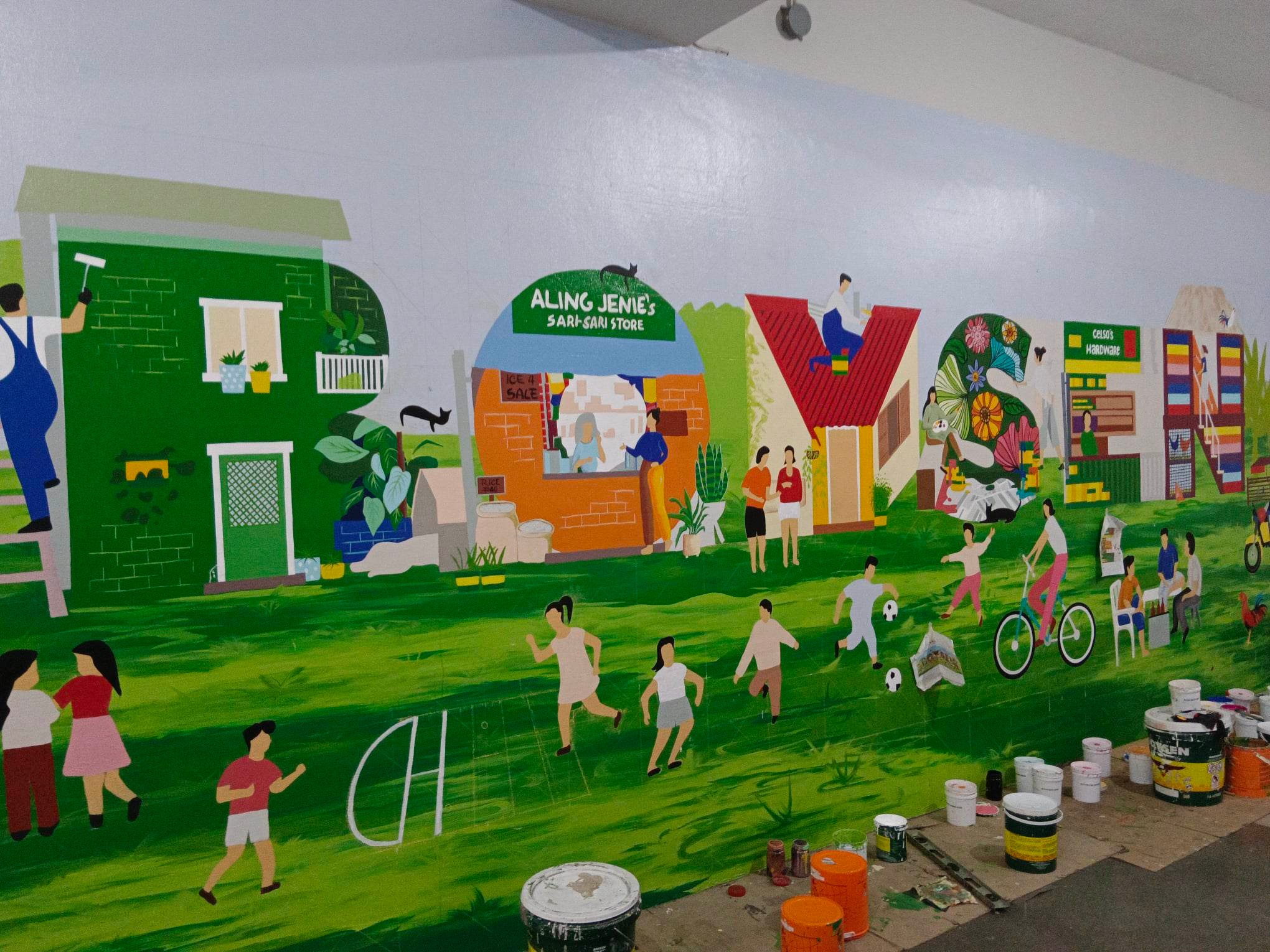 In whatever it does, Boysen strives to go above and beyond what is required. It has produced paint products that are not only high quality but also come with innovative and practical features like anti-pollution abilities. Its mural projects attempt the same. They're pleasing to look at and impactful in more ways than one.
For more stories like this, consider subscribing to the Let It B newsletter. Once a week, we send out short and sweet emails on blog posts we think you'll like.