Happy International Women's Day to all the women out there, and to the men too who have embraced their feminine energy, that free-flowing, creative, expressive, nurturing, intuitive energy present in all of us. It's that energy that we need now more than ever to protect our respective homes, as well as to protect our home—Mother Earth, Gaia.
In celebration of National Women's Month, let's talk about the colors that will help cultivate our feminine energy. These colors are nurturing, soft, and grounded. Warm and enveloping is the vibe for homes drenched in these colors.
View this post on Instagram
From the palest of sand to taupe, these hues that you see above are created from natural seaweed dyes. For eight years, designer Nienke Hoogvliet has worked on finding a sustainable way to make these dyes from seaweeds which are by-products from the food and cosmetic industries. Together with Anne Boermans, they established a company called Zeefier, where with other team experts, they are developing a way to scale up the process so that these natural seaweed dyes can be made available to a large and polluting industry, textiles. With these dyes, we can be assured that we will be securing a healthy home for ourselves and our families. Add to that  other innovative and sustainable fabrics in the home.
Mood Boards for This Feminine Color Palette
Colors stand for certain meanings or symbolisms, as they have evolved through centuries and through different cultures. Colors are emotions that can be visualized. Therefore, the hues we choose for our homes are very important because home is the place where our families are nurtured, where they grow, and where they thrive to be the best they can be.
Here are three mood boards that serve as inspiration in our journeys to create nurturing environments for the people we love. We've chosen from the colors created by Zeefier, and have zeroed in on some archetypes for each mood board.
Beach Boho Chic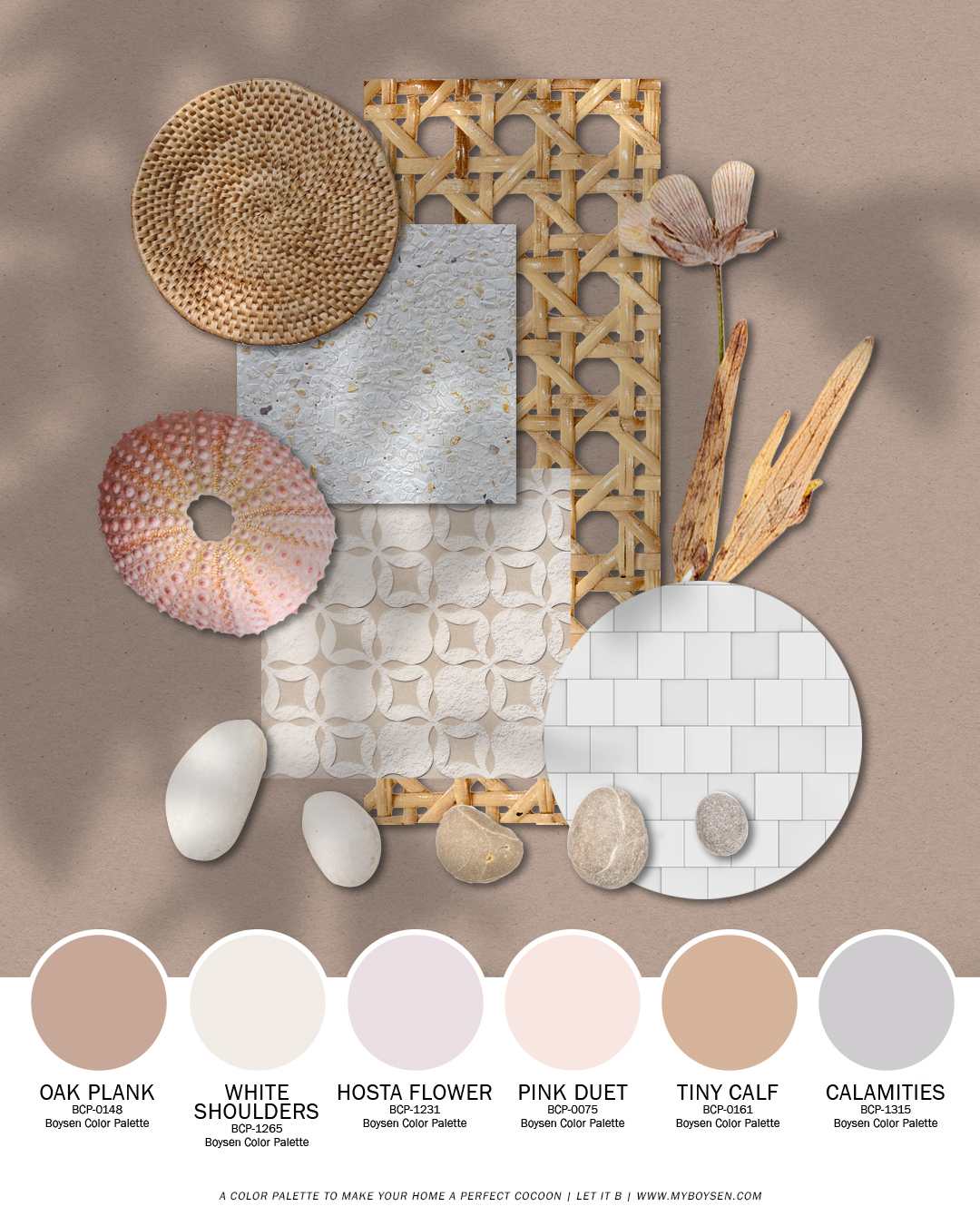 Click on the photo or this link to get you to the original post about this mood board above.
This mood board would look wonderful in a beach home, a farm house, or an urban dwelling. I call it beach boho chic because the colors remind me of sand, stone, and shells that you see in many of our beaches. This color palette fits the explorer archetype whose core desire is freedom, authenticity, and a fulfilling life, much like the sun-kissed and sun-drenched life by the beach.
To complement the color palette, let's use Filipino-made accessories and furniture. I love the natural materials and weaves that we find in the Philippines. Our expert weavers for solihiya (rattan weaves) are prized in the country as well as by the international design world. The Philippines is a source of high-end woven furniture so it is not surprising that factories of well-known brands can be found in our islands. Our weaving culture for fabrics goes as far back as the 13th century, and the weave patterns as well as colors have symbolisms for the different tribes from north to south of the country.
Hotshot Haven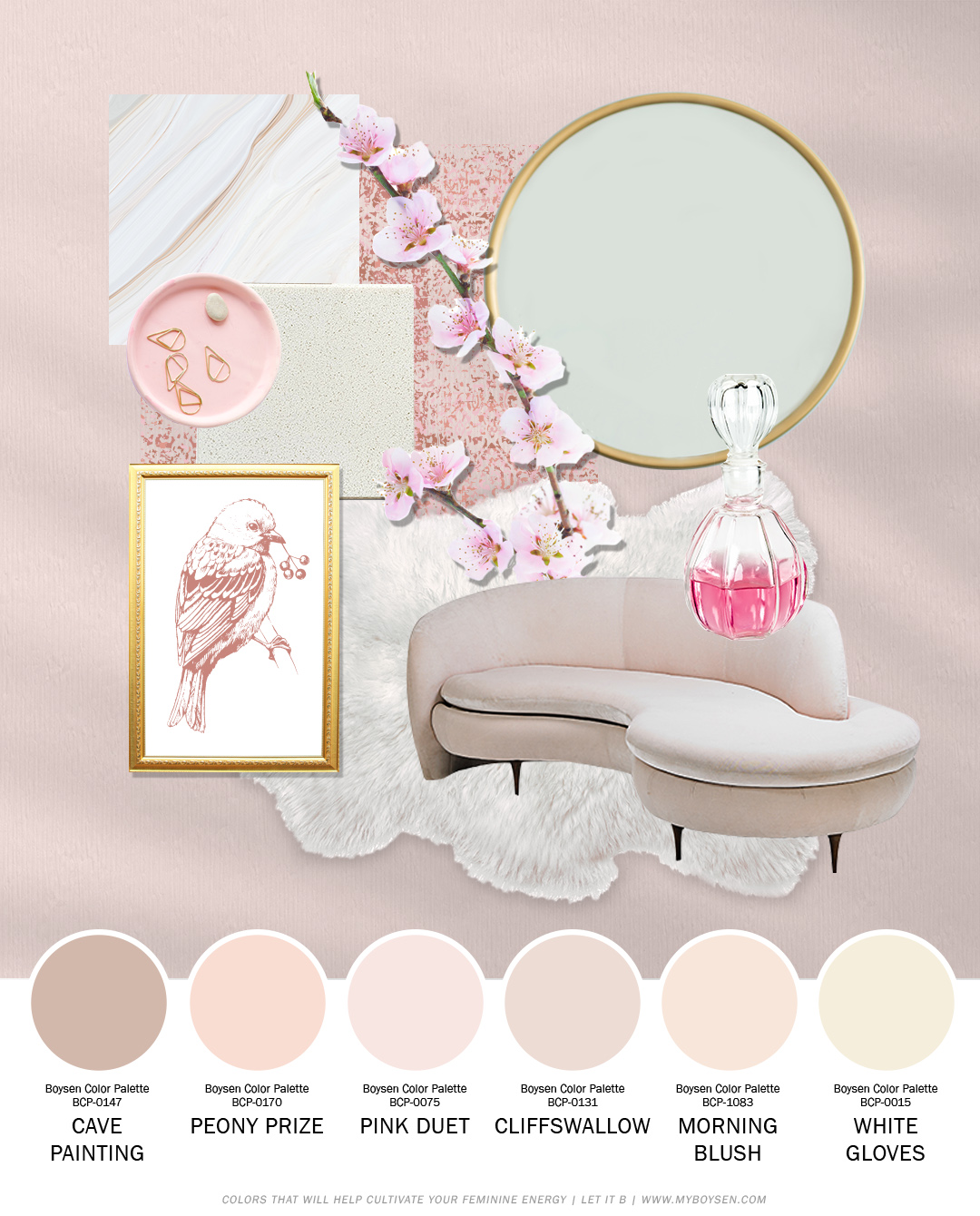 Filipinas are strong women. Many of them go out into the world to earn a living. They head companies, steer teams, train and teach children, manage their own businesses. They also manage the household, organize family activities, nurture their partners, children, parents, and other family members. What archetypes are they? They are the artist who creates things of enduring value. They are the sage whose wisdom people depend on. They are the caregiver who wants to protect and care for others.
Someone who wears many hats need a haven to call her own. This color palette has pink and cream undertones. The subtle colors can be used for many different styles, from the contemporary feminine modernism hinted at by the above mood board to more traditional interior spaces with dark wood furniture.
Culinarian's Kitchen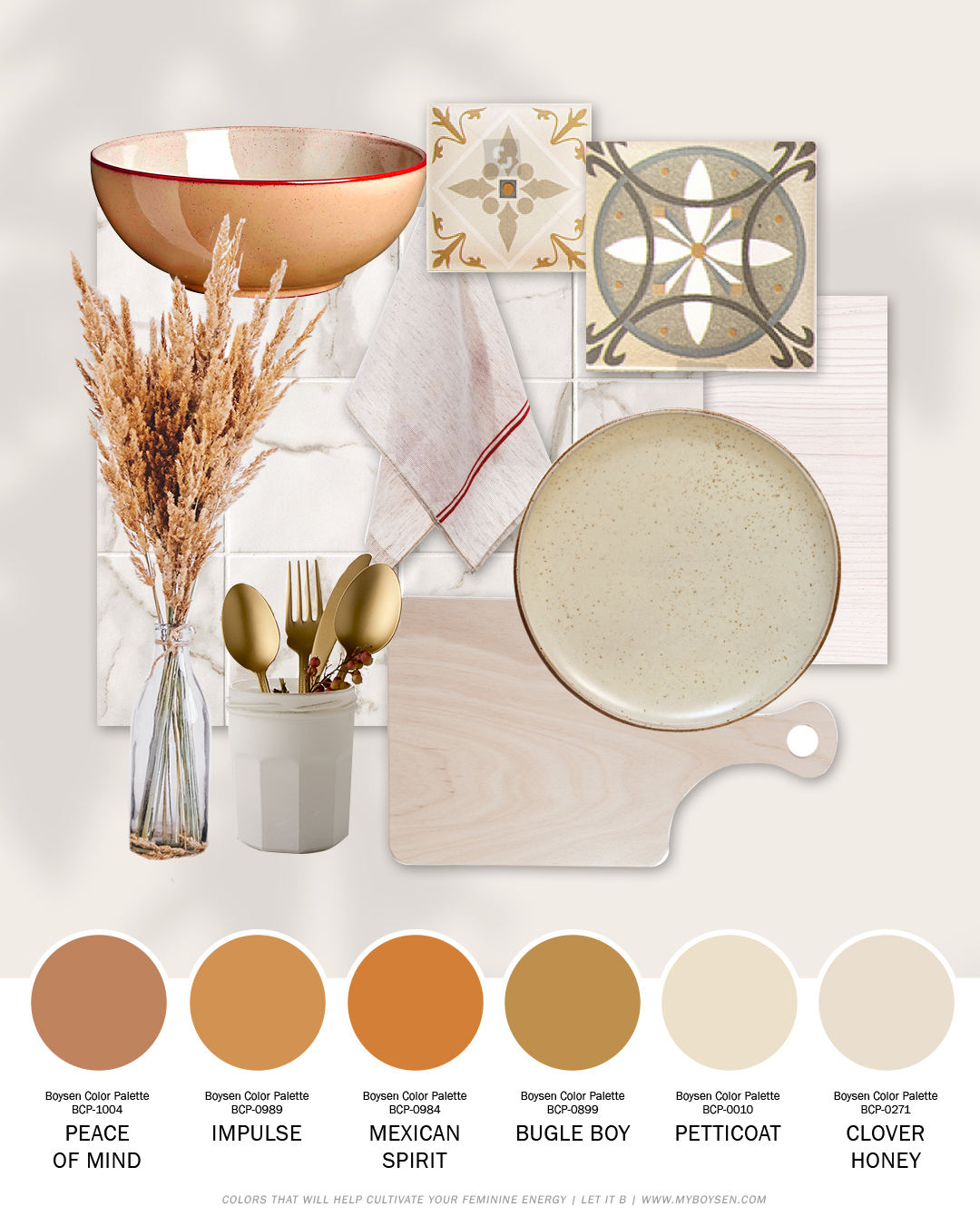 Love to cook? Is it a burning passion to feed your family nutritious meals? Do you love experimenting on new dishes or explore cuisines of other cultures? You're the archetype of the ultimate nurturer, who wants to give your family the best you can offer.
Paint your kitchen with these colors. Imagine a kitchen boasting the colors of the earth as cooking smells waft around the home. These colors would be great for the heart of the home, the hearth, where family members come to congregate and break bread together. If the space allows, have a dining table in the kitchen. Always warm and inviting, these earth colors would look great paired with ceramics, stone, and wood. Contrast the textures of these materials by adding touches of bronze or copper on your home accessories.
Do you want to explore other colors that are similar? Check out these skin tones.
How to Use Mood Boards
Mood boards are a great visual representation of what's in your head. A mood board's primary function is to be a visual representation  of your ideas where you can fine-tune the look and feel, from color palettes to accessories, until all elements fit a singular interior style. If you like two interior styles, read about the 80-20 rule in interior design.
The best way to use the color palettes above is for you to choose a color for your walls, or most of the surfaces. If you want an accent wall, then choose a second color. The rest of the colors will guide you in the color choices of your furniture, fabrics, and home accessories. Each color swatch in a palette is chosen carefully so that they work together.  Stick to three colors then follow the 60-30-10 rule. If you want to have a complementary color that would stand out, then read this post about color schemes.
So there you go, three mood boards for that feminine energy in the home. Use your creativity to make the home of your dreams. Happy International Women's Day!