If you don't like to paint your walls white, try skin tones. Here are six of them that could make your home look inviting and warm. These colors are available as interior and exterior paint.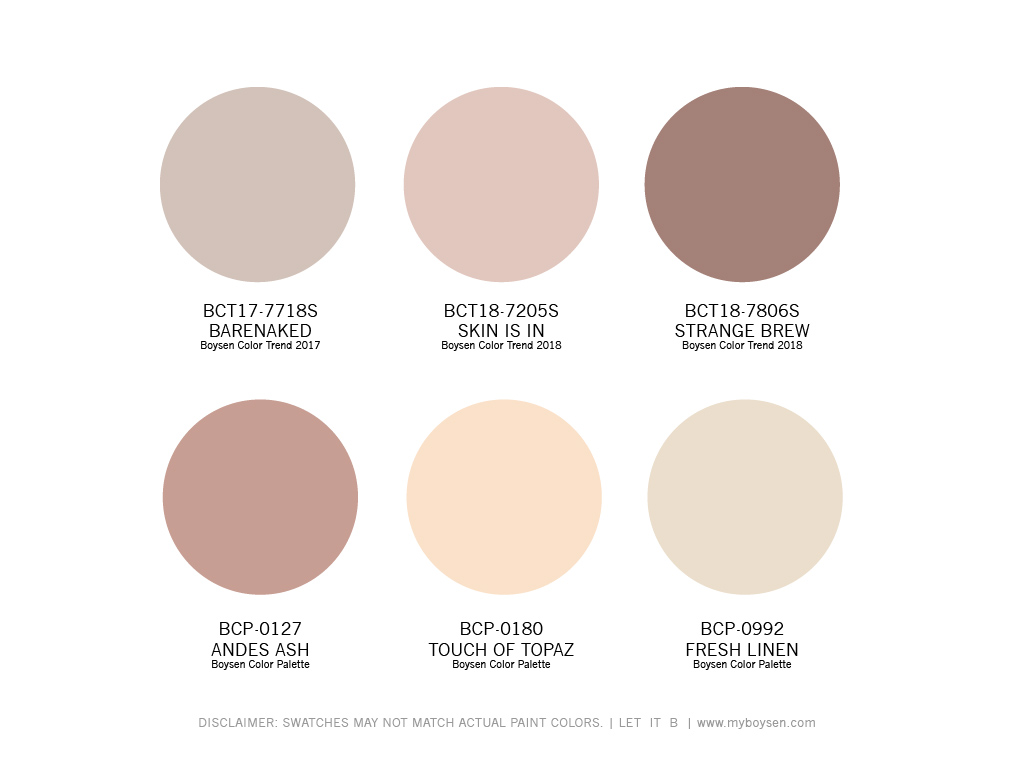 The top three colors are from previous Boysen Color Trends. Strange Brew and Skin Is In are from the BE YOU palette of Color Trend 2018, and Barenaked is from the MINIMAL palette of Color Trend 2017. Do check out the palettes mentioned here so that you can see how to combine all these light neutrals with other colors. The bottom three color swatches are from the Boysen Color Palette. All are taken from Boysen's popular trend colors and classic colors.
Skin Tones as Alternatives to White
White is a very popular color and it has had a resurgence because of the Scandinavian interior style. With the entry of IKEA in the Philippine market, we can expect the style to gain even more momentum.
Most people would agree that the Scandi style fits our climate very well because it gives that maaliwalas feel. However, you still can achieve that airy and fresh home with other colors aside from white, which is why we prepared the six paint colors in skin tones for you to choose from. These colors could work well for the #teamkahoy aficionados. Even those belonging to the #teamindustrial will find that these colors could look good combined with exposed structural elements as well as metal, brick, wood, and concrete.
Skin tones are warmer and could make your home very cozy and welcoming. Color combinations and textures of objects in the interiors can help create the warmth. Check out this video where the paint colors Strange Brew and Skin Is In were used.
Beige and Browns for Stylish Interiors
Beige got such a bad rap a few years back for supposedly being bland and boring. Browns were also thought to be looking too 60s and 70s. But I repeat a designer's opinion when he said that there is no such thing as an ugly color, you just need to find its right color partner/s. This is the reason why Boysen comes up with color palettes when making the annual Color Trend. All colors in a palette are chosen to work well together.
Living Room
View this post on Instagram
In this modern country interior, a brown accent wall in a predominantly white room picks out the rustic decor, the wooden ceiling beams, and the window trims. The effect is airy and fresh.
Open Kitchen
View this post on Instagram
The white kitchen cabinets and backsplash tiles go well with the light wooden floor and the open shelves. The ceiling and wall color bridges the white and light brown elements and ties the room together. The effect is clean, creamy, and cozy.
Dining Area
View this post on Instagram
The contrast of the rough, raw, dark wooden cabinet with the soft creamy wall creates a beautiful balance. The huge plant that echoes the great outdoor area stands out against the cream walls. Note how few the decor elements are. It is the presence of negative space that gives this interior a lot of room to breathe, that and the wraparound sliding glass doors that let nature and natural light in. Less is definitely more in this home.
Try Skin Tones
If you want another color on your walls instead of white, check out the skin tones presented here. Of course, you can look at more swatches. Just use the Boysen app which you can download from the App Store or Play Store. You can also go to any Boysen Mix and Match Station to see more swatches of light neutrals. Furthermore, the Boysen Color Palette has also 32 delicate off-whites which are great alternatives to white.
For more color inspirations, go to Let it B Home.