Want to wow your houseguests? Take your interiors up a notch with the BLOOM palette from the Boysen Color Trend 2022/23 collection.
"BLOOM is a sophisticated palette of an unexpected color combination of pinks, blues, and a dollop of mustard. Painting this palette in your interiors is a fearless statement signifying a confidence in the singularity of your own creative genius," reads the Color Trend website.
Sophistication is the word to watch out here as the colors also remind me of gemstones! To help you get to know the BLOOM palette, I've decided to present the colors as precious and semi-precious stones. Included are interiors as well to hopefully give you an idea of what the hues could look like in your home. Check it out:
Wistful Lilac | BCT21-7434S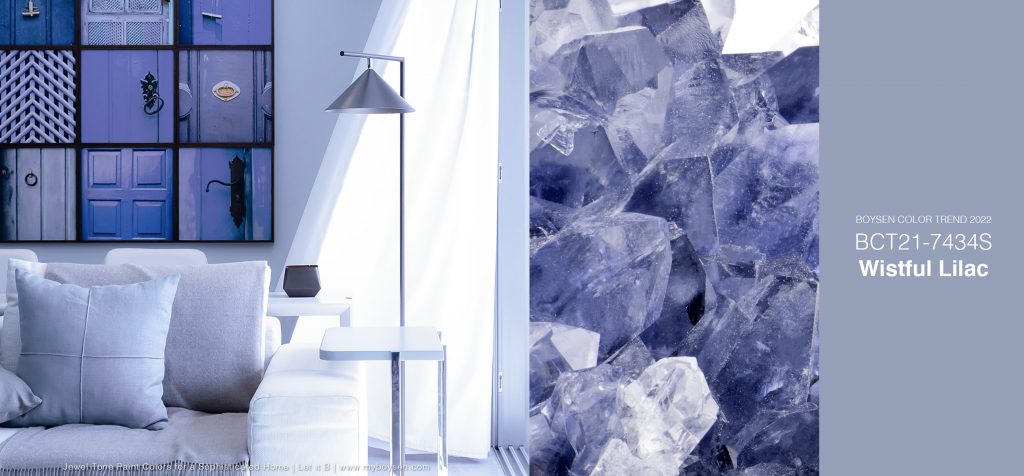 Gemstone: Sapphire
We're most familiar with sapphires that come in a royal blue color, but this precious gemstone comes in a range of hues including purple. It's the September birthstone but I've also chosen it to represent Wistful Lilac, the pastel purple paint color in the BLOOM palette. Whimsical and a bit mysterious, incorporate it in areas you feel need a little playfulness and creativity.
Honey Hive | BCT21-7617S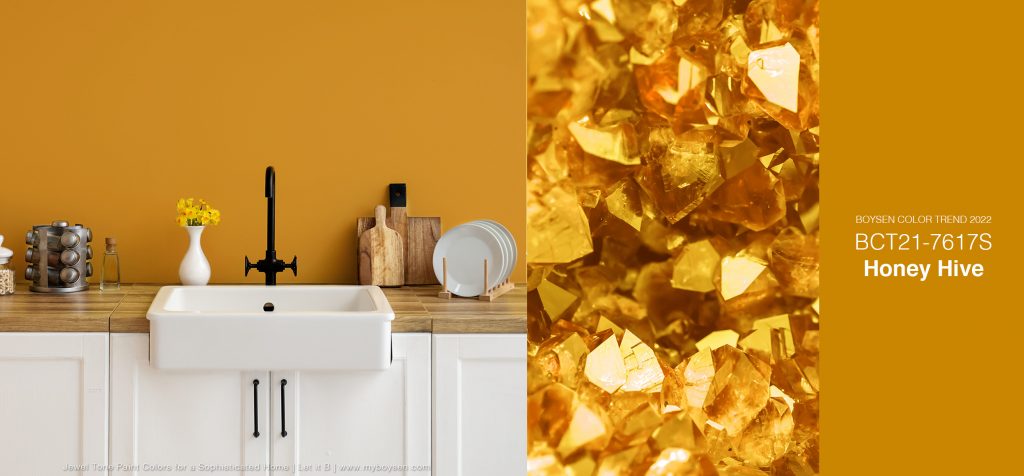 Gemstone: Citrine
For Honey Hive, yellow citrine is my pick. Sure, topaz is probably the most known yellow gemstone but I feel like citrine deserves our love too. Plus, I like how its name likely comes from "citrus" which are fruits like lemon, oranges, and pomelo.
Citrine is a variety of crystalline quartz. Golden yellow in color, it's a relatively affordable gemstone but still highly sought-after—even royalty wear citrine jewelry. Sold on yellow? Add the hue not just to your wardrobe but interiors as well. Check out this blog post: Hello, Yellow: 7 Ideas for Pops of Sunshine in Your Home. Don't forget to use Honey Hive as your paint color!
Teal We Meet Again | BCT21-7435S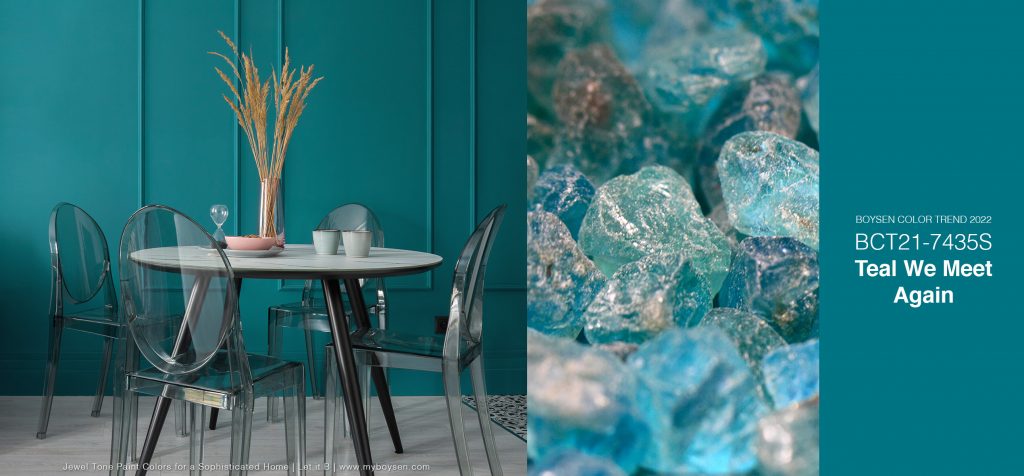 Gemstone: Apatite
Have an appetite for teal? Apatite is for you. As a relatively soft stone, it's not a common choice for jewelry as they easily scratch. But when worn, like as earrings where they get little contact, they truly shine. As a healing crystal, apatite is used to achieve energy balance, find motivation, and ward off negativity. At home, we've previously raved about teal as a great exercise partner especially if yoga is your workout of choice. Have it in the room or area where you like to work up a sweat.
Whirlwind Romance | BCT21-7436S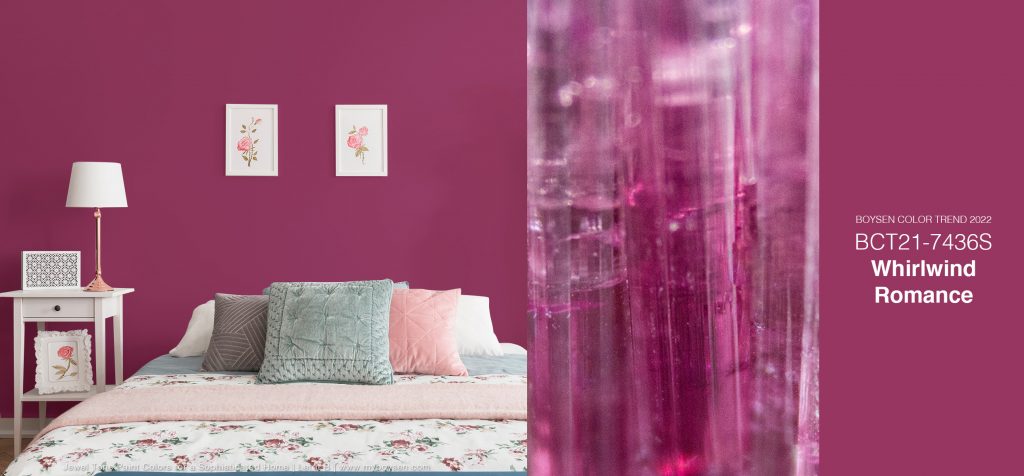 Gemstone: Tourmaline
Fall head over heels in love with Whirlwind Romance represented here by tourmaline in deep fuchsia pink. Tourmaline is the modern October birthstone with its traditional counterpart being opal. As a healing stone, tourmaline is used for emotional healing and self-love. It's said to relieve anxiety, depression, and other mood disorders.
If you want a color that stands out in your home, Whirlwind Romance is a guaranteed looker. Here's a tip from our previous blog post on how to decorate with bold pink shades: "Such a maximalist color choice requires equally maximalist decor. Pair this hue with charming, heirloom accents such as antique paintings, beautiful crystal decanters, and gilded mirrors."
Sweet Inspiration | BCT21-7437S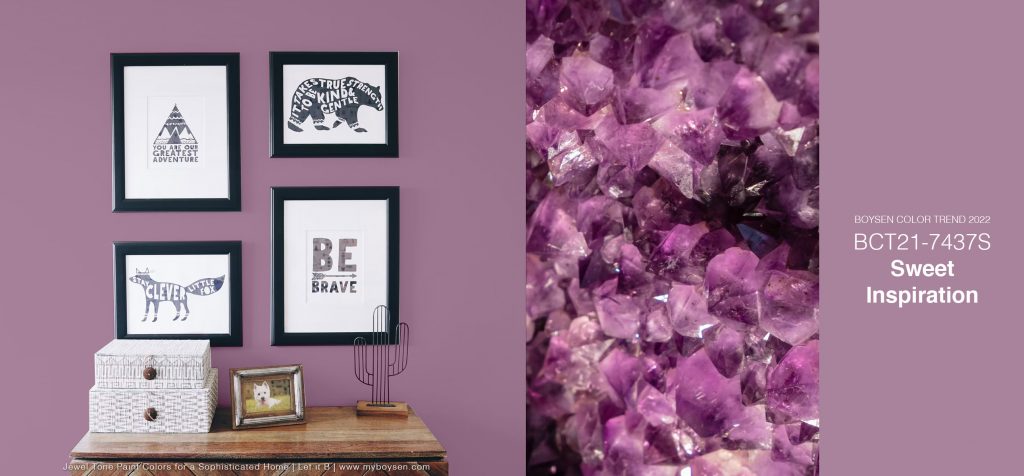 Gemstone: Amethyst
Reinvigorate your love of decorating. Find your spark in Sweet Inspiration and amethyst gemstones. They come in colors that fall anywhere from pale lilac to rich purple, the latter being the most popular variety.
They've been around for very long too. Per the International Gem Society, "The Ancient Egyptians carved these durable gemstones into the shapes of animals, perhaps as protective amulets. The Ancient Greeks created amethyst carvings and jewelry pieces as well." For interior design inspo, check out this blog post: The Best Version of Hue: Purple.
Candies Be Love | BCT21-7738S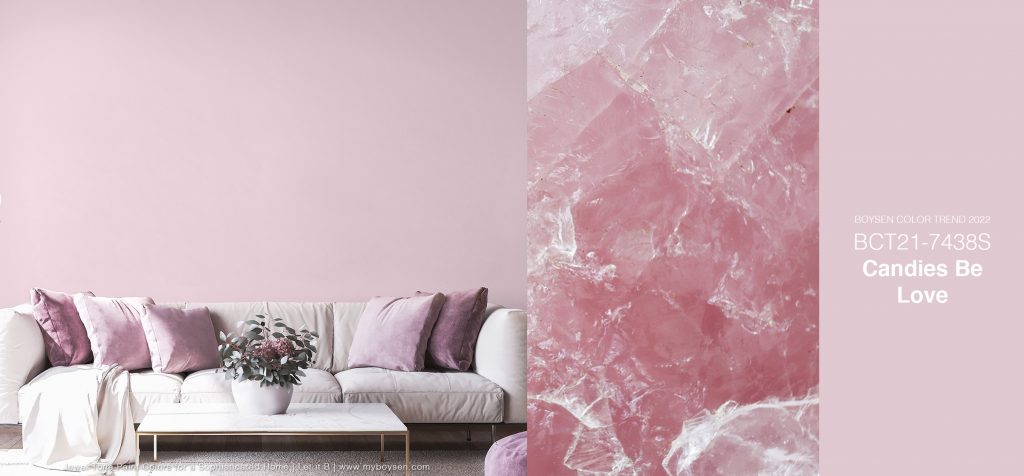 Gemstone: Rose Quartz
Be pretty in pink with Candies Be Love for your walls and rose quartz as an accessory. Romantic in color and a durable gemstone, rose quartzes are a popular and more affordable choice for engagement rings. The more saturated the stone though, the more expensive it becomes. For its healing properties, rose quartz promotes feelings of calmness and peace.
More and more is pink becoming a gender-neutral color. So, those hesitating to have pink in their homes simply because of gender norms—there's no need to! Pink is for everyone. If you're considering it, know that it pairs well with copper accents and shades of blue.
Taken a liking to a paint color on this list? You can have all these hues and the others also included in the Boysen Color Trend 2022/23 collection at a Boysen Mix and Match station (find a list of locations here).