The kitchen is the heart of a home. Three things in a kitchen that you wouldn't want to compromise on are its functionality, ease of use, and cleanliness. The first two depend on the layout you chose as well as the appliances and kitchenware you bought, and the third one is totally up to you because you have full control if your kitchen is messy or not.
If you are satisfied with functionality, ease of use, and cleanliness, then thinking about cosmetic changes to update your kitchen to make it look like new for 2021 is definitely a good idea. Even a workhorse needs to level up now and then. Here are 6 of the global kitchen trends for 2021 which you can use as design inspos:
Painted kitchen cabinetry
Warm color palettes like yellow, green, and red tones
Textured backsplash tiles
Reclaimed wood
Minimal hardware on cabinetry
Dark-colored countertops
1.   Painted Kitchen Cabinetry
View this post on Instagram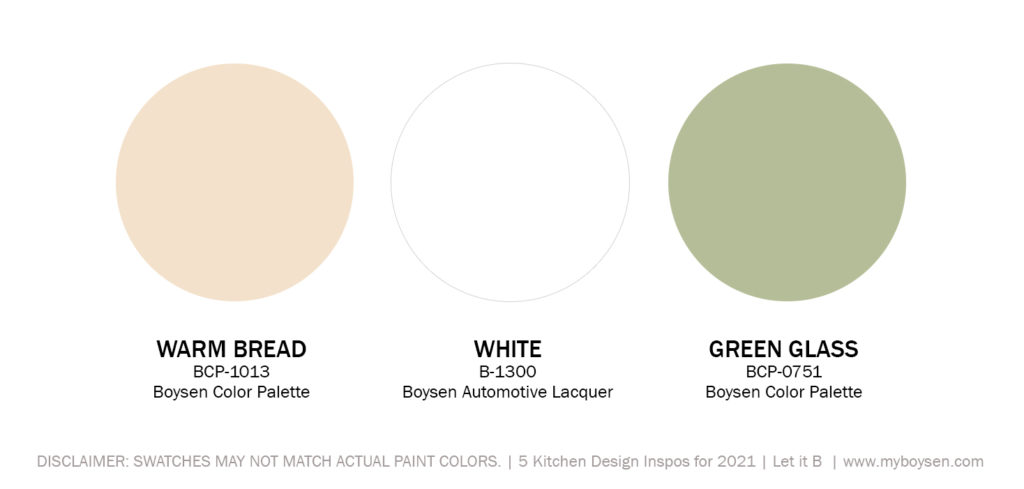 Instead of laminates, Homes and Gardens had this to say about paint making a comeback for kitchen cabinetry.
"The year 2021 sees the revival of hand-painted kitchens. 'They wear well, age even better and continue to be repairable in ways that a factory-applied laminate cannot match,' says Ledbury Studio, founder Charlie Smallbone. 'From this point of view, hand painting is also more ecologically sound.'
One of the most appealing and varied finishes for kitchen cabinetry, paint lends itself to both the classic looks of the traditional kitchen and to crisply modern linear designs.
The advantage is in its almost limitless choice of colors, allowing you free rein to express yourself, whether your home is period or contemporary, country or urban. And you can always re-paint if you want a change or update in the future."
Boysen recommends its Automotive Lacquer to give that high gloss duco finish which is perfect for high traffic areas like the kitchen. It's a hard-wearing finish that is easy to clean so it fits very well in a hardworking area like the kitchen. A downside to this paint is that the application is best left to paint experts because of its complex application.
For a DIY kitchen project, we recommend Boysen Healthy Home, a water-based, odor-less paint with antibacterial protection technology against E.coli and Salmonella bacteria, as well as mildew and fungus.
2.   Warm Color Palettes
View this post on Instagram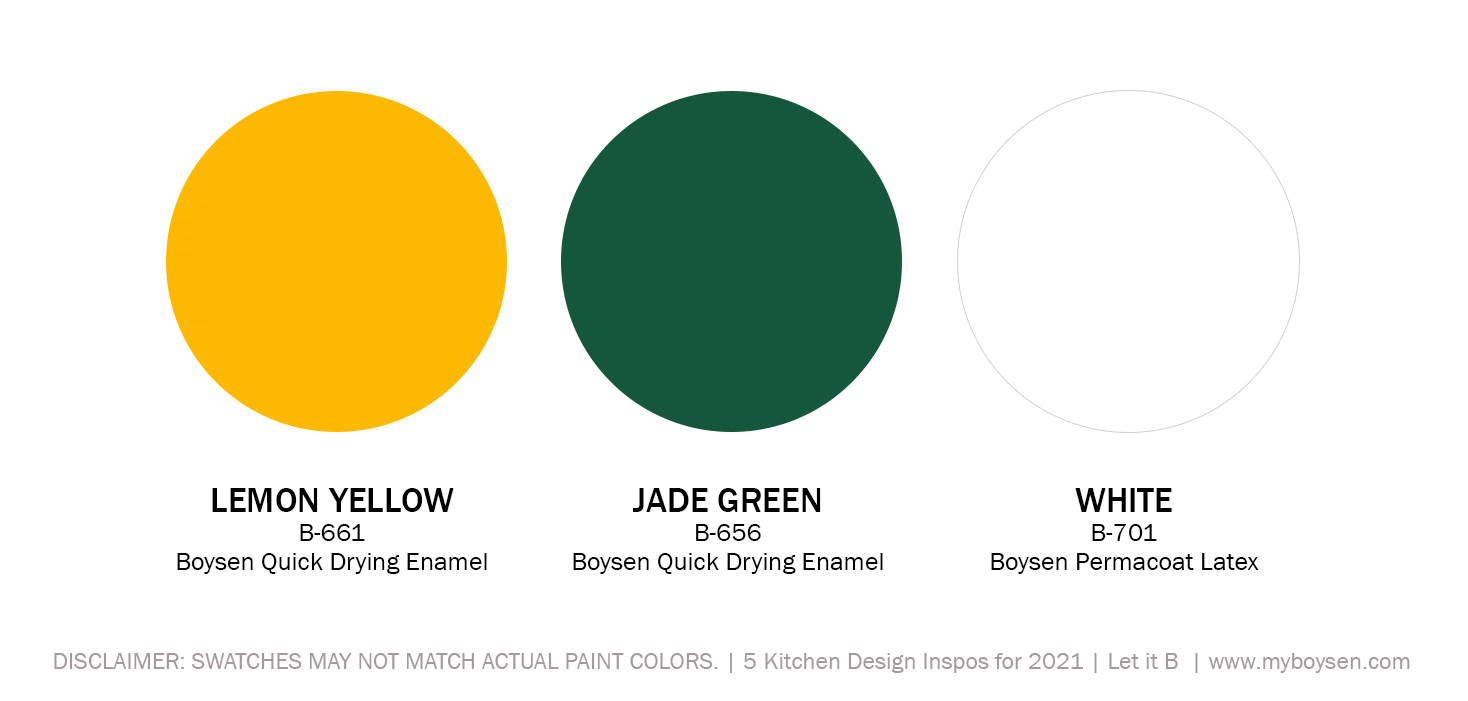 People feel the need to surround themselves with warm and happy colors, which makes Pantone's 2021 yellow called Illuminating an unsurprising choice.
Yellows, reds, greens, and touches of brown are what trend spotters see in the current kitchen designs, and this trend is expected to gain strength in 2021 and the coming years.
Color is a personal experience which is why Boysen offers thousands of colors to choose from. Each color has so many tints, shades, and tones. Check out the Boysen paint swatches in any Boysen Mix and Match Station in a home depot closest to you. It will help you a lot if you bring a swatch from a magazine, a photo, a piece of clothing, or any object that inspires you.
If you want to see how a color would virtually look on your wall, you can also try the Color Capture in the Boysen App, which you can download for free: For Android and For iPhone. Watch how Danica does it in this video:
Read:
DIY DIVA, Episode 2: How to Use the Boysen App
DIY DIVA, Episode 3: Go to Your Boysen Mix and Match Station
3.   Textured Backsplash Tiles
View this post on Instagram
Painted, encaustic or textured tiles are making a comeback. It must be because most of us long for the safe, comfortable, cozy days of childhood when life seemed carefree and easy. That's what makes vintage one of the trends in home design.
Mixing old and new can make your home look unique and personal instead of safe-looking and bland, or a kind of space which you can find in many digital magazines or malls.
We are a people who love to get together and eat. With most of us sheltering at home, the kitchen, especially if it is a dine-in one, can get busy with meal prep, cooking, eating, and clean-up several times during the day. Meal times often last longer than the eating of the meal itself because there is usually lively, interesting chitchat that takes place around the table. Sometimes it gets so loud with people talking at the same time that one wonders who is listening.
Choose an interesting backsplash with warm colors to provide the background for all the hustle and bustle. There are many choices offered by local companies that finding one that you'd like wouldn't be hard.
For best results, have cabinetry and surfaces painted in neutrals so that your backsplash stands out and the whole effect would look interesting instead of busy.
4.   Reclaimed Wood
View this post on Instagram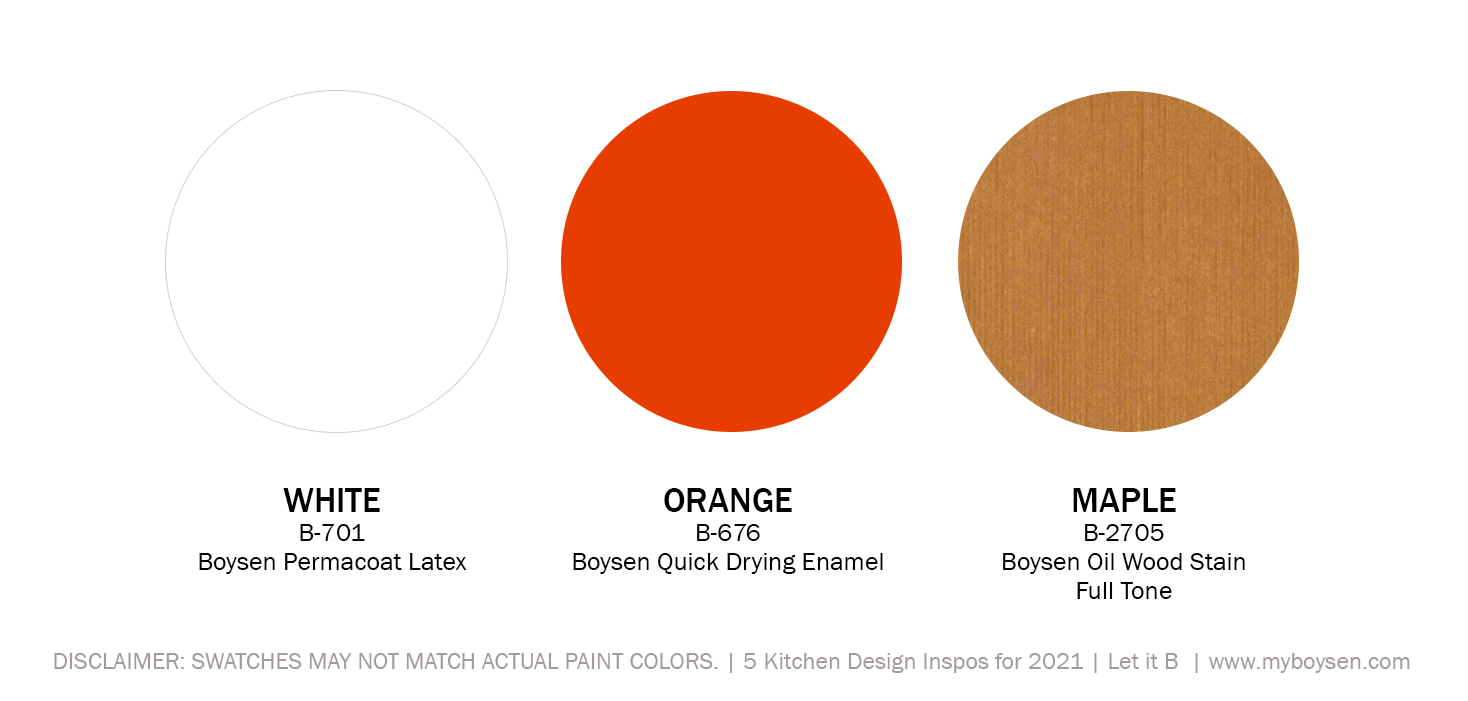 This kitchen may be tiny but it has a lot of chutzpah. It is loud and extremely confident.
The kitchen has to fit though with the rest of the house so if you have a small condo in the city, this would look out of place, unless your condo has a beach or farm vibe. The orange and brown colors remind me of the 70s so this has a retro vibe too.
May the trees which continue to live praise you for using reclaimed wood. Our habitat needs us to be more caring about how we treat it. Using existing materials and giving them a new purpose is an art, and I hope that many of us learn or re-learn this art. We have a finite planet that doesn't exist only for our pleasure and our use, so let's treat it with respect. The sooner we understand, accept, and live by this, the better for all of us. (Ok, let me get off my soapbox.)
View this post on Instagram
How about making kitchen cabinets and drawers out of old floorboards? Maybe you can find some good material in junkyards. Or maybe your supplier may be making these from wood they've bought from old homes or old rail tracks that were demolished.
This kind of raw look may not fit most people's taste but these would look good in industrial style interiors, which are still very much in style.
An additional advantage would be that these things could be interesting conversation pieces, and if you're a raconteur like a friend of mine, you can spend the whole day being entertained by stories about where the different wood in his home came from. His pieces are well-designed, all handmade, and exquisitely finished that the beauty of the wood shines through. Check out Benji's IG.
Some of the world's top designers are using reclaimed wood and incorporating these into their builds, as furniture, wall paneling, exterior siding, or flooring. Sustainability reigns, yes!
5.   Minimal Hardware on Cabinetry
View this post on Instagram
Another kitchen design inspo is less hardware on kitchen cabinetry. Designers are opting to use no cabinet pulls for example to have a clean look that is easy and restful on the eye. Instead of using a pull to open it, you can have a recessed groove instead that runs the vertical or horizontal edge of a cabinet where your fingers can hook into.
You can also choose a mechanism that allows your cabinets (and drawers) to open by gently pushing on the door (or drawer), which is very convenient for getting things out of storage while prepping meals.
There are different drawer slides that can carry a weight of 50 lbs per pair. This would make it easy to store your pots, pans, and small kitchen appliances in your drawers which would allow you to maximize the available space for meal preps. This tip is for people who do not like clutter on their kitchen counters, and a strong recommendation to those who do.
6.   Dark-Colored Countertops
View this post on Instagram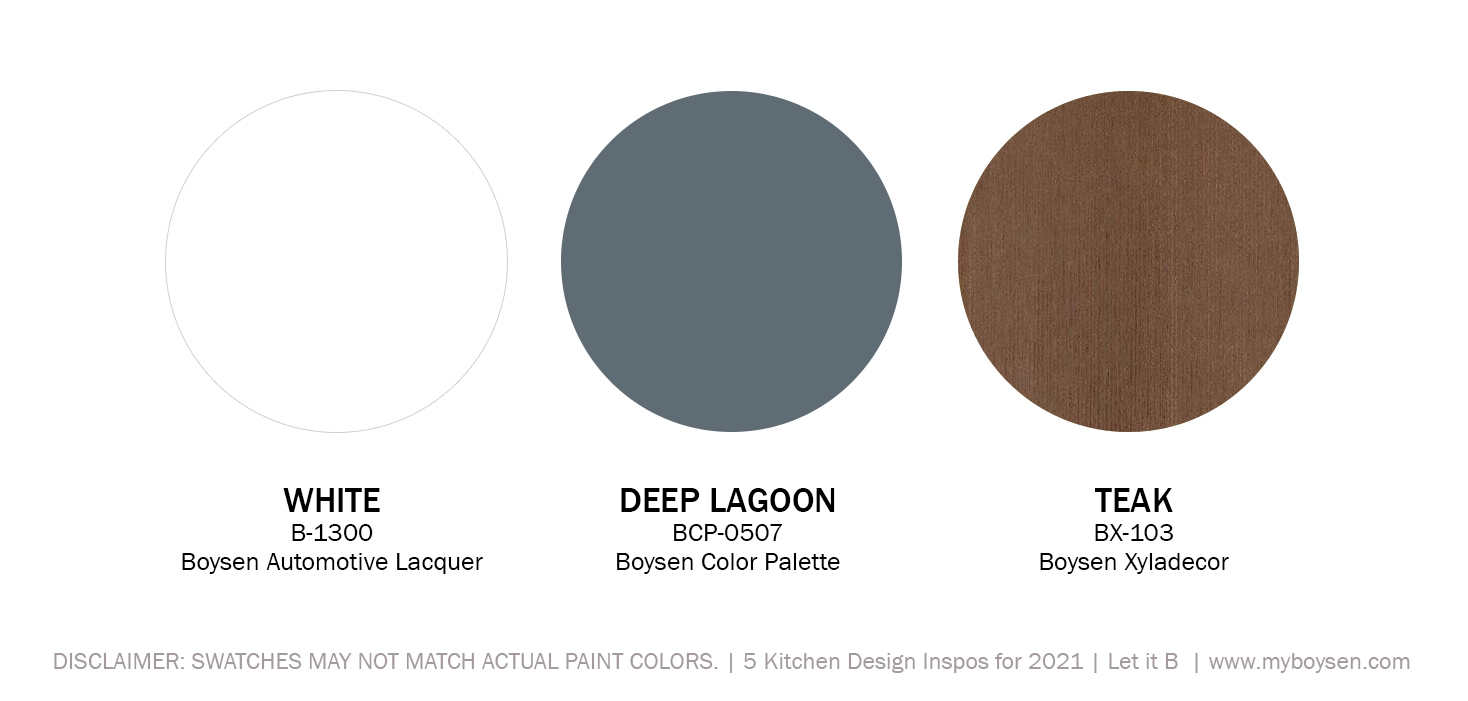 Kitchen countertops take a beating daily so they must be as invulnerable as the Incredible Hulk but with more refinement in the looks department.
Number 6 in our kitchen design inspos for 2021 is the dark kitchen countertop. There are so many materials that you can use like wood, marble, quartz, tiles, concrete, etc. But according to the design wizards, 2021's trend for the countertop color is on the dark side.
Personally, the color of a kitchen countertop is not a priority unless it's an obnoxious soylent green, then I'd say by all means, rip it out. Now.
What's more pressing are the ease in cleaning the countertop and its resistance to heat, water, bacteria, and stains.
Go for neutrals, and make it dark if you want to be trendy although light neutrals would work too. Whatever you choose, it would be easier with neutral-colored countertops to select a color palette for the other kitchen surfaces (walls, ceilings, and cabinetry) should you wish to revamp this space in the future.
For more kitchen paint design inspirations, check out these articles.