When I moved back to the Philippines after living in Europe for nearly 20 years, I learned a new word.  Metanoia. It was very fitting for that particular time in my life, when I was experiencing a major milestone with the move.
Metanoia (noun, met-uh–noi–uh) the journey of changing one's mind, heart, self or way of life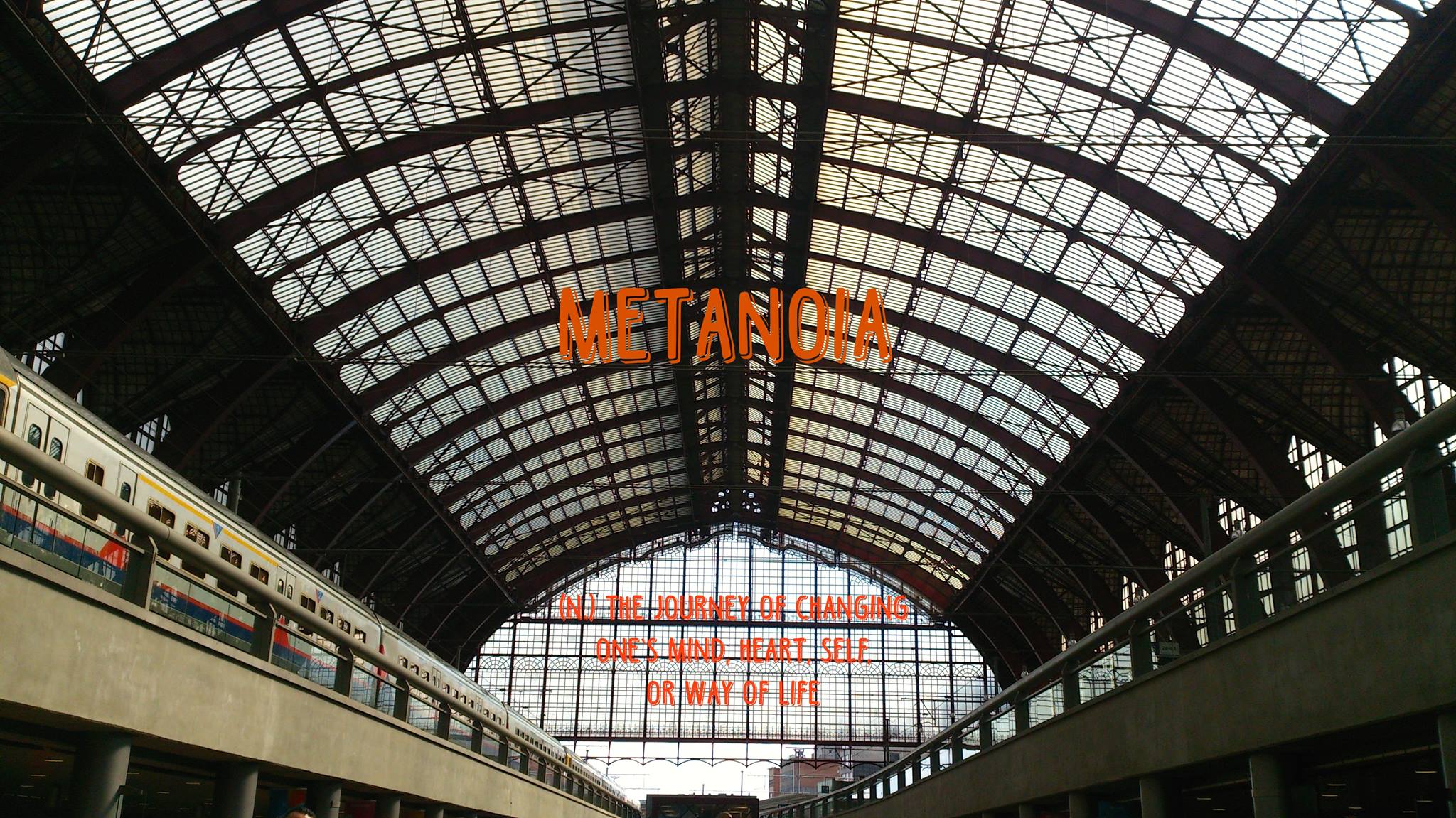 Before I traveled back, I snapped a picture of one of the train stations I like, the Antwerp Central Station. I put the new word I learned on the image and uploaded it as a cover photo in my Facebook page, not realizing how deeply transformative the move would be.
As John Lennon said, "Life is what happens to you while you're busy making other plans."
Fast forward to today, here I am again, experiencing a huge change but this time together with the rest of the world.
Metanoia in Today's World
The world plunged into greater uncertainty early this year because of the pandemic. In the Philippines, March 15, 2020 marked the beginning of a new way of life for all of us. It is nearly seven months now that we have lived under quarantine. The austerity of the measures has changed over the months but we are still in quarantine nevertheless.
Many of us are gripped with worry or anxiety because of ever-changing circumstances. The end to this pandemic is not in sight and we have to actively manage ourselves, and maybe even change our life orientation, to find our equilibrium.
Home has become even more important because it is our sanctuary, where we feel safe, comforted, nourished, and reinvigorated. Home has also become a place for work (or study) for many. So what before was a temporary need to have a space where work can be done for a short while, like finishing something for a deadline, it has now become a constant requirement.
Metanoia is something that all of us have to deal with whether we like it or not. My unsolicited advice: Embrace it and unwrap the gifts it brings.
Trends in Home Design
When I say trends, I don't mean the styles in vogue today that we aspire to but the general direction of how we want to live our lives and how we want to organize our homes.
Choosing Vintage
We have become more conscious about our impact on the environment. I think there are more people who believe that climate change is real and are willing to do something about it.
There is a trend for conscious consumption—to reduce the number of things we buy, to recycle or upcycle what we can, to buy local, to conserve water and energy, to walk or bike instead of drive, etc. For budding gardeners and farmers, there are composting and soil regeneration.
As an offshoot of all these, more people are going for vintage as a home design. Vintage is more eclectic and less finished. It is when you mix the old with the new.
Cultivate the love for the heirloom pieces you got from your parents and grandparents, which remind you of the good, old days, when you were young and life was simple. If you've got pieces that look old and tired, think of giving them a makeover. Here's one DIY project that may help you get started.
However, if these are antiques of value, just accept their present state and take them to an expert restorer when this pandemic is over. Or not. There is beauty too in the scars and dents of objects because they tell stories of a shared history with our families. The Japanese call it wabi-sabi, the aesthetics of accepting imperfection and impermanence as a beautiful part of life.
View this post on Instagram
An old armchair with the solihiya backrest, a solid wooden bench, the dark wooden floor, and the calado woodcarvings on the upper part of the wall near the ceiling are vintage elements. All these give a nod to the style of the past. What makes this living room look modern is how all these vintage items are matched with a modern sectional sofa and coffee table. The white-painted surfaces are refreshingly current and lift the mood of the room. Don't forget the A/C; there's nothing more modern than that.
Things that were handed down to us by previous generations also serve to remind us of our families, our roots, where we came from. Connecting with all these today is so important because quarantine and social distancing make it difficult for us to get together with our tribe.
The easiest thing to do right now is dust off those old photographs which you've crammed in a box somewhere or stuck to old albums that have not seen the light of day for a very long time. Choose a few and put them in frames. Replace those modern prints with the inspirational quotes. Set up a photo wall instead with your most precious memories on display. The moment you get in the front door, these will remind you that you belong to a people who have survived their own challenges in life so that you can be here now to live yours as best you can.
Flexible Spaces
Changes in our lifestyles, like working from home or online learning, demand more from our living spaces. A bedroom may have to function as a study area. A living room may need to be transformed into an office during working hours. A corner may have to be reading nook and hobby area as well. A kitchen may double as work area for a start-up bakery. Update your home design to fit your family's needs.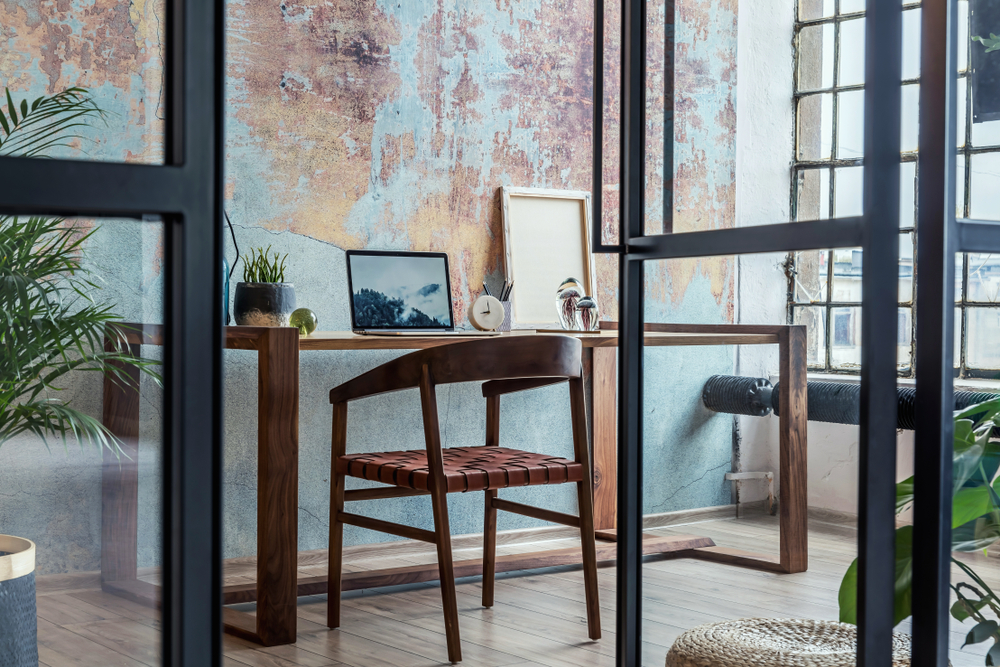 An idea would be to use glass walls and doors that you can swing or slide open to demarcate spaces in the living area. With this type of partition, light can pass through the glass but it gives privacy to family members who need it.
You can also use bookshelves to partition space. Check out the last photo in this article.
Just as homes need to be flexible, we too need a flexibility to navigate the new reality and an openness to embrace change.
Nostalgia for Retro
The funny thing about retro is that it is a moving target. It's the style of the recent past, but recent is not an absolute term and can mean different things for people. What is retro to you may not mean retro to me.
Sustainability plays a part in the return of the retro, just like it does for vintage. We want to reuse what already exists.
The popular Scandi style, for example, can be considered retro. Mid-century furniture is the design style of the 50s and 60s after all, that to this day is still so loved. It could be because the mid-century style itself fits the usual homes of today that are getting smaller in size. But it is also because the lines and shapes are elegant and timeless, and new materials and finishes are used to upgrade mid-century to mid-century modern.
Read East Meets West in Japandi.
View this post on Instagram
View this post on Instagram
Retro, for others, could also mean the design of the 60s and 70s when colors were bright and designs were busy and funky. Think op art and pop art that used geometrics and vivid colors. Plastic became THE material and that was when the iconic Panton chair made of one piece of plastic was born. Patterns, textures, colors—all combined to create a design that is whimsical, outrageous, maybe kitschy. Whatever it is, retro is singular.
It's almost a rebellion of sorts for having to live in piled-up concrete boxes and calling that home. All the mass production going on has made people want to explore their individuality.
So go on, spin your vinyl records that have that lo-fi scratching sounds and feel nostalgic about those bygone days. Write your labels in calligraphy. Immortalize your hugot using that manual typewriter, while you sip your third wave coffee ground from beans grown by artisanal, fair trade farmers.
Sometimes when we follow old rituals, we learn new things.
Blurring of Indoor and Outdoor Spaces
View this post on Instagram
Three nuclear families who are related to each other live in this house in Vietnam designed by Nishizawa Architects. Sunlight, greenery and natural ventilation are woven into the structure deliberately. Click the arrow on the photo so you can see other parts of the house.
This is very much in keeping with the cohousing lifestyle trend. Many can appreciate this way of living especially with the quarantine when family is usually far away.
Welcoming nature into our homes and having a design that considers natural lighting and ventilation can do so much for our well-being. This blog has a number of articles about this topic.
Read
Improve Your Well-Being with Biophilic Design
The Healing Power of Indoor Gardens
How to Maximize Indoor-Outdoor Living Spaces
Going Gaga for Greenery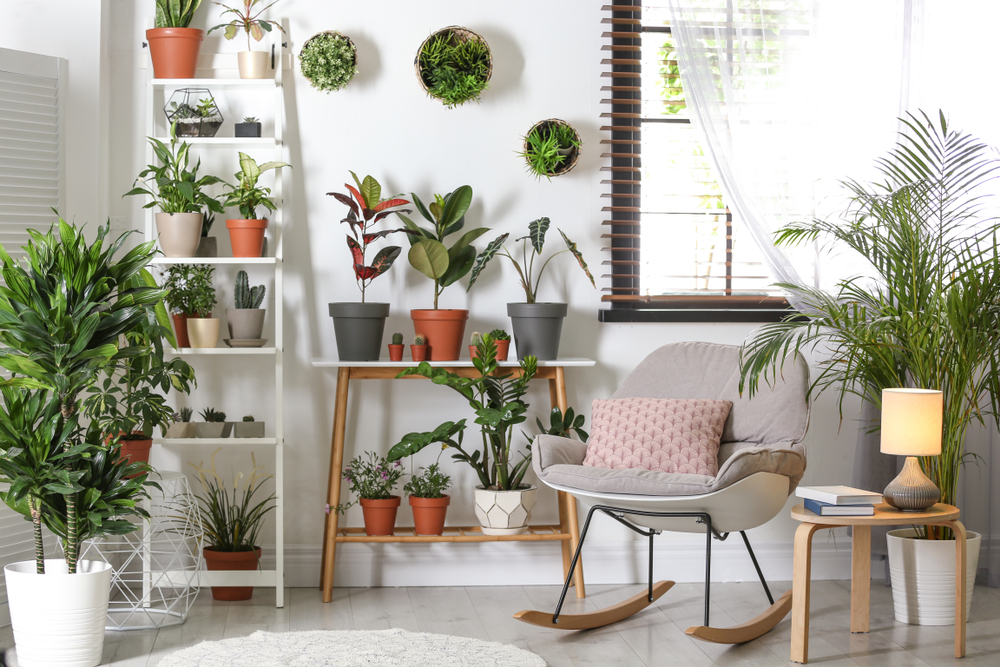 So many people have been turning to plants and gardening as therapy or relaxation in these times. Plantitos and plantitas are sprouting up in many homes in the country.
Two things that have happened though: 1) prices of plants have increased sometimes to the point of madness, and 2) plants are being stolen from mountains, forests, or private homes. Illegal gatherers would even go as far as to get endangered species because there are also eager collectors who are willing to pay the price.
Get ahold of yourselves, people! This is supposed to be a stress-buster-therapy-peaceful-hobby kind of activity!
Take Me Out of the City
Do you have the luxury to flee the city and take on a bucolic life in a farm? The yearning for rural escapism is real. But do think carefully (I had this conversation with myself, you see). And if playing with a countrycore persona is just what you're after, bake bread, knit a tea towel, and traipse around the garden in a flowy dress. Record it all on Tiktok and get your digital fix.
If you really are serious about making a radical change in your life, think about it carefully (again). What will you do if you transfer to the countryside? Even if you don't need to work anymore to survive, you still need a purpose in life. What art, craft, or work do you want to explore? Do you feel a calling to do something?
Give yourself time to think about this. It takes time, effort, money, and tons of energy to move. I should know: I moved 5 times around 3 countries in just 2 years.
Inspiring Videos
Let me share with you videos of how these artists spend their days. I find them so inspiring because they've obviously found and tapped into their mother lode of creativity, and it is with this voice that they speak and connect with the world.
Strip away wealth, power, fame, and I believe that each one of us has something to bring to the table. A life spent finding that gift is so worth it.
Kintsugi
Kintsugi is an extension of the wabi-sabi philosophy of finding beauty in imperfection. It is fixing broken pottery with the use of lacquer and gold. Symbolically, it is the acceptance of our broken parts and believing that there is restoration and rebirth if we accept these and honor these for the meaning they give to our lives.
Watch Hiroki Kiyokawa practice this centuries-old art.
A Day in the Life of Ceramicists
James and Tilla Waters are award-winning studio potters based in an isolated farm in Wales. Their work is grounded in functionality.
"Our partnership combines James's making skills with Tilla's love of colour and design. Our practice is rooted in the production of thrown tableware, using both stoneware and porcelain clay bodies. We think it's important that each piece feels nice in the hand, works well and looks great."
Dream Landscape
World-renowned Dutch gardener Piet Oudolf was at the forefront of planting natural gardens.
"The desire to explain his planting principles came out of a workshop at Harvard University two years ago for which he had to distil his process and make it tangible…which Oudolf describes as "a complicated layering of seasonality, energy, endurance and reward – both before, during and after flowering".  (Dan Pearson, The Guardian).
Oudolf: "I love plants, you know. That is the main thing of all. I love the way they change, the dynamics, and the beauty of everything you can see in them. Even if plants were in decay, I know how beautiful they were when they were in flower."
Spinning Sea Silk
Chiara Vigo may be the last known weaver of byssus. The yarn comes not from cocoons spun by silk worms but from the secretions of an endangered species of pen shells. With a combination of singing and breathing, Vigo spins the yarn. She is the only one left who can dye it with traditional colors and who can treat it with lemons and spices that makes the thread shine like gold in the sun. For her, "The byssus is the soul of the sea. It is sacred." (Max Paradiso, Chiara Vigo: The Last Woman Who Makes Sea Silk. BBC)
The silk cloth spun from byssus is so light that it is said you can hardly feel it. Only emperors and the ruling class during the Roman Empire used the cloth. Some believe that it is the first cloth God told Moses to lay on the first altar.
Key Takeaway
To summarize, here are the six trends in how we see our homes today:
1    Choosing Vintage
2    Flexible Spaces
3    Nostalgia for Retro
4    Blurring of Indoor and Outdoor Spaces
5    Going Gaga for Greenery
6    Take Me Out of the City
Whatever you choose, just remember that the underlying need is for connection—with yourself, your soul purpose, roots, family, friends, community, work, dreams, the present, nature…
Let me leave you this quote by H. Jackson Brown Jr.,
Twenty years from now you will be more disappointed by the things that you didn't do than by the ones you did do. So throw off the bowlines. Sail away from the safe harbor. Catch the trade winds in your sails. Explore. Dream. Discover.
Use this current turbulence as a catalyst to experience your own great Metanoia.