Professionals have trusted the Konstrukt Construction Chemicals brand of surface preparation products for many years now. They carry items such as renders, skimcoats, tile adhesives, gypsum putties, and many other products that make your renovation or construction project a breeze. But, did you know that some of Konstrukt's products can also be used to create decorative finishes? That's what Konstrukt Lunar Series is all about.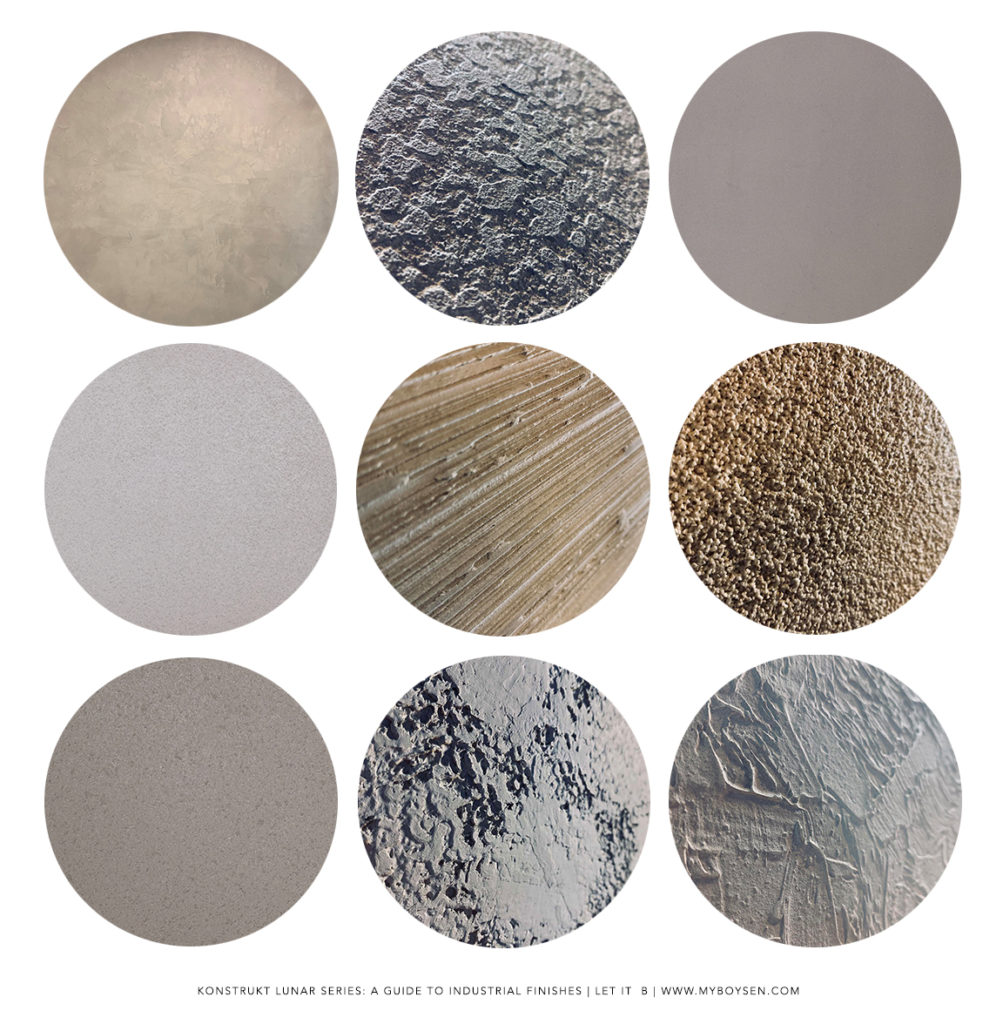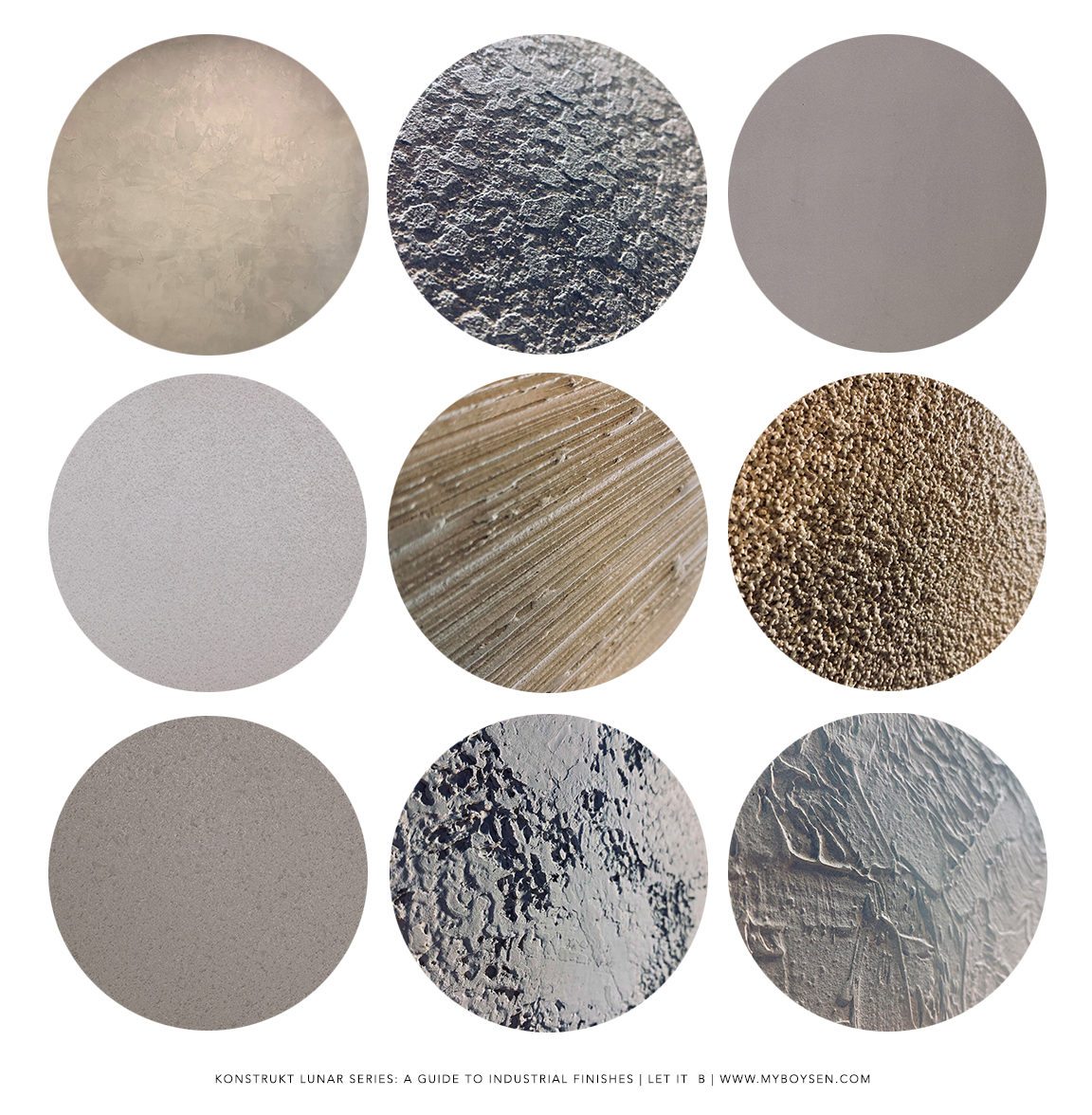 Konstrukt Lunar Series is a collection of industrial, cement finishes that are created using standard Konstrukt products. The Series has nine finishes altogether: Kavern, Koastal, Kaza, Koral, Korona, Kaiser, Kashmir, Kanyon, and Kohl. If you're interested, you can read more on the Kavern finish and the Koastal finish by clicking on the links.
For this installment, we'll be laying out the how-tos to achieve the Kaza finish.
What is Kaza?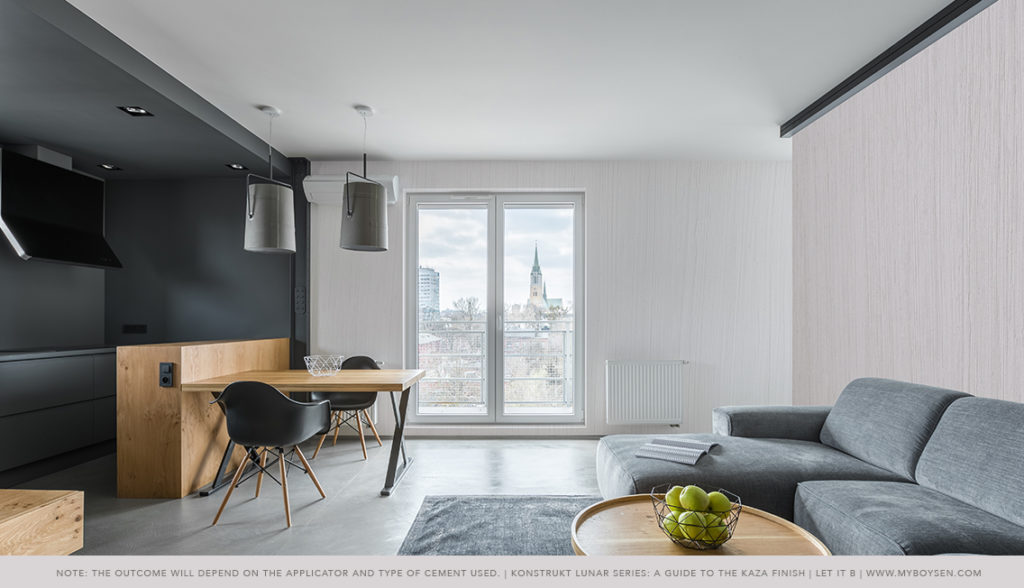 The main highlight of the Kaza cement faux finish is its linear design. You can etch it in vertically or horizontally. The finish makes the space look bigger and more open. It's a look that can definitely be paired with darker accent walls (yes, even black like our featured living space!) and not make the room look too stuffy or crowded.
While we always do our best to explain each step of the process as thoroughly as possible, working with Konstrukt products might not be as easy and simple as repainting your living space. For this application, we suggest working with a seasoned or a trained professional to achieve the perfect Kaza faux finish.
Before we start, we'd like to emphasize that due to the nature of the Konstrukt Skimcoat being used for this finish, it can only be applied on interior walls.
The Things You'll Need
To recreate this look, you'll need the following products:
Konstrukt Permaplast K-210 Skimcoat Part A (liquid)
Konstrukt Permaplast K-210 Skimcoat Part B (powder)
To protect your finish, use this:
Boysen Matte Shield B-4600
You'll also be needing the following tools: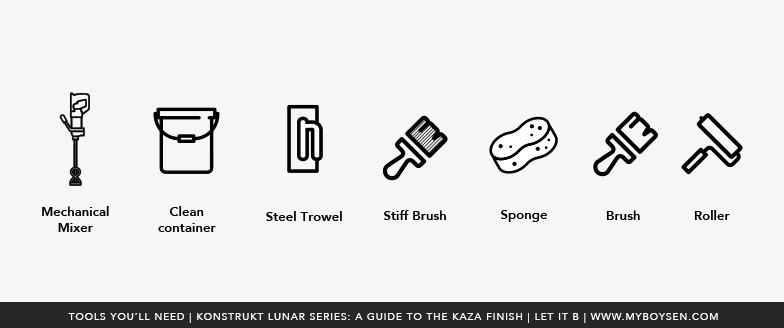 Prep the Surface
Before you start, always make sure that the walls you'll be applying this look to is prepped properly. Remove any honeycomb and loose concrete. Check and repair all surface defects such as cracks or gaps with corrective civil works. Waterproof as necessary. Make sure to dust off any dirt and that the surface is dry. Also, it's always a good idea to do the project when the weather is great. It helps with the product's cure time and it's good for ventilation during the whole process. Always remember that these products should be applied over bare concrete.
Steps to Achieve the Kaza Finish
Step 01: Mix a gallon of K-210 2K Skimcoat Part A (liquid) and 8 Liters of clean water in a clean plastic or aluminum container. Divide the contents into two containers after mixing. (This is going to be a lot of product so it's better to use two containers!)
Step 02: Pour the 28 kilogram bag of K-210 2K Skimcoat Part B (powder) into both containers in equal parts. Stir the separate mixtures using a mixing device until they're free of any lumps. The mixtures can be used within a 1 to 2 hour working time. No other material should be added into the mixture.
Step 03: Apply the mixture thinly on the surface by pressing the edge of the steel trowel firmly on the concrete until all areas are covered. Let the first coat dry for at least an hour before applying the second coat.
Step 04: Let the second coat dry for 30 minutes prior to texturing the surface. Use a stiff brush applied vertically or horizontally to achieve the finish. There is no need to neutralize the surface.
Step 05: The Konstrukt line of products were designed for surface preparation use prior to painting or other similar applications. It's important to coat it with an additional layer of protection. Let the application cure for at least 7 days before the application of Boysen Matte Shield B-4600.
How to Protect your Kaza Finish
Boysen Matte Shield is a clear coat that dries to a low-luster, matte finish. You can apply the clear coat directly to retain the original color of the Kaza finish. But, you can also tint Matte Shield by using Boysen Latex Colors (our water-based colorants for latex paints). That's a maximum of 1 quart of colorant for every gallon of Matte Shield. Use a sponge and apply the product with your desired pattern to achieve a faded look.
Got more questions about Konstrukt Lunar Series, the Kaza faux finish, or maybe just about life in general? Send us an email at ask@myboysen.com!