We made 2 color palettes for the 80s vibes for those who love retro or vintage. Two noteworthy design styles during that decade are the Club Scene and Memphis Design, which embody the flashiness of the 80s.
The Club Scene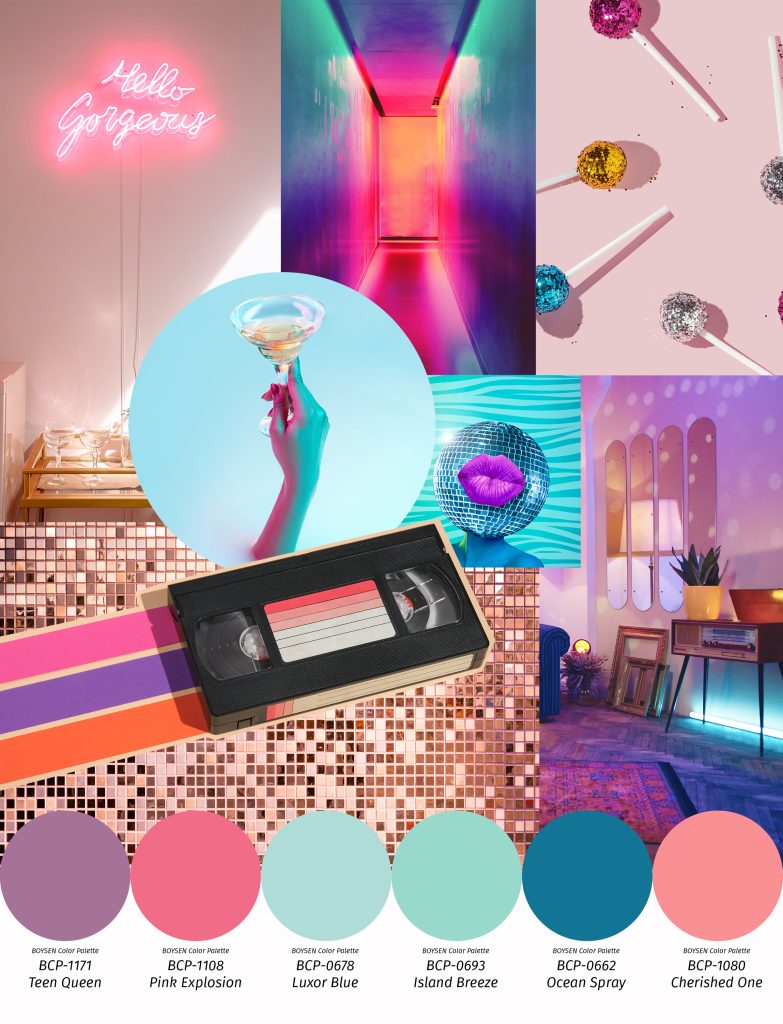 I am not the club scene type of gal, but I find myself crushing on this paint color palette. I love the combination of purples, pinks, and aqua blues. It's fun glam so what's not to like. For this interior, I'd add the glitter of metallic accents and the gloss of glass.
I'd use a toned down version of Teen Queen to make it a really pale dusky lavender, and use that pastel color to paint the walls with. Or make a sweet pastel out of the pink paint Cherished One. That could also work for me.
If you don't want a ready-mixed paint, you can always experiment and make your own signature pastel color. Read this post and watch the video tutorial for step by step instructions.
Then, I would add things that sparkle and shine. With Christmas coming up, that should not be a challenge. For non-Christmas decor or accessories, metallic accents like gold, rose gold, silver, and copper would be perfect for this palette. Crystal table lamp stands, scented candles, velvet throw pillow covers, and a plush rug would set the scene for cozy get-togethers with BFFs.
Reflect this enchanting space by installing a mirror, something with alluring curves like Bea's wavy groovy mirror.
Memphis Design
Back in the 80s, Italian designers and architects led by Ettore Sottsass, developed a retro design aesthetic called Memphis Design. It was a blend of art deco and pop art. Many found it kitschy with the use of plastic laminates and clashing colors.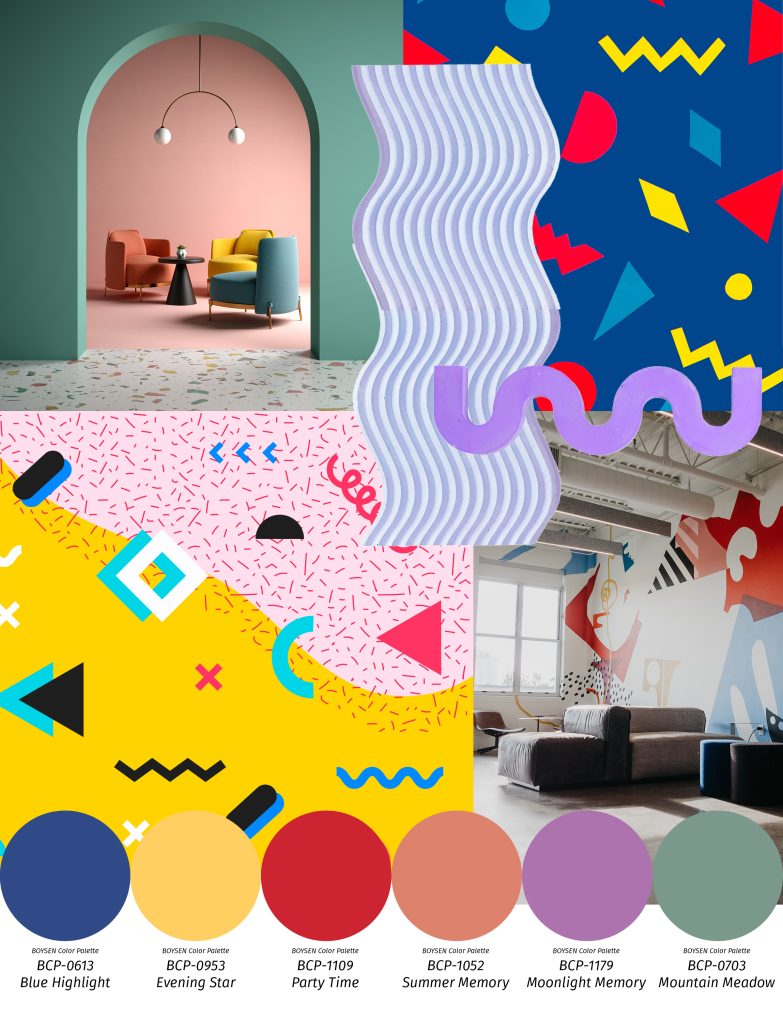 Memphis Design uses bright primary and secondary colors, like blue, yellow, red, orange, purple, and green. The effect is electric with its clashing colors, geometric shapes, and squiggly lines.
After more than 40 years, it's back in vogue. In 2022, an exposition called 'Memphis Again' took place in Triennale Milano Museum, which showcased more than 200 furniture and objects designed and produced in the 80s.
If you prefer a traditional, classic, and elegant look, better stay safe and use the many tints of white.  However, if you want to be current and are not afraid to experiment, go for the Memphis Design color palette.
These colors can appeal to the maximalist design aesthetics of Gen Z.
Major Events in the 80s
What is the 80s known for? There was the Iran-Iraq war, the Falklands war, the Beirut bombing, the Challenger disaster, Chernobyl disaster, the bombing and crash of the Pan Am flight, Exxon Valdez Oil Spill, the Mount Saint Helens eruption, AIDS, HIV…
It was also in this decade that the CD Rom was manufactured, that the first reusable space shuttle Columbia was launched, that MTV had its debut, that E.T. came to planet Earth for a visit, that the Internet was created, that the beginnings of the World Wide Web took place, and that the Berlin Wall fell.
In the Philippines, there was economic instability, political instability, a high incidence of poverty, 50% devaluation of the peso, double digit inflation (rate in 1984 was 50.3%), a 30% drop in per capita income, and dominance of monopolies. It was also in this decade that Aquino was assassinated, that we mounted the People Power Revolution, and that the first female Filipino President was elected.
It's just a short rundown of the chaotic events of the 80s, when excess and decadence impacted the lives of many.
Some More Thoughts
I wonder what will be said about this decade 2020. That there was a global pandemic, lockdowns, work from home, online education, virtual meetings, wars, rising oil prices, crypto, deepfakes, mental health challenges brought about by social media, AI…
At Boysen, when we start brainstorming about the trending colors, there is a discussion about sociocultural, economic, and political trends. All these matter to the choice of colors.
Check out the Boysen colors of the past years since 2020—
Boysen Color Trend 2020/21
Boysen Color Trend 2022/23
Meanwhile, if you want to go further back in time, read these two posts:
Embracing Altered States With 1960s Psychedelia
Paint A Hippie Dippie Home With 70s Hues
Subscribe to this blog and join our community. We regularly come out with new content about color inspirations, DIY video tutorials, and articles about the proper use of our products so the paint colors you choose for your home will last longer.
See you back  here soon.