Dear Homies,
5 years old! That's how old Let it B | MyBoysen Blog is. So indulge us when we call this a red letter day. It's as red as hearts and red as love and red as the passion we feel for this baby. Happy 5th birthday, Let it B!
It's Happy Valentine's Day for the rest of the world but today in this space, we would like to celebrate this 5th anniversary first. There are two things that make this day super special for us: one, that the community that has reared and nurtured this blog has been very loving; and two, that we have seen how the work of love we put into this blog has resonated with thousands of people here and abroad.
MyBoysen Blog's Readership
Most of our readers come from the Philippines, but there are about 15% coming from many other countries. These are the 5 main topics that our readers like:
1. Paint Color Inspirations
Aside from the Boysen Color Trends, we like to talk about colors that are found in fashion trends, what Pantone's color of the year is, or the colors of interior design trends like the Scandinavian style or the coastal look. We like to talk about things that fascinate us like plants and the different shades of green, or frothy colors like bubble gum, or happy ones like the rainbow. Of course, there are always the light neutrals or the hues found in nature that are classics and will never go out of style.
Boysen has thousands and thousands of paint colors, which you can see in our fan decks or in The Color Library, and which you can have mixed in the many Mix and Match Stations found all throughout the country.
If you want to surf through the posts about color inspirations, click on this link.
2. Painting Tips
Much beloved by homeowners, painters and DIYers, our painting tips section is the best resource to help you understand the basics of painting, common painting problems, and the right application process. If you are not sure which one fits your needs, you can just leave your question in the comment section found after every post.
These are the posts with the most inquiries, which is understandable. Since they are technical in nature, we receive the most questions about them at ask@myboysen.com. But if you have more than one question, it is best to call (02) 8363-9738 local 417 to 418 during office hours and talk to our technical team.
3. Boysen Products and Painting Schedules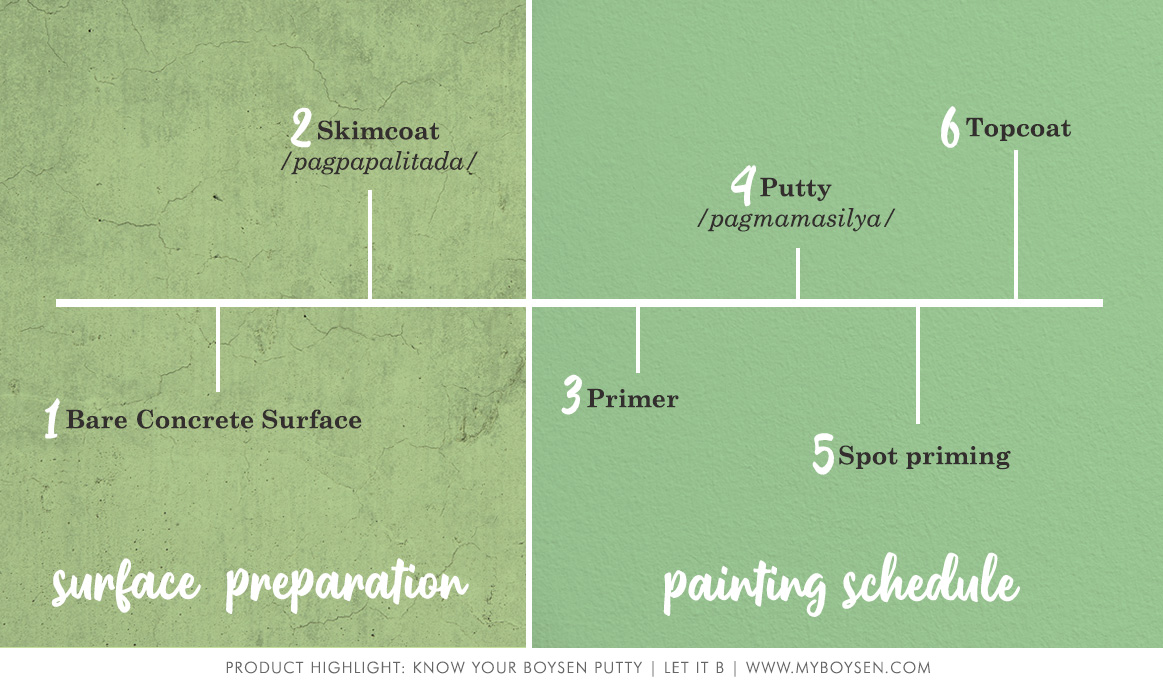 We have posts that focus on products, their properties, and the application process including the products that go with the paint from surface preparation to top coat. We call the last one the painting schedule, which is a guide that will help you navigate the process of painting a surface and will give you a list of the products that you will need. Over the years, we've made so many infographics, visuals that make it easier to understand complicated topics. Click on the link to see what the top 8 infographics for 2021 are.
4. DIY Videos
Many of us like to see videos of how things are done or how a process goes instead of reading about it. We have made more than 250 videos to date. Subscribe to our YouTube channel so you can quickly see our new uploads. All our videos are original content and any instructions or tutorials you will see are for Boysen products.
5. Design Trends
The section on design presents trends on architecture and interior design that can be seen in the country and in other parts of the world to offer inspiration about what you can do with your own home. This part of the blog also offers a glimpse into the world of these professionals so that you can have a better understanding of what goes on in the design and construction of living spaces. Although we encourage DIY, we only do so for simple projects. Building a home requires the expertise of professionals and having them as your partners in the build is not a luxury but a necessity.
Let it B | MyBoysen
There have been so many minds involved in the making of this blog. Writers, artists, videographers, producers, editors, talents, and other partners have contributed to making this blog what it is today. What's more, the articles and other content have been vetted by the Boysen engineers in our marketing and technical teams. It really does take a community to develop what is now the country's ultimate painting guide.
But that is just one side of the coin. The other side is equally important. That is you, our readers. Without your interest, we wouldn't be where we are today. Through your inquiries, we get a better picture of what topics are important to you. So please do continue your engagement and visit this space regularly. Click on the subscribe button that can be found on the homepage and get new uploads in your inbox.
Enjoy your Valentine's Day, Homies!