Are you thinking of getting a kitchen update? If your answer is yes, here are some budget-friendly ideas that can help you decide on how to go about this project.
Repaint Your Kitchen
Repainting the walls and cabinetry is one of the easiest ways to revamp your kitchen. Great impact is achieved for a small investment, unless you go for the super smooth and shiny duco finish where you have to hire people to do the job. But if you choose the antibacterial Healthy Home or the easy-to-clean Virtuoso Paint, then this can be a DIY project. Then there is always the ever-reliable Boysen Permacoat.
You will probably be dealing with different surfaces in your DIY revamp. To know what Boysen products to use for the different surfaces, please click this link.
If you will be repainting, chances are you already have kitchen appliances and kitchenware. You have to see what colors could be the best backdrop for these. Also, your kitchen backsplash may be tiled. The color you choose for your walls must look good beside those tiles, unless you change them too.
In other words, what you would need to first do would be to build a color palette with the kitchen stuff you already have. Check out these color schemes.
Kitchen Color Trends for 2021
The pandemic has been a major force in our lives for most of this year and will continue to affect us in the foreseeable future. So the choices of colors are not surprising. People want to be surrounded by light and bright as an antidote to the dark clouds that cast a shadow on our days.
White Hues
Cleanliness and tidiness are the basis for any good-looking home. With that said, white amplifies light and makes the white-painted rooms look fresh and clean.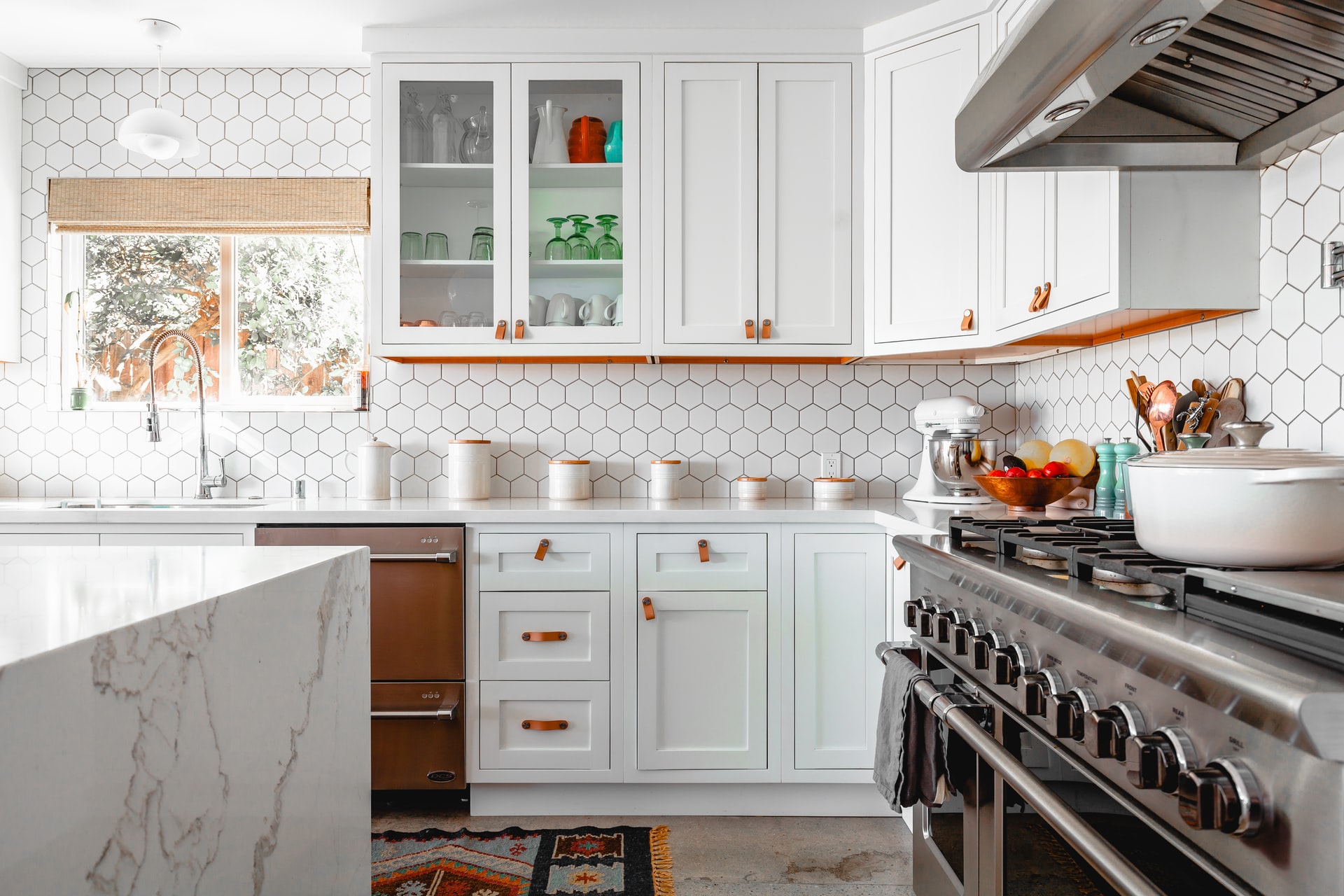 White kitchens have been around for a long time and they are not going out of style. In this kitchen, you have a white pendant lamp, white cabinetry, white marble, white tiles, white canisters, and white cookware. Even the mixer is white. What makes this kitchen really cheerful are the pops of color that are added with a restrained hand.
Those hexagonal tiles are very attractive too. They remind us of a beehive, but in white.
Shades of Green
View this post on Instagram
Sage is still very much an 'in' color. It's a cool, natural color which gives a restful feeling to a kitchen.
If your kitchen cabinets have seen its glory days, you don't have to rip them out if the bones are still good. Just give them a facelift using color. Fix any hardware, like hinges, that doesn't work anymore, and get cabinet pulls that are more modern to bring your kitchen to the 21st century in a cost-effective way.
View this post on Instagram
Mint green is also a good color to have in a kitchen. It is fresh and inviting. Keep it crisp and clean with white china and cookware. Add accent colors. Choose a kitchen sink tap with a silver or chrome finish. There are many styles to choose from but go for a functional one—a higher spout so you can just slide in that pitcher under the tap without any problem, a swivel spout so you can turn it especially if you have a double sink, lever taps to turn water on and off easily.
Baby Blues
View this post on Instagram
Pale blue with white is a winning combination. This kitchen has a hint of the country style which is very much in keeping with the cottagecore or countrycore trend. Deep red kitchenware goes well with this kitchen color scheme. So if you already have that color for your pots, pans and plates, then this color combo should work. But you can also use deep blue colors like that of blue and white china. There are so many more hues that go with blue so go back to the color wheel.
View this post on Instagram
This hue is darker than the first one but it is still considered a light blue. Silver-colored fittings look great with any color of blue. The orange tulips just make this combination sing because the complementary color scheme is a good one if you want to maximize impact.
The Skirted Sink
If you have existing cabinets that still work, don't change them. It would save you money to work with what you have. Keep them, and yes, including those without doors.
Some kitchens, like dirty kitchens, have storage under the kitchen counter but no door. In this case, you can always use fabric to cleverly hide your clutter and make the kitchen look tidy. This trick is a blast from the past but it's making a comeback. So let it work for your kitchen makeover.
View this post on Instagram
You can easily choose the fabric to use. Plain or patterned, what is important is that it would match the rest of the kitchen color scheme. Just make sure that you can easily open and close the sink skirt. Find a fabric that is easy to launder because you would need to wash it regularly and often. Chances are in kitchen set-ups, the skirt would have drips from water, oil, or condiments. You wouldn't want to hide your mess behind a dingy fabric.
Tip: (If you've got extra moolah.) If you have beautiful china or kitchenware that you would like to display then you can put them on floating shelves, which are cheaper than cabinets. What's nice about floating shelves is that they can look less heavy than hanging cabinets. But if you are an untidy kind of person who cleans once in a blue moon, then just forget it. Better for you to be ruthless about giving things away so there is nothing to clean. For objects with a sentimental value, give them to a sibling, a close relative, or a dear friend who cherish these kinds of things.
Light It Up
The kitchen is the heart of the home, just like the hearth was in the olden days. This very important room in the house deserves good lighting.
You need ambient lighting, and those are the ones in the ceiling that would illuminate the space, and also task lights that provide light on work spaces like kitchen counters where food is prepared. You can also have accent lights, like cupboard lights that turn on automatically when you open the cabinet doors, or plinth lighting.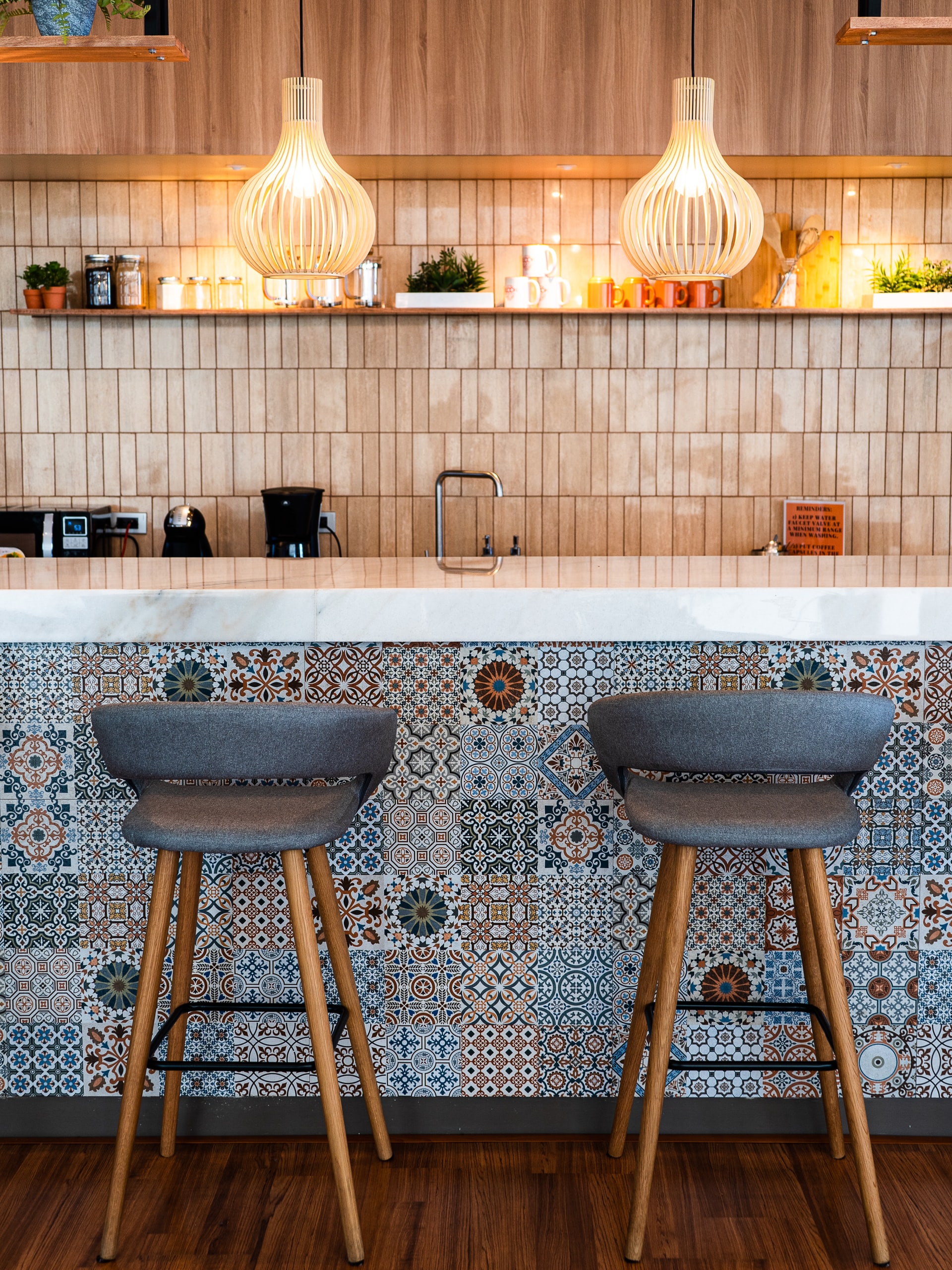 A kitchen feature that you see a lot of these days, especially those with kitchen islands, are evenly-spaced pendant lights hanging from the ceiling.
If budget is an issue, then just get those overhead and task lights first. The rest can come later when you have spending money.
The Impact of a Backsplash
If you have a budget for a new backsplash, go for it. Just remember that this area is the wettest (the sink) and hottest (the stove) in the kitchen. So you have to choose a material that can withstand these stresses. Tiles have been a favorite for a very long time, and rightly so because this material can withstand both wetness and heat. Tiles are also easy to keep clean with just soap and water.
View this post on Instagram
The backsplash above are Machuca tiles, one of my favorites. They remind me so much of our gracious past when life was kinder. These encaustic tiles are handmade piece by piece by Filipino craftsmen, and they come in many different designs and colors.
The process of making these tiles is painstaking. It starts with making a steel tile mold, then liquid cement of different colors are poured into the enclosed shapes to make the patterns. The designs range from simple and minimalistic to ornate and colorful. So go back to your color scheme and take your pick.
These tiles are a classic and can create such an impact in your space. They also increase the value of your home because of the added and perceived value they bring.
But there are so many other tiles available too, like ceramic tiles, which you can stack in different patterns. Below are metro or subway tiles.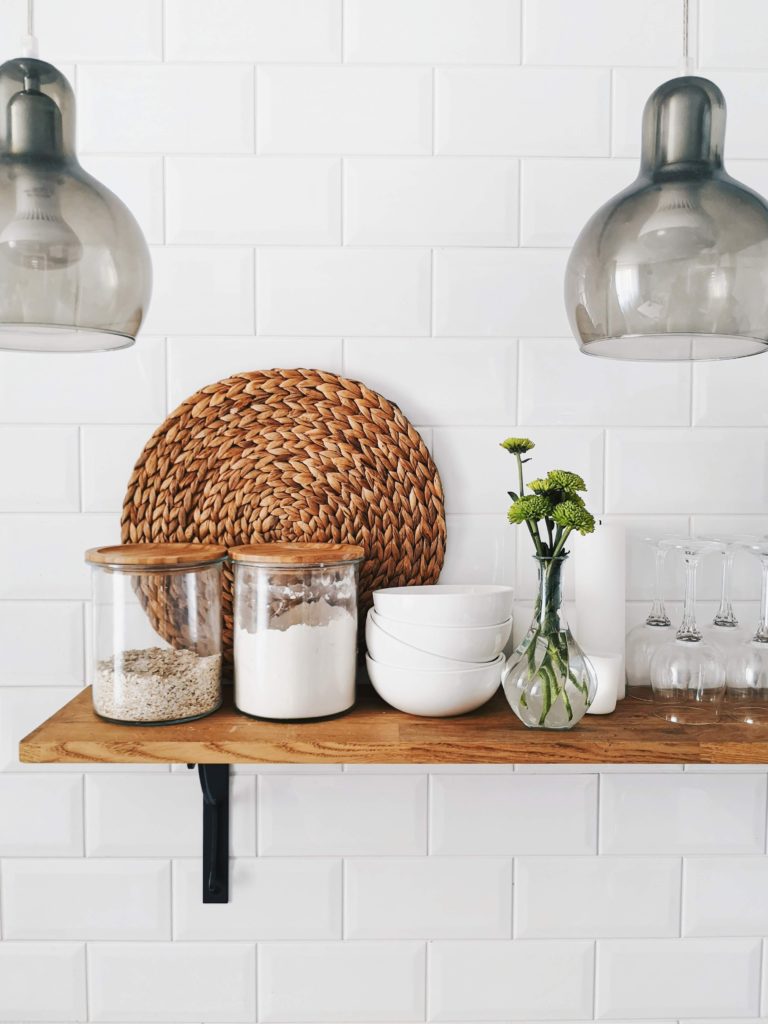 View this post on Instagram
Click the arrow on the right side of the image to see what it looked like before the kitchen makeover.
There are many other materials that can be used for a backsplash, like metal, stone, or marble. But if there is a budget, it is better to use ceramic tiles for price, durability, and easy maintenance.
For more kitchen ideas, click this link. Also subscribe to this blog to get fresh home ideas in your inbox.