There are many ways to teach the alphabet to your toddlers, using a gadget, a book, a TV show, a song, or flash cards. When they get it (or don't get it but try anyway), you, the parent, feel the flush of accomplishment even more than your kid. Still another way to teach it to your toddler is to paint the alphabet on the wall of his or her bedroom so they can always see the letters. It can also double as wall decor.
Watch the video.
We've added a downloadable stencil for your convenience.
What Wall Paint Color is Best for a Toddler's Room
Your toddler may be too young to choose a paint color palette for the alphabet so it would have to be a decision that you will make. There are the usual suspects of pink for girls, blue for boys, or yellow to make it neutral.
Or you can have the room in technicolor with primary and secondary colors, like this nursery room.
Click on the link to read more about the colors used.
Studies in child psychology have shown that colors impact a child's development, e.g., blue would calm a child, red would make him feel energized, excited, and also would increase his appetite, green would help improve his reading speed and comprehension, and yellow would focus him. The toy, food, and beverage industries that cater to children exploit this knowledge to their advantage.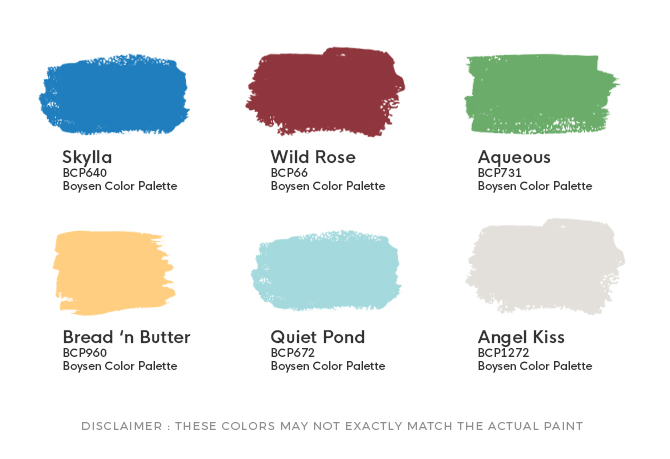 You can, of course, use the paint colors suggested in the video. But if you want more options, this color palette has some bright colors which you could use.
I suggest that you paint your walls first with the all-time favorite paint Boysen Tulle White before you paint the alphabet. The white wall will be the blank canvas for the bright colors you may want to add. This combination will keep the space bright, cheerful, and friendly.
Use Stencils for Painting Patterns
Make it easy on yourself when painting decorative elements on the walls by using stencils. There are so many you can download for free.
On Walls
We've had several video tutorials where we used stencils, and here's one for a nursery.
You can also go for a functional design aside from it being only decorative. The video below is a tutorial on how to make a height meter stick, which can be useful in tracking your child's growth.
On Objects
Use stencils also when decorating objects, like furniture, (terra cotta) pots, and other accessories.
Watch Bea spruce up her old wooden side table. Paint stenciling is more work compared to just coating an object with paint. But if you want more embellishment, tack on your stencil, grab a brush and paint, then dab away.
Here's a video from Kriz. It's an oldie but a goodie. We made this right before the plantito/plantita craze exploded, two months shy of the first lockdown. There's no let-up with the love of greenery and that is good news. We all need plants and nurturing them is one way to increase the wellness in our homes, not to mention that it is also good for our self-care. Hey plant lovers out there, keep the love alive!
Paint the Alphabet
This started with the alphabet so let me get back to that.
To recap, paint the alphabet on your wall and hit two birds with one stone as it can be part of the decor as well as a teaching tool. Choose primary or secondary colors. The eyes of toddlers are not fully developed yet which is why bright colors help them to distinguish forms and shapes.
Before you paint the alphabet, paint your wall with a neutral color like Boysen Tulle White so that your decorative elements will stand out. The contrast between white and the bright colors will make the letters pop even more, so it will be easier for the child to see and discern the shapes.
Got any technical questions about painting? Send an email to ask@myboysen.com. You can also call our technical hotline at (02) 8363-9738 local 417 to 418 during office hours, and speak to a friendly and knowledgeable team member.
When you're ready, go to a Mix and Match Station in a home depot near you and get your paint. Check the location closest to you.