Here are the top 5 Boysen IG posts in 2022, which are not arranged in order of popularity. Instead, these can be categorized for two kinds of looks—colorful interiors and neutral living spaces.
Colorful Interiors
Whimsical Spotlight
This interior space is great for someone with a playful personality who wants his home to have a fun, whimsical vibe using colors. Instead of going for neutral or white surfaces, the whole room is made up of vibrant colors that work well together. To pull this off, you must have an adventurous spirit and a great color sense. From furniture to walls to accessories, everything is color-curated to exude this lively vibe. The offbeat "spotlight" in orange gives a touch of humor that adds to the exuberant spirit of the room.
Closest Color Match:
BOYSEN Color Trend BCT21-7440S Hidden Oasis (Wall)
BOYSEN Color Trend BCT21-7741S Sahara Sunset (Spotlight)
BOYSEN Quick Drying Enamel B-647 Delft Blue (Wooden Cabinet)
Purple Archway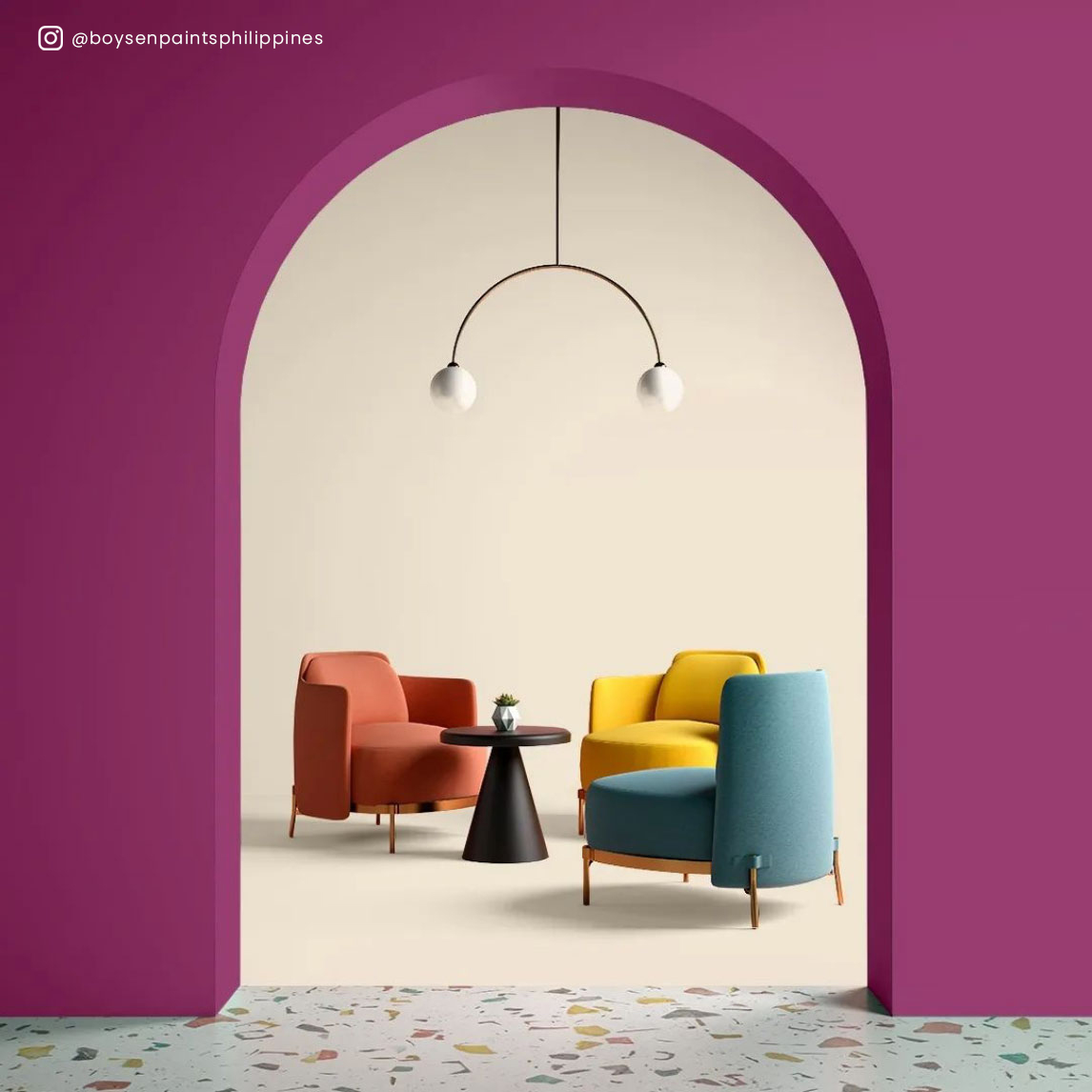 Three things I love about this image.First, the curvy furniture. This was big in the 60s and 70s and had a resurgence in 2021. Furniture makers are still making the mid-century furniture that are also beautiful and still very much used in contemporary interior design. However, there are furniture makers that have ventured into the use of curvy forms and shapes. Read more about the amorphous-shaped furniture by clicking on this link.
Second is the terrazzo floor. I wrote about its resurgence in early 2022. Click on this link to know more about terrazzo tiles. The colors of the terrazzo floor tiles are echoed by the single sofa chairs and the wall.
The third thing I love about this image is the statement wall with the arched entryway. The pattern of having a curved entryway and curved furniture creates a repetition that is pleasing to the eye. That the wall is painted in Purple Power Revolution (from the color palette Move in Boysen Color Trend 2022/23) makes the space even more remarkable.
Do you think you have the personality to pull of this kind of interior space?
Closest Color Match:
BOYSEN Color Trend BCT21-7740S Purple Power Revolution (Arch Wall)
BOYSEN Color Trend BCT21-7208S High Key (Center Wall)
Create Waves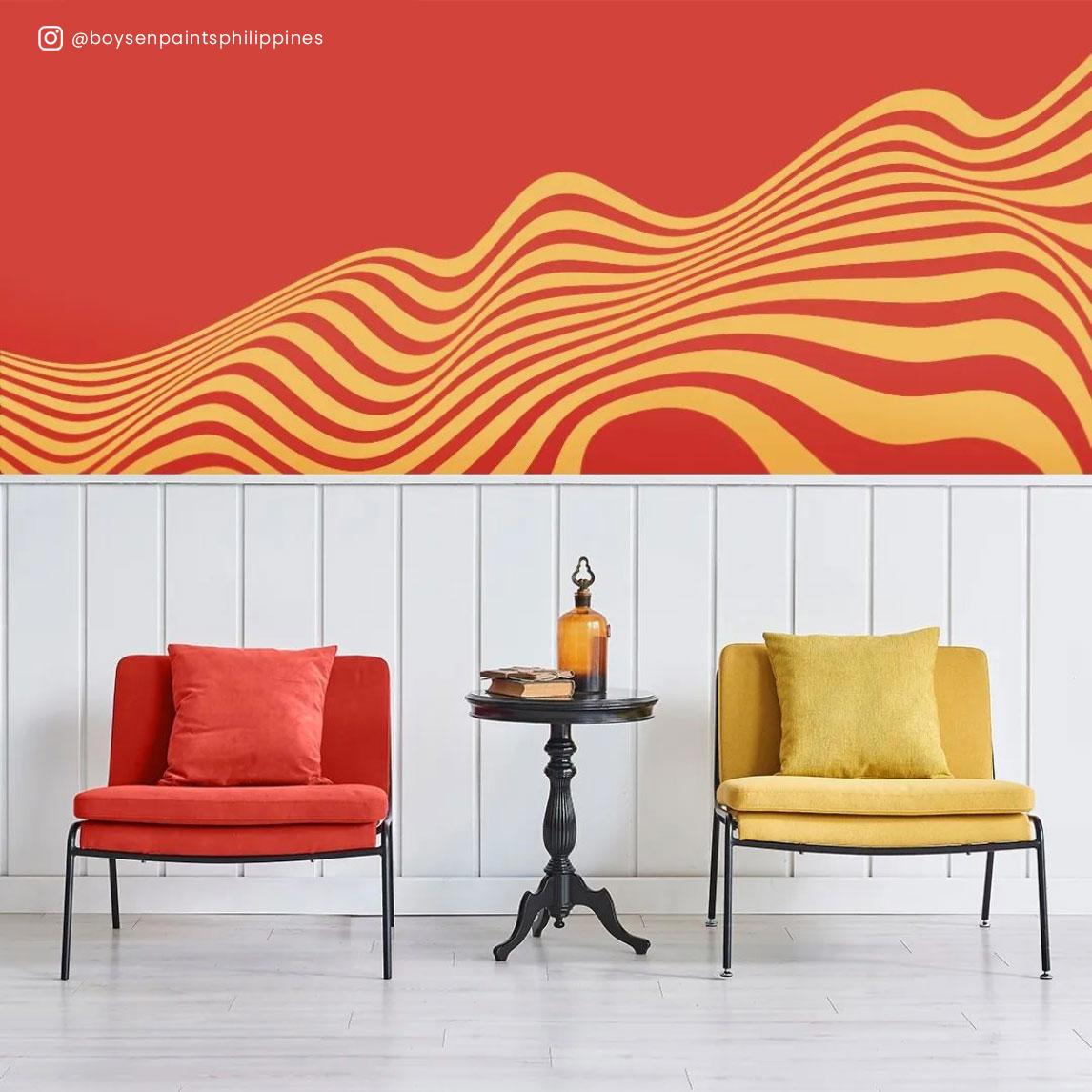 Astrologers say that 2023 is the year for change and transformation. If you feel the tickle to explore your inner and outer worlds, start with your home. And there is no better way to do that than change your color game. The mural does create waves and calls attention to itself. But the lower half of the wall and the white floor give it a balanced look. Add to that the two chairs which echo the colors of the mural, then you've got equilibrium, despite the hot colors of red and yellow. Just like Purple Power Revolution in the previous image, these two colors  Fireburst and Lemon Pop belong to the color palette Move of Boysen Color Trend 2022/23.
Closest Color Match:
BOYSEN Color Trend BCT21-7739S Fireburst (Wall)
BOYSEN Color Trend BCT21-7618S Lemon Pop (Mural)
BOYSEN Quick Drying Enamel B-600 White (Wooden Panels and Wooden Baseboard)
Neutral Living Spaces
If you can't bring yourself to paint vivid colors in your home, you can always coat your surfaces with neutral colors, which will never go out of style.
Trendy and enduring neutrals are very much used by interior designers. Just look at the much-loved interior styles like Scandi, Japandi, and Korean-inspired homes, and you are going to see that neutrals make up a room's color palette in a big way.
The neutral colors that are making a splash now have warm undertones like orange, pink, and yellow. Warm neutrals are an ideal base for biophilia or natural design schemes because they add to the organic feel to a room.
Embrace Curves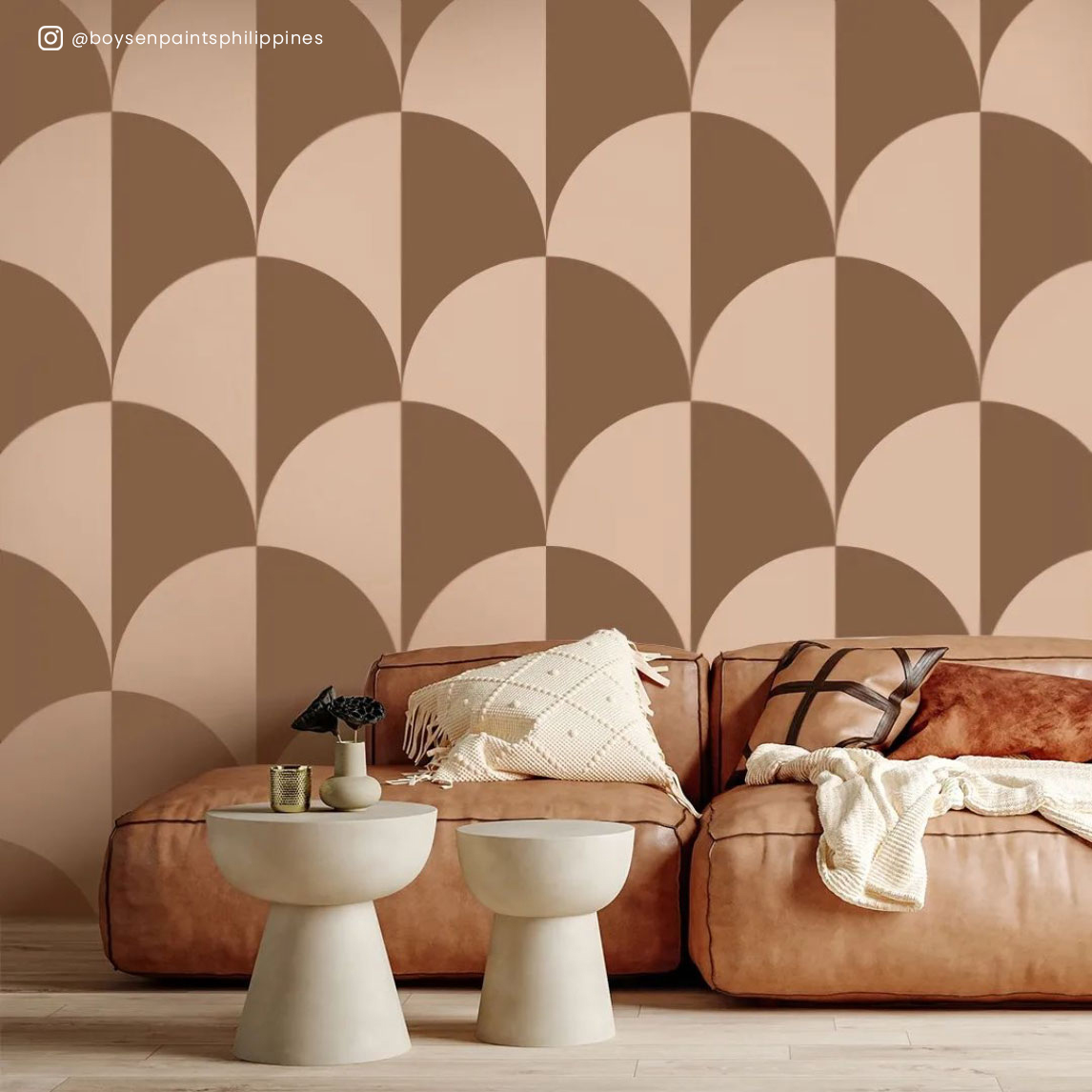 Making a mural pattern like this requires patience. You can use a pre-formatted shape to trace it on your wall. Or you can make a stencil to make painting the pattern on the wall much easier. Go for a monochromatic color scheme for an elegant feel. The white accessories and side tables make the room look fresh. Again, you will see curved shapes on the sofa and the tables. Patterns and shapes make this interior space look very interesting even if the color palette is subdued. This room may look understated but it gives off a very warm and cozy vibe.
For more about murals and using stencils to paint walls, surf through our Let it B videos. You can also subscribe to our YouTube channel to see videos quickly when we upload them.
Closest Color Match:
BOSYEN Color Palette BCP-0168 Candle Light (Wall)
BOSYEN Color Palette BCP-0172 Chasm (Mural)
Bring Nature In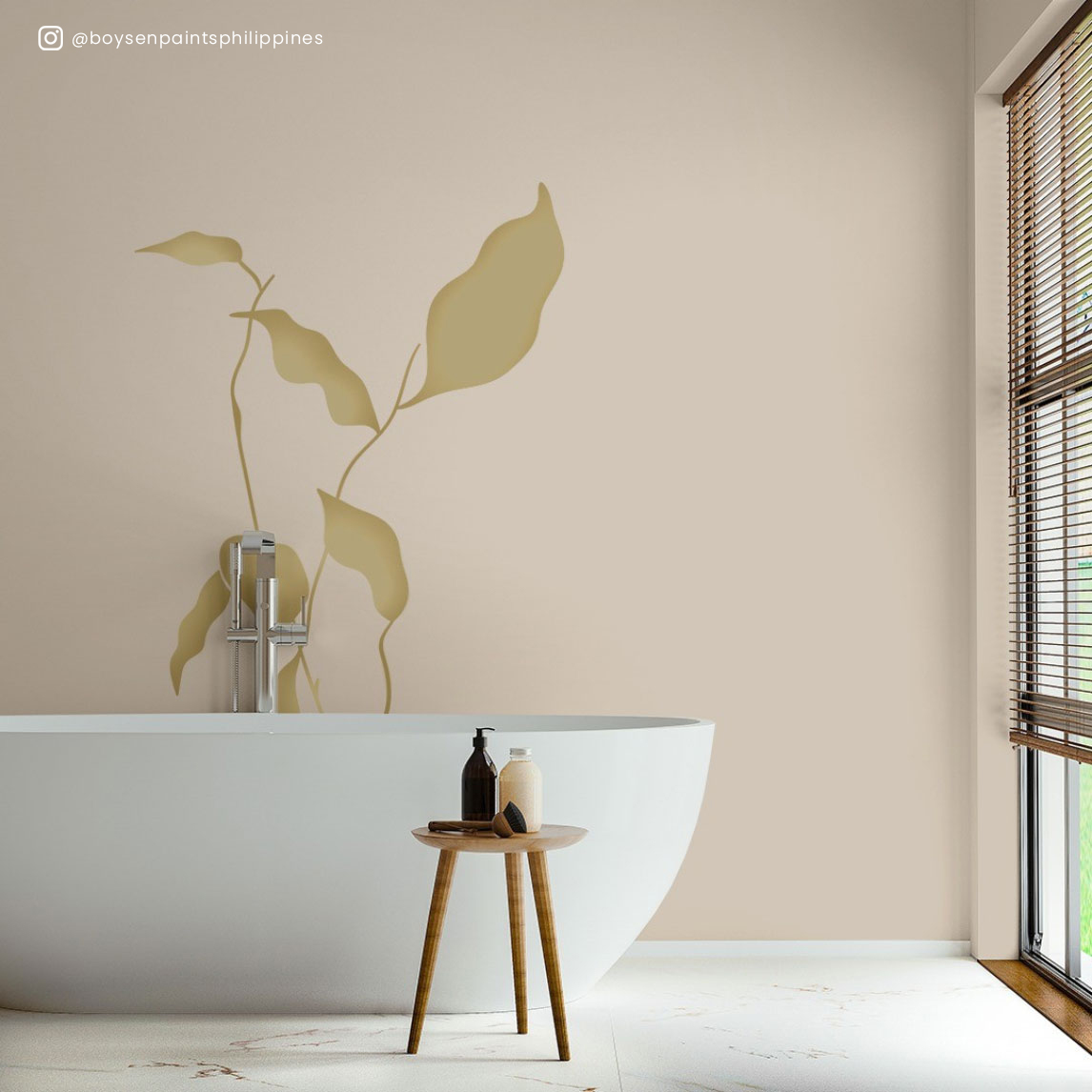 Draw simple leaves on your wall and make that a subtle reminder of nature in this very minimalistic bathroom. The opulent bathtub has pride of place. The restrained neutral wall color and white floor brings out the bathtub's curves and purity of shape. The very simple mural makes the vibe feel cozy and comfortable instead of austere.
Closest Color Match:
BOYSEN Color Palette BCP-0231 Desert Mirage (Wall)
BOYSEN Color Palette BCP-0401 Bamboo Forest (Wall Mural)
BOYSEN Quick Drying Enamel B-600 White (Wooden Baseboard)
You don't have to limit yourself to our top 5 Boysen IG posts. If you want to see more photo inspirations for interiors, do subscribe to our Instagram page.