We all are drawn to a place that gives us an easy, breezy vibe, and that is what the coastal interior design style can bring to our homes. Going into the third year of the pandemic, many of us feel stress and anxiety, more so now since the situation has brought such instability and uncertainty into our lives. Having a home that helps us relax is a big plus.
Coastal Interior Design Style
It all started in The Hamptons, a group of towns and villages in the eastern end of Long Island in the New York State. This was the summer destination of wealthy New York residents. There are differences between the Hamptons style and the coastal style, with the former being more elegant and stately and the latter more relaxed and playful.
Most of us may belong to the hoi polloi but that does not mean we cannot have that chill and laid-back feel in our homes. Remember, we're island people, and laughter, fun, and a lighthearted attitude towards life are part of the Pinoy DNA. Sure, we have our own tropical beach home styles but if many of us like the Scandinavian style, there is a way to alter the Scandi look to coastal without sacrificing the whites.
These are some features of a coastal interior design style:
Paint Colors: lots of whites, creams, light and bold blues
Floor Plan: open plan, especially for dining and living areas, for that breezy and airy atmosphere
Decor: hints of coral, shell, sand, nautical inspirations like rope and stripes (Tip: Go for minimalism or just hints of the beachy motif. Be careful not to get too thematic, otherwise, your home will look kitschy.)
Furniture: wood (with distressed paint or stained), rattan
Fabrics: cotton or rough linen
Textures: go for rough textures, avoid cool metals or silk or any fabric with a sheen
Lighting: let the sunshine in!, and choose warm light for accent and general lighting
A Mood Board for the Coastal Interior Design Style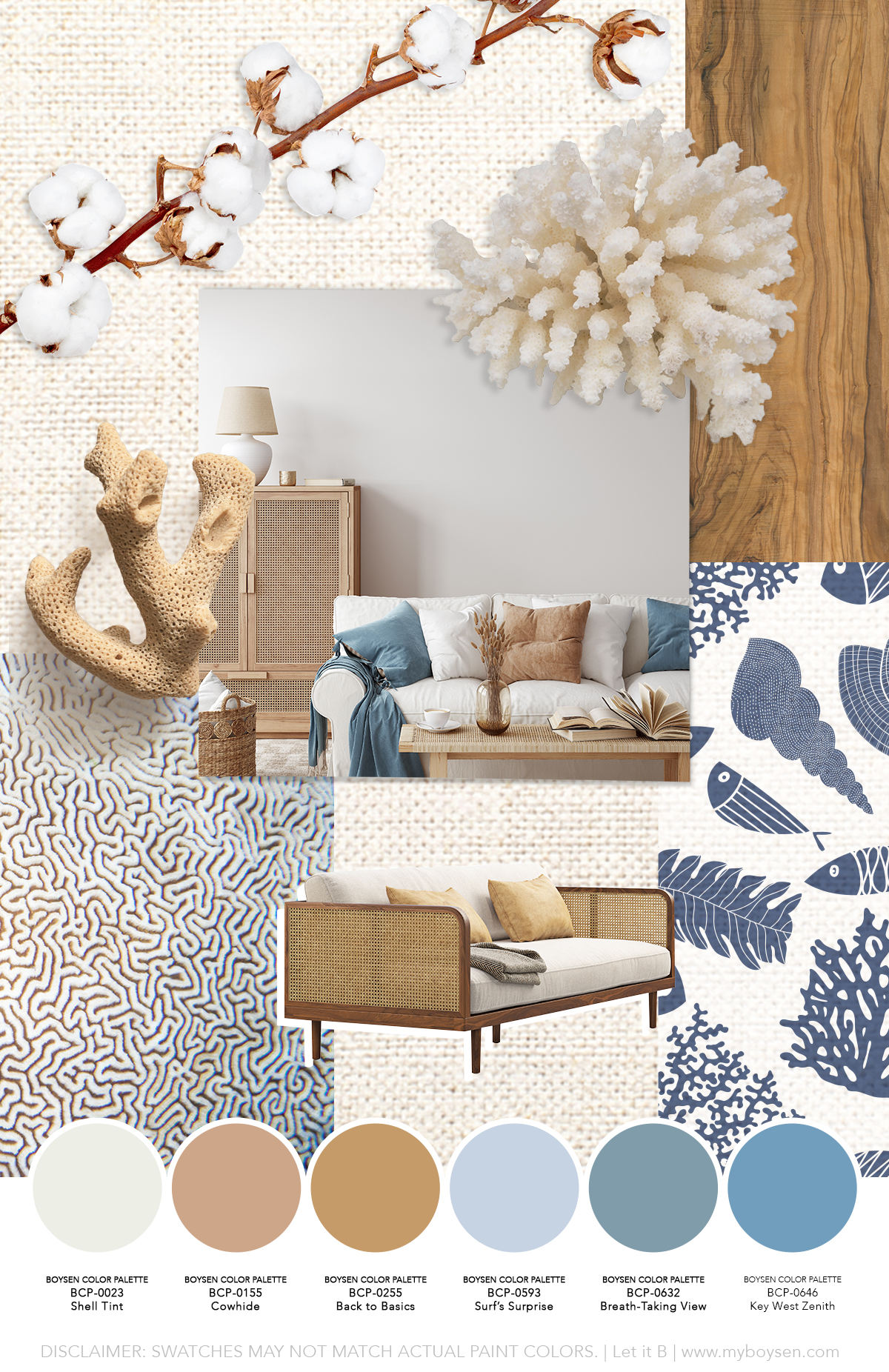 Here's our take of the color palette for a warm and cozy coastal style. Just take inspiration from the beaches that abound here in the Philippines from the white sands, coral reefs, turquoise waters, bright blue skies, bleached wood…
Having this interior style in our urban homes can bring us that relaxed, lighthearted, and happy mood, something we all need especially if we live in cramped and crowded cities that hardly have any natural spaces for its citizens.
Decorate with a Light Hand
There are things to avoid when designing your home using the coastal interior style. I already mentioned a big no-no, and that is not to bring in too many beach themes like having prints of shells or corals, sigay or capiz chandeliers found in souvenir shops, too much driftwood…
If you must, then have a statement pieces like a wooden bowl with your shell finds, coral decor (use resin if you want a coral accent). Don't overdo it though.
If you think rugs are your thing, then use local handwoven ones like abaca.
Who knows when travel will open up? For sure though, most of us have beautiful memories of summer days frolicking in the beach with our loved ones. Let your imagination work for you and bring your happy space into your home now.
Subscribe to Let it B to get more color and design inspirations in your inbox.