Are the in-laws coming to town? Do you have some friends from overseas who you're hosting soon? Or maybe you're just throwing a crazy house party and you're expecting someone to pass out on the couch? Whatever the reason may be, it's always a good idea to have a welcoming guest bedroom ready. Here are some things to get you started.
Invest in Cozy Sheets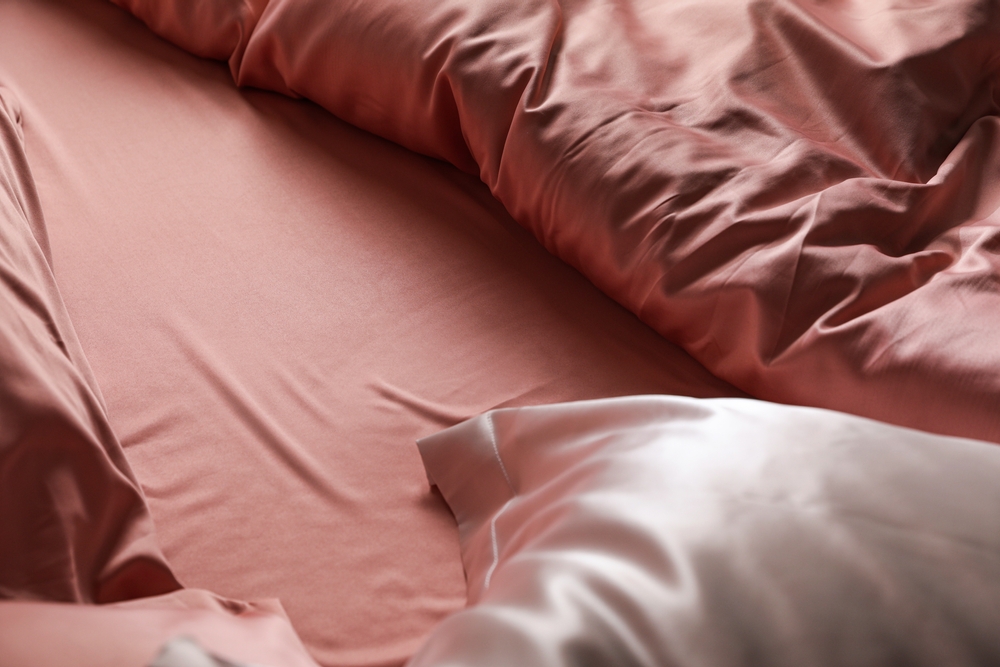 One of the best purchases I've ever made as an adult is getting a good mattress. But aside from that, getting equally good sheets matters too. Slowly, I've traded in my scratchy childhood bedsheets littered with dubious patterns for soft, silky, and luxurious ones. They can cause a pretty penny. But, knowing how much we spend our lives sleeping justifies the cost. Make your guests' stay extra cozy by investing in quality sheets for the guest bedroom. Don't forget to give some extra blankets as well.
Make a Welcome Basket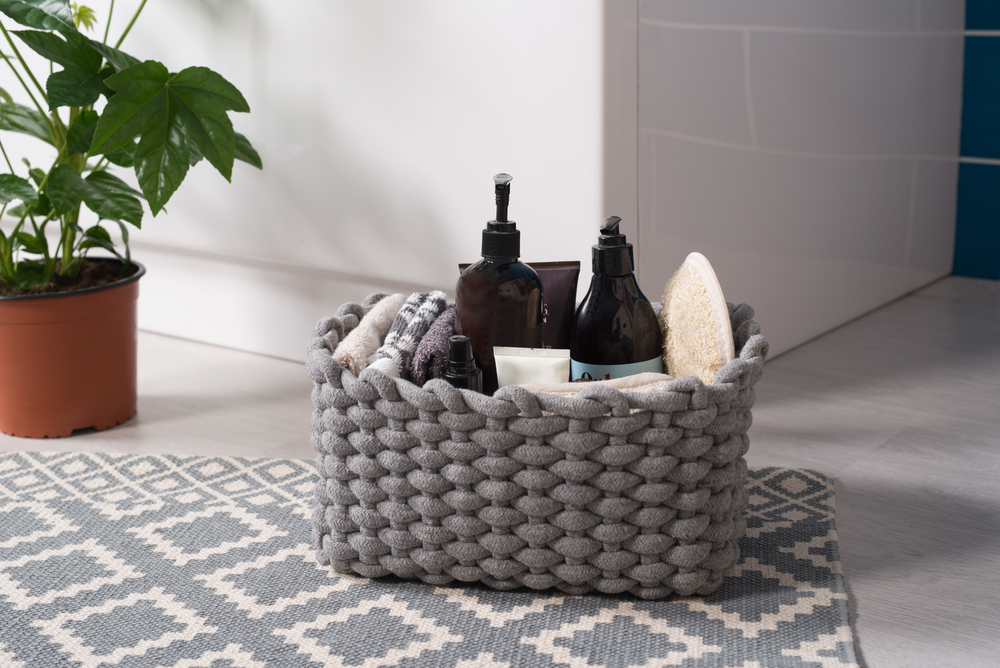 I know you have a secret stash of small shampoo and body wash vials "obtained" from hotel stays throughout the years. Now is the time to put them to good use by making a thoughtful welcome basket for your guests. Include other overnight essentials like a toothbrush, toothpaste, hand sanitizers, house slippers, and fresh towels. While you're at it, don't forget to place a jug of water on their bedside table, too. It would save them the trouble of fumbling through an unfamiliar kitchen late at night.
Spritz on Relaxing Scents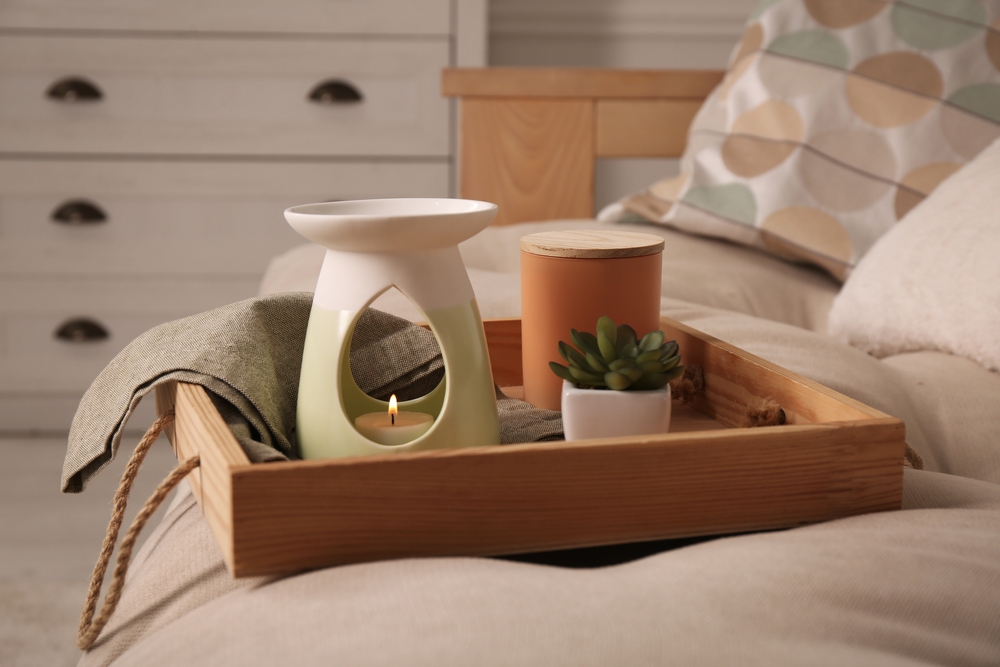 Keep the guest bedroom smelling clean and fresh all the time by popping open some windows prior to your guest's stay. There are many ways to make a room smell good aside from keeping it clean. You can get reed diffusers, scented candles, or essential oil sprays. Get relaxing scents such as lavender and chamomile. Just remember to not go too overboard with scents. We want our guests to relax and unwind, not have an allergic reaction.
Choose Calming Colors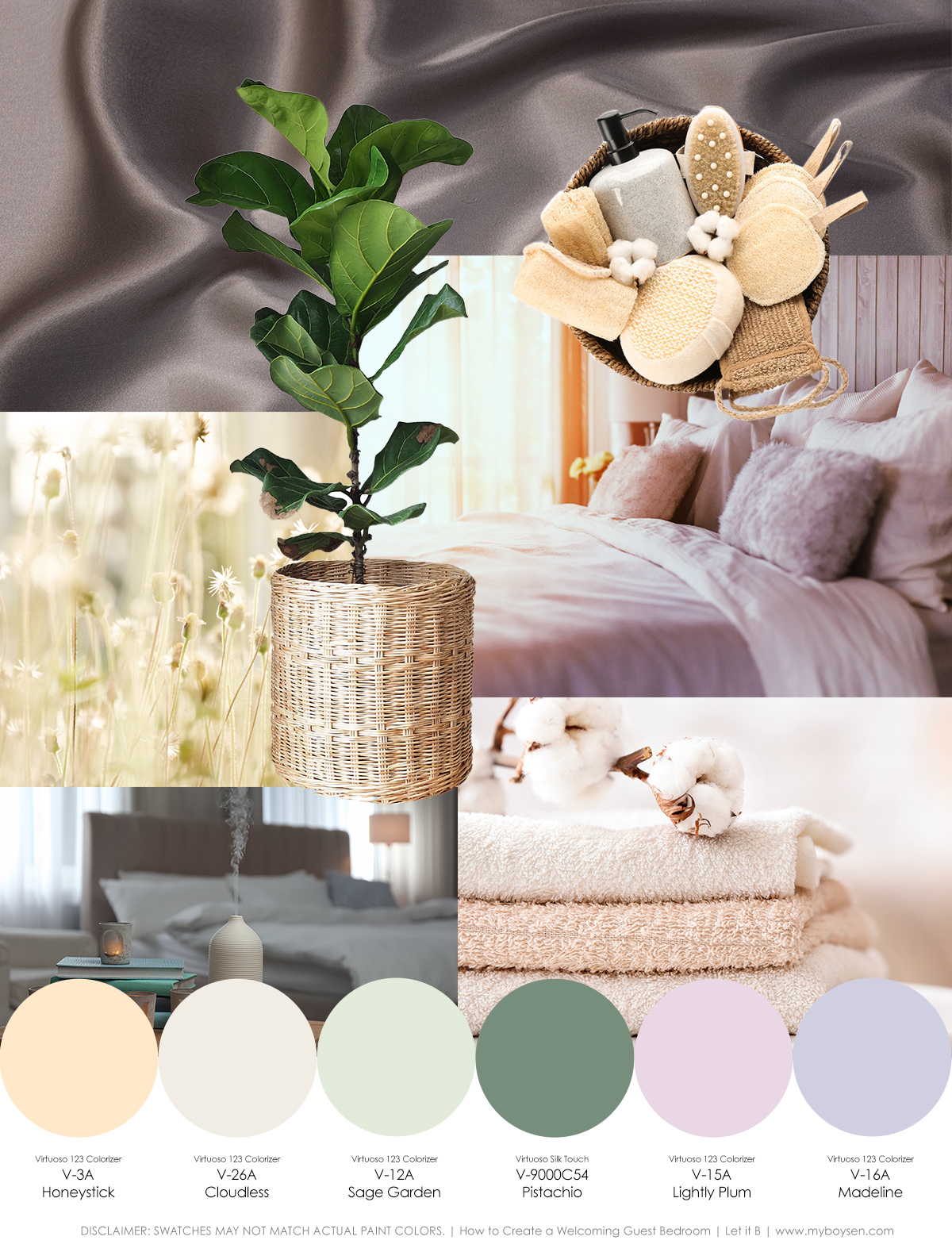 As you would choose calming and restful colors for your own bedroom, go for something relaxing for your guest bedroom as well. You can never go wrong with muted, pastel shades. Get it in a matte sheen to lessen the glare from overhead lights. Our top paint pick? Virtuoso Silk Touch. It's a water-based, low-odor, and low-VOC interior paint that dries to a luxurious matte finish. To top it off, it's also formulated with an easy-clean technology that makes it super quick and easy to wipe away common household stains from Virtuoso-painted walls.
Some Final Thoughts
Do you have any other suggestions on how to create a welcoming guest bedroom? Or have you already made the coziest, most welcoming one? Tag us on Instagram and Facebook! We'd love to see what you guys come up with. For any questions about paint, color, or other things Boysen related, send us an email at ask@myboysen.com. We're always happy to help. Don't forget to subscribe to the blog too for weekly paint inspirations delivered straight to your email. Happy hosting!