Can't seem to find "the one"? Maybe you just need a bit of help! Here are the Boysen App tools that can help you narrow down your choices and finally decide on a paint color for your project.
Color Collection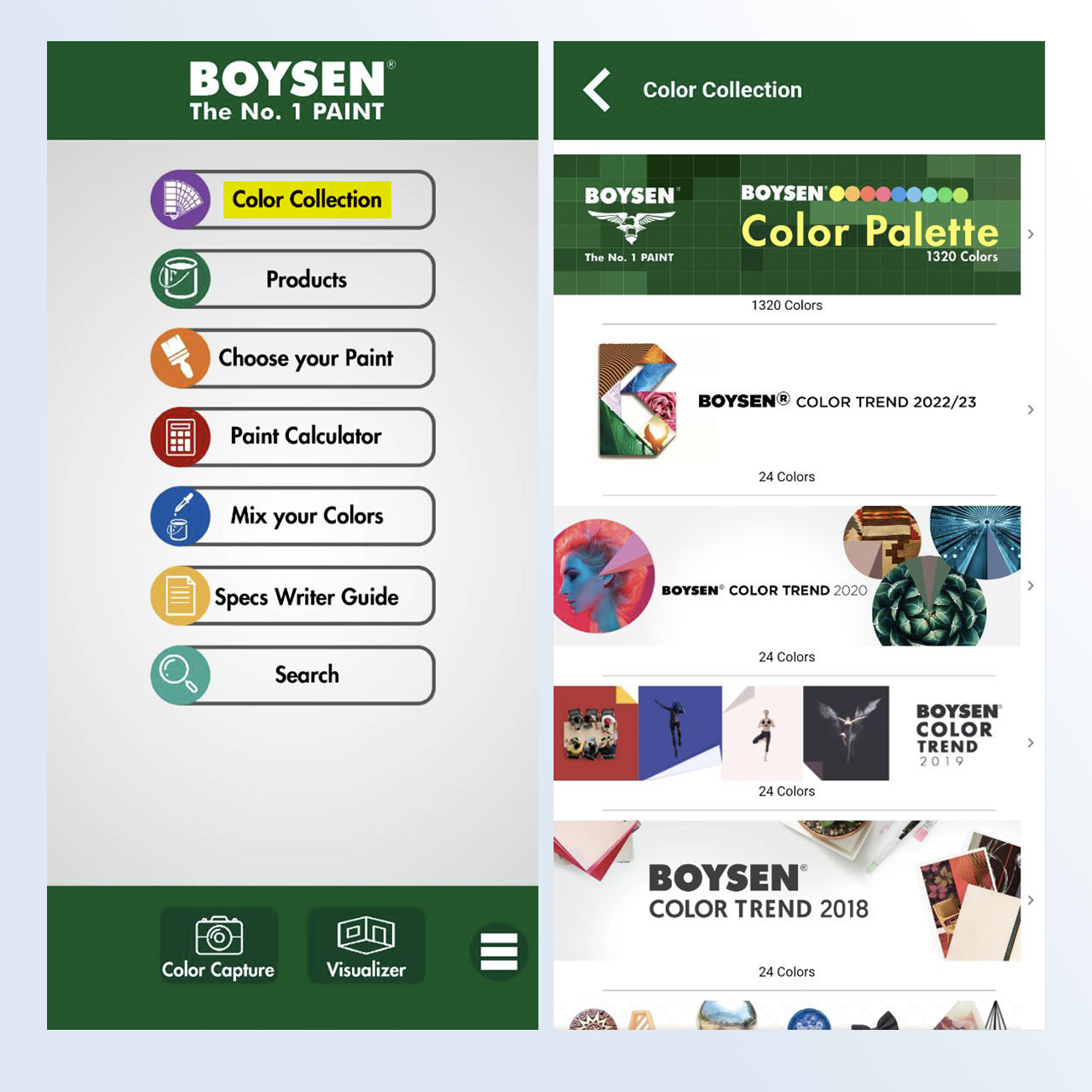 Digitally browse paint color swatches anytime, anywhere, and even without an internet connection. Tap on Color Collection from the app's homepage and you'll get access to several Boysen fan decks and Color Trend collections. With those combined, you get over a thousand paint colors to choose from!
The colors you'll find in Color Collection are available for mixing at Boysen Mix & Match stations (list of locations here). Remember to check the physical swatch of your chosen color once there as colors can appear differently when viewed on a device.
Visualizer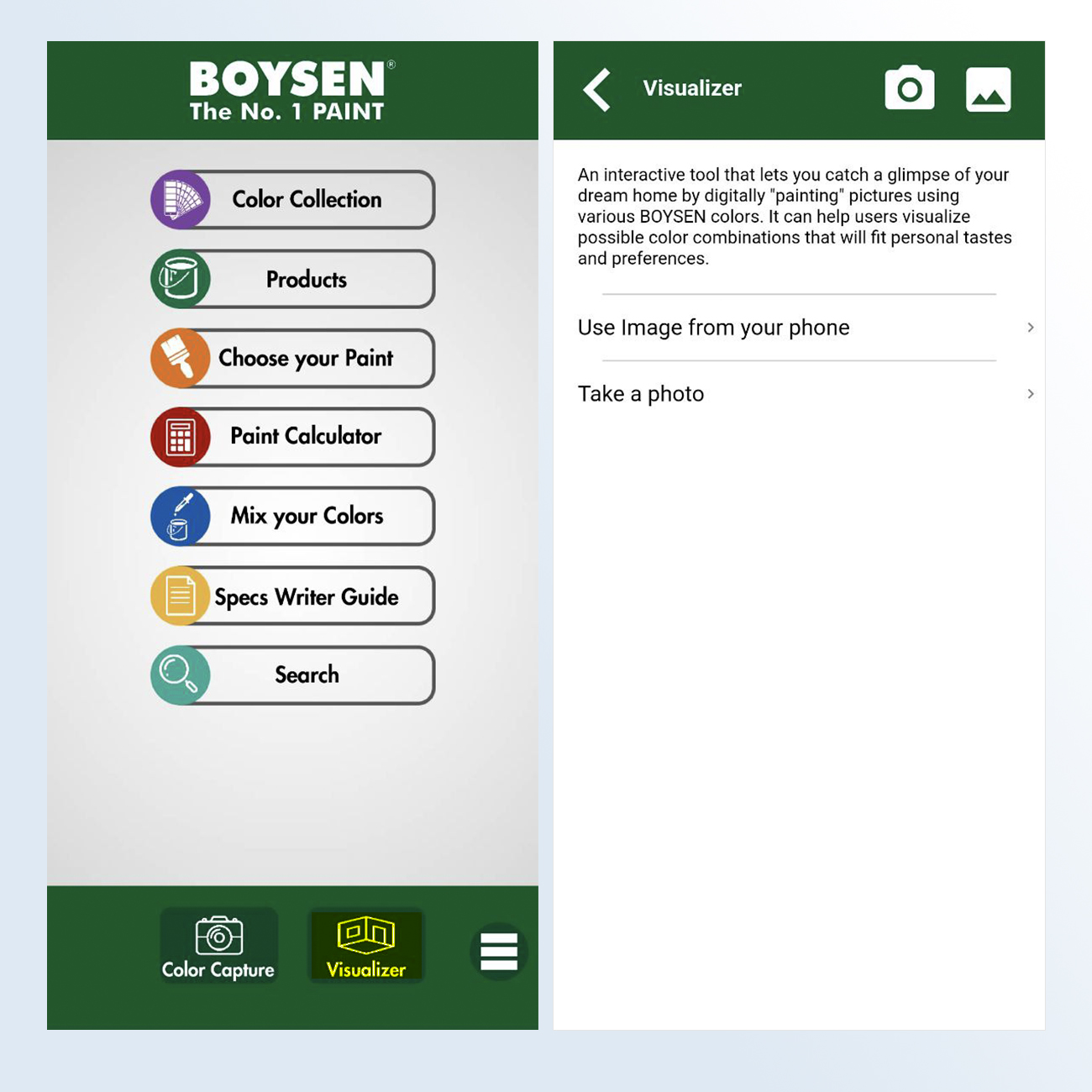 Sometimes, it's difficult to tell if your planned wall paint color is going to turn out well or not. The Boysen App can help you get a better picture—quite literally.
The Visualizer tool lets you take a photo (or choose one from your phone's gallery) and color it in using any of the more than a thousand Boysen paint colors available. This way, you get to see what your paint project may look like without having to buy anything yet.
Use it as a guide because, of course, colors can change depending on several factors including sheen and the quality of the light in the room.
Color Capture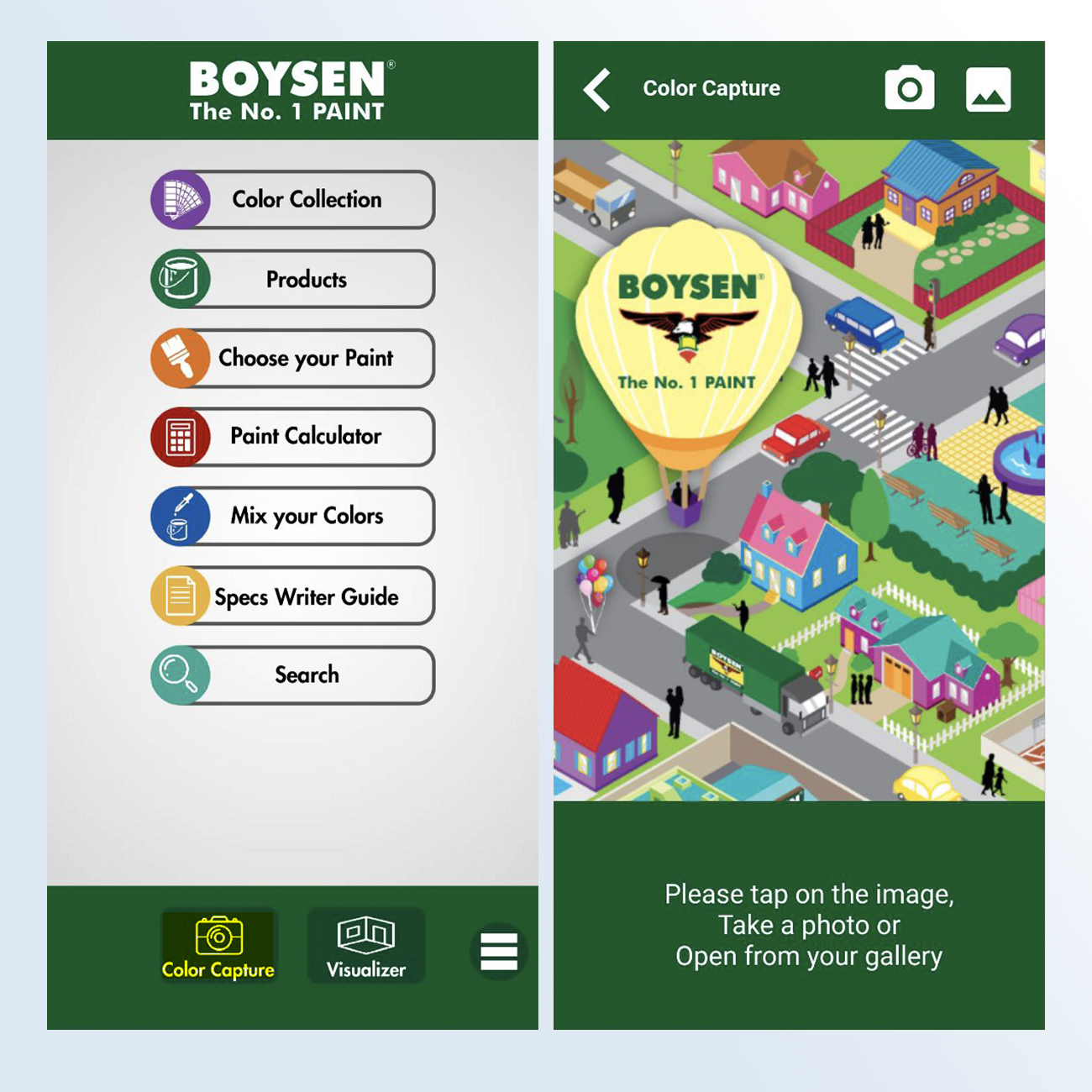 Suddenly spot a color you like while out living your life and want it as paint? No problem. Whip out your phone, open the Boysen App, and tap on Color Capture. All you need to do is snap a photo of the color (or choose one from your phone's gallery), and Color Capture will tell you its close Boysen paint colors matches. Magic!
Mix Your Colors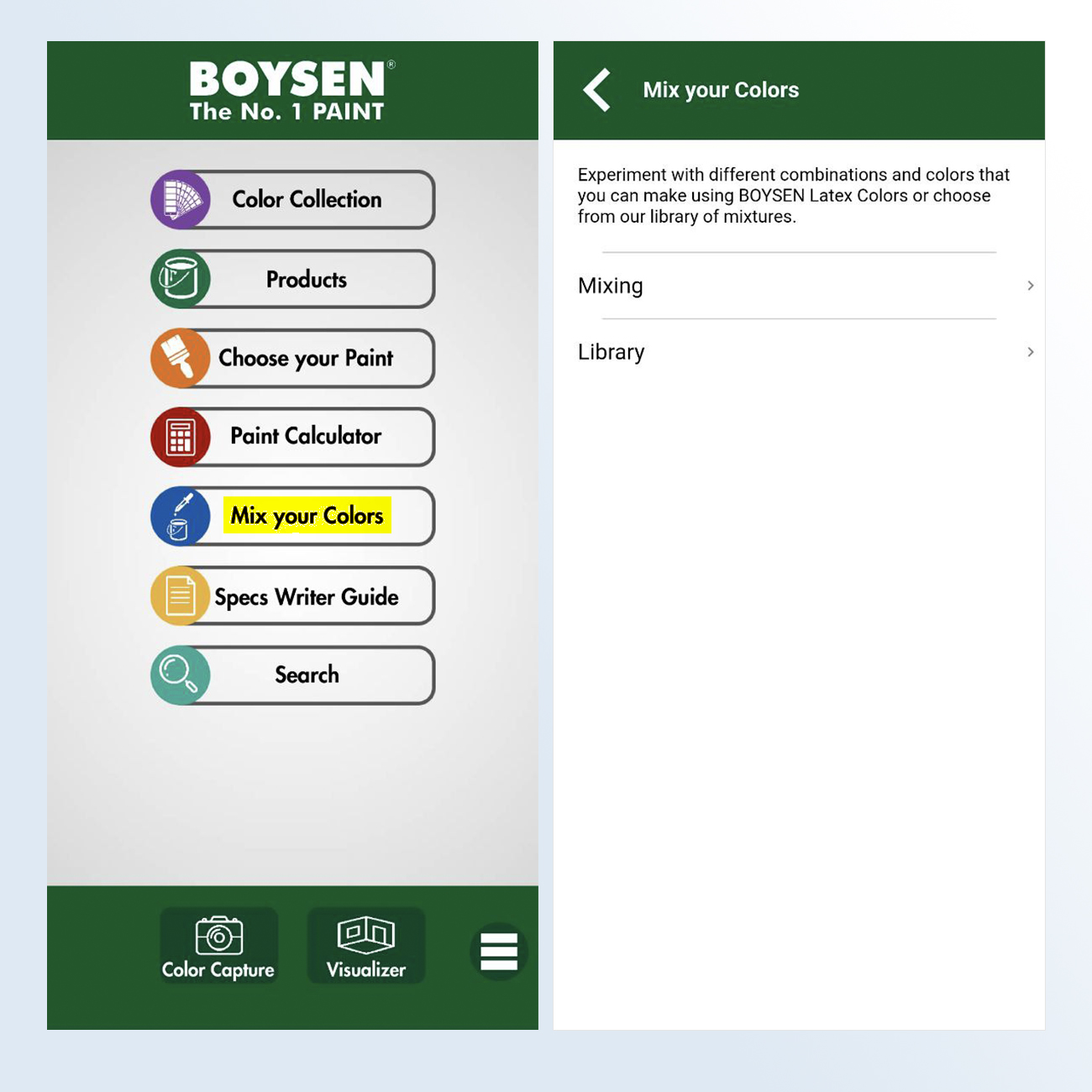 Some people prefer mixing their own paint colors. If this is you and you don't know where to start, Mix Your Colors can help. It's essentially a cheat sheet for when you want to use Boysen colorants (also called tinting colors) to mix your own paint colors.
First, Mix Your Colors gives you a library of different paint colors you can achieve through Boysen colorants and the "recipe" on how you can get the same results. Want to experiment for yourself? You can do that too. It also lets you digitally mix different colorants together so you know what you're getting even before you test them out for real.
Products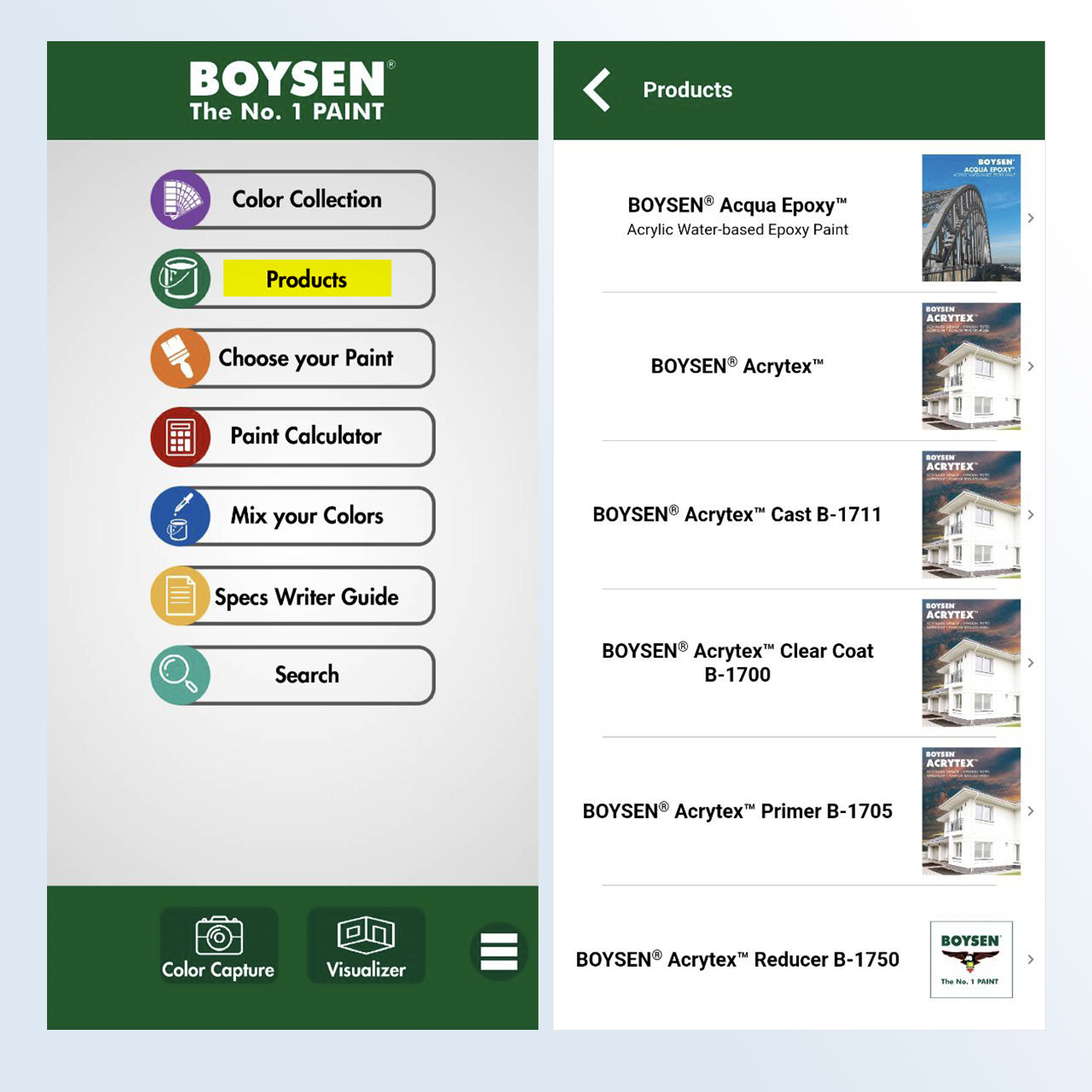 If readily available paint colors are what you're after, head to the Products section. Aside from need-to-know information about a Boysen product—like its painting schedule and technical data—you'll also get to see what colors are available for it off-the-shelf. After tapping on the product from the list, find it's readily-available colors in the "Colors/Toners" tab.
There are other useful tools and features on the Boysen App—like a paint calculator and a product recommendation tool. Explore all its features for yourself! The Boysen App is free and can be downloaded via the App Store for iOS users and the Play Store for Android users.