Itching to do something fun and productive this week? Why not drop by Interior & Design Manila in the next few days? Yes, that's right. Like many other construction expos, Interior & Design Manila is back!
Interior & Design Manila 2022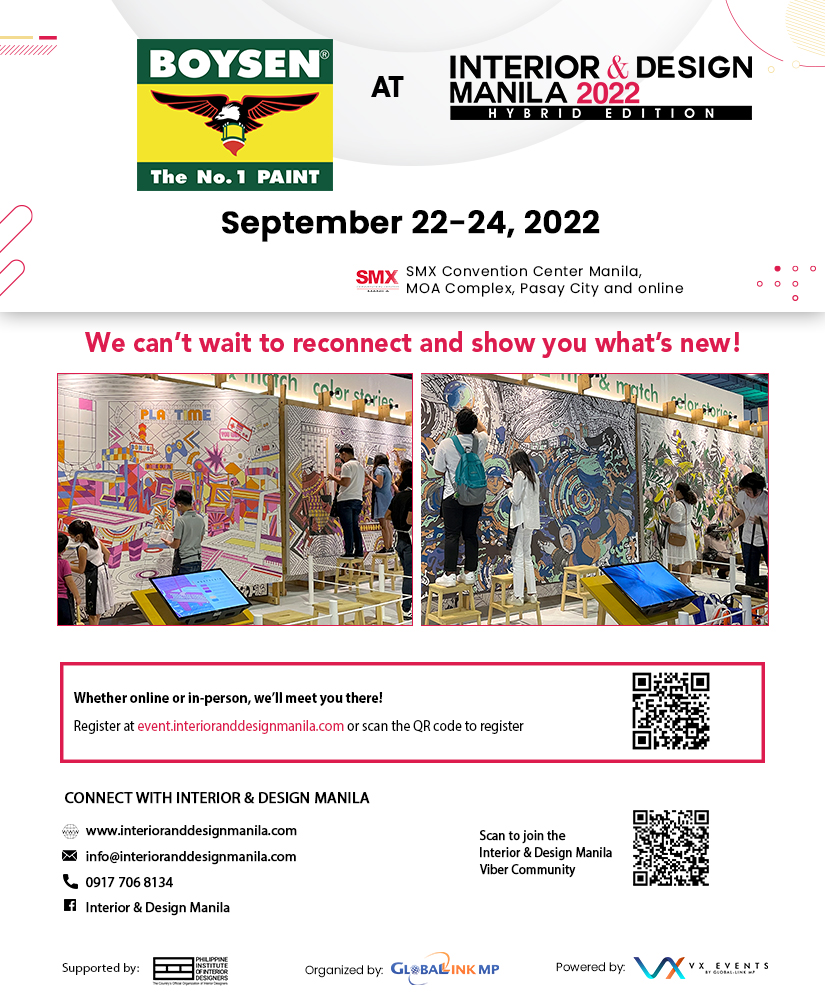 Interior & Design Manila is usually held during the first quarter of the year, around March. This time around, the event is scheduled to happen from September 22 to 24, that's Thursday to Saturday.
This exhibit sets itself apart from other construction expositions by highlighting interior design elements such as lighting, furniture, and of course, paint. So if you're looking into redesigning your living space's interiors, this might be the exhibit for you.
Oh, I forgot to mention the most important part. Admission to Interior & Design Manila 2022 is free. It's also going to be held at the SMX Convention Center near the SM Mall of Asia. Once you're done touring around the exhibit, drop by Boysen's concept store, too. The Color Library is located just across SMX, in the building where IKEA's entrance is.
BOYSEN Color Stories
One of the key aspects of bringing together your home's interiors is color. It's about mixing and matching the hues and textures found within the four walls of your space. Equally important in determining your room's statement furniture pieces is figuring out the perfect paint shade to highlight all your très chic design elements.
The BOYSEN Color Stories booth allows you to do just that. This Boysen exhibit features four super lovely murals that visitors get a chance to paint themselves. Of course, by using actual architectural paint. Boysen Permacoat Latex, to be exact. Each of these 4 murals have a different color palette to showcase. Try your hand at all four murals (because why not, am I right?) and perhaps you might just find the perfect shade for you there.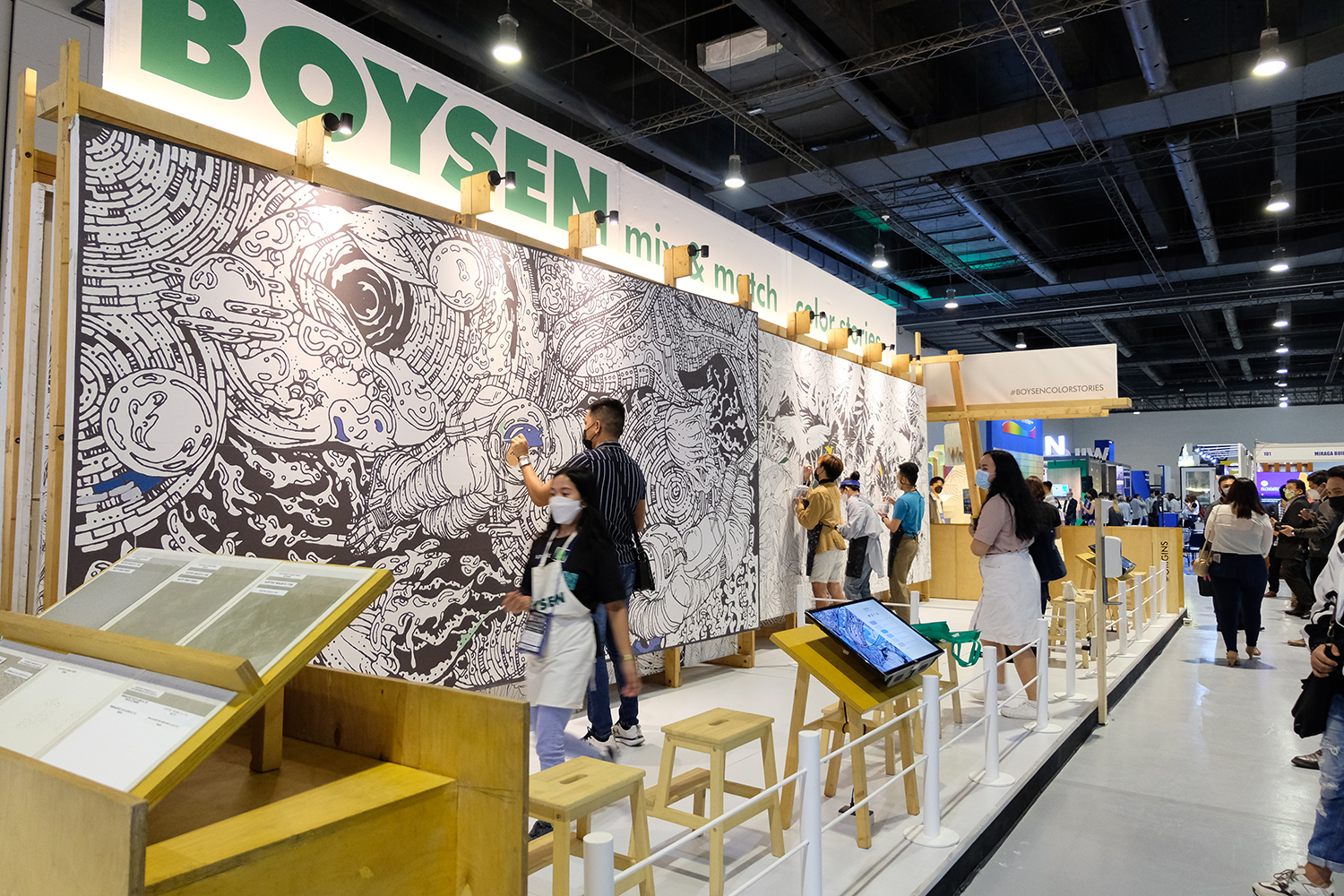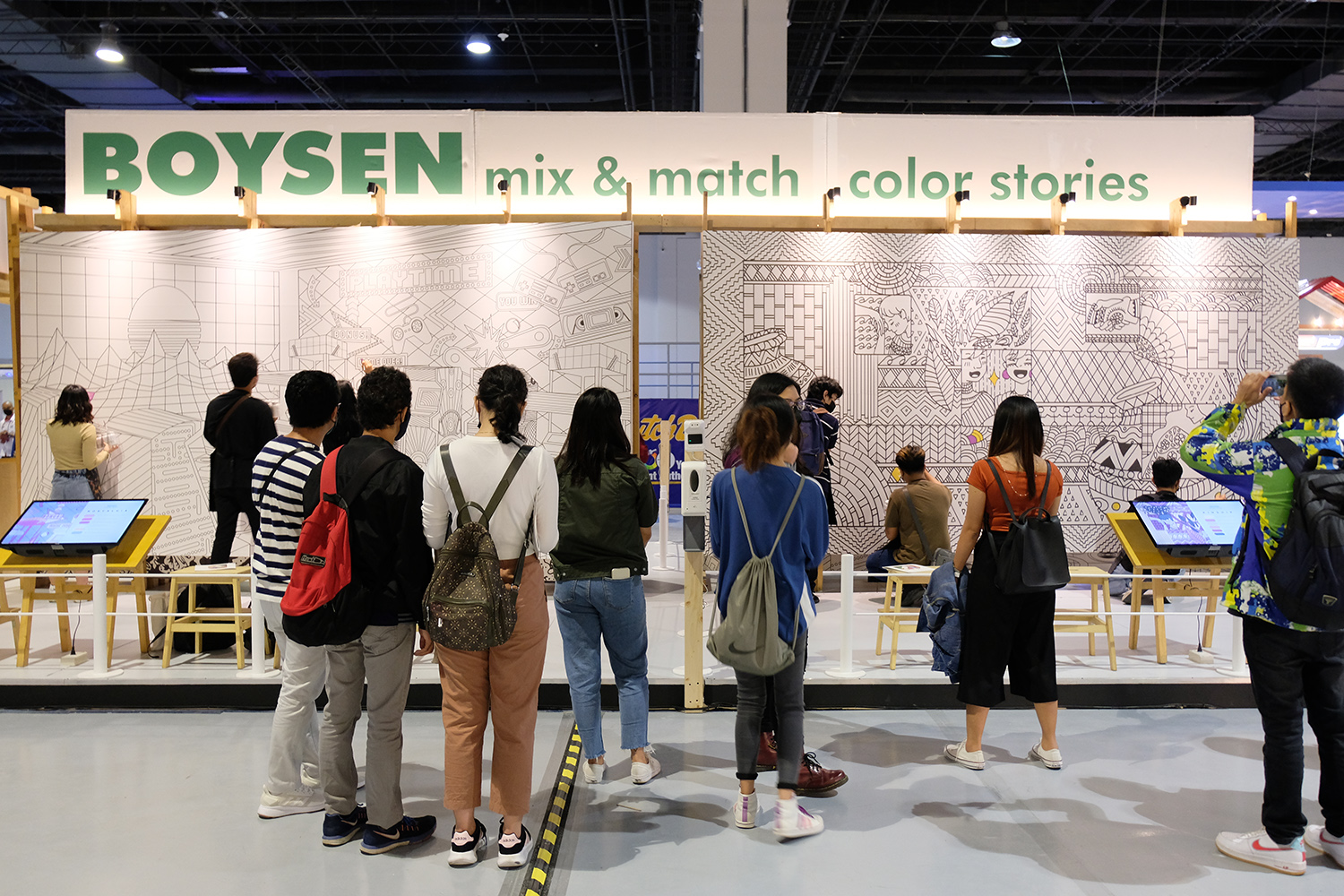 Just looking around? No worries. Visit the Boysen booth anyway because it's totally Instagrammable. It's also a cute backdrop for Tiktok videos! Tag us in our socials at Facebook and Instagram when you post.
Some Final Notes
If you can help it and your schedule permits, try attending these kinds of exhibits early in the day. Maybe as early as when the doors officially open. You can avoid the crowds then and have a picture-perfect solo shot in the BOYSEN Color Stories booth! No need for weird angles just to crop out other visitors from your photos. Don't forget to tag us on Instagram or Facebook! From someone who has been attending Interior & Design Manila for years now, bring a jacket if you tend to get cold. You'll thank me for it later.
Do you have any other questions on exhibits? Got any inquiries on paints and colors? Send us an email at ask@myboysen.com. We're always happy to help. Don't forget to subscribe to the blog for weekly updates, too. See you guys at the Boysen booth!