Summer yum goes hand in hand with summer fun, and what can be more cooling to the palate during the hot sunshiny days than sherbet! Do I hear sorbet? Well yes, that too. Ice cream? Definitely.
Although many of us are not that particular about where we get our sugar rush, these three uber-cool treats—sherbet, sorbet, and ice cream—do come with major differences.
Trivia: All three have two things in common, water and sugar. Sorbet does not contain any dairy, which is why the flavor is more tart, and is lighter and fruitier. This makes sorbet a perfect palate cleanser in between courses. Sherbet comes in between sorbet and ice cream. It contains 1-2% dairy. Ice cream has at least 10% milk fat which makes it creamier.
Indulge me, guys. I've added music to each sherbet hue because music can transport me to a world I want to inhabit at any moment. Hope the songs also bring you to that carefree place of sunlight and sherbet-colored dreams.
Sherbet Shades
Because of the addition of dairy, sherbet comes in beautiful pastel colors. They give off happy vibes. For some of us, it gives that niggling wish to drop everything and go on a revenge travel binge just about now. Have some doubts? Read on, feast your eyes on the colors, and drool.
Apricot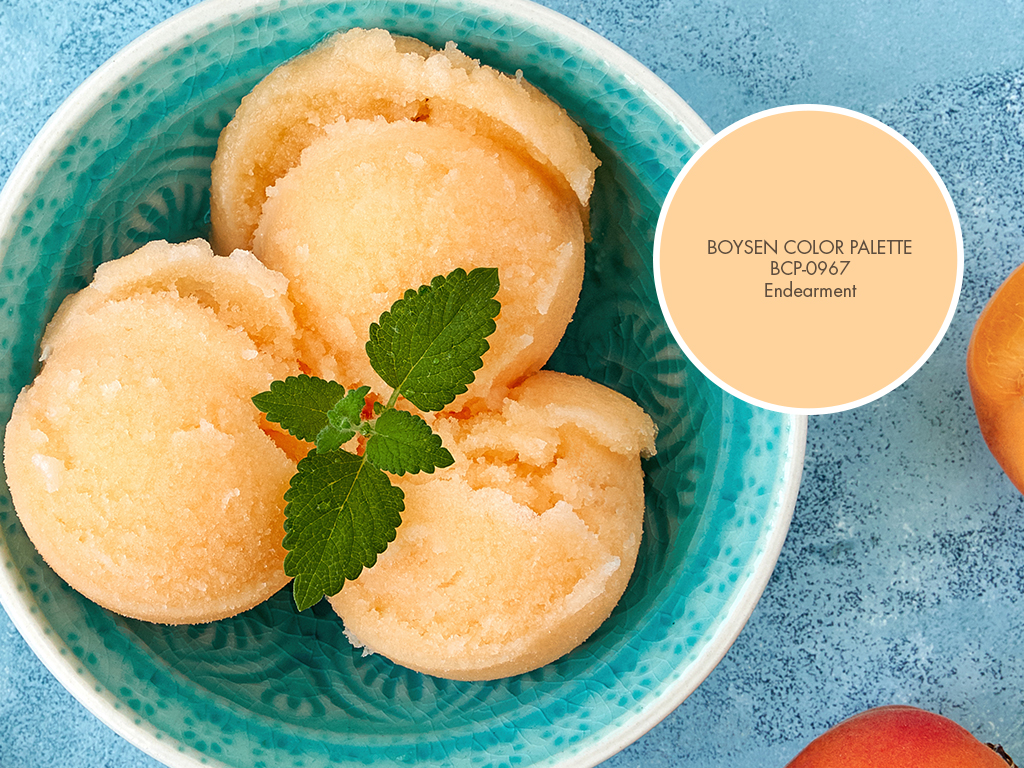 This lovely apricot shade is prized by aestheticians and their clients. Ooh to have that faint blush on the cheeks that speaks of health and natural beauty is desired by many. Do you think someone can replicate that warm glow? Yes, someone can, and his name is Mr. Sun! Get out when he's not so high in the sky, like early morning or late afternoon, and allow him to bring some color to those pale cheeks which you got from lockdowns. Good time too to soak in that essential Vitamin D! While you're at it, just imagine having this apricot sherbet to eat while lounging in a shaded arbor listening to Corinne Bailey Rae as she sings this song that evokes a carefree summer day with the besties.
The paint color Endearment, which is a close match to the frozen treat, could take the place of the blush pinks that are beloved by many. This gorgeous shade can fit any room in the house. Such an uplifting color that could brighten even dark corners or awkward spaces that need light.
Watermelon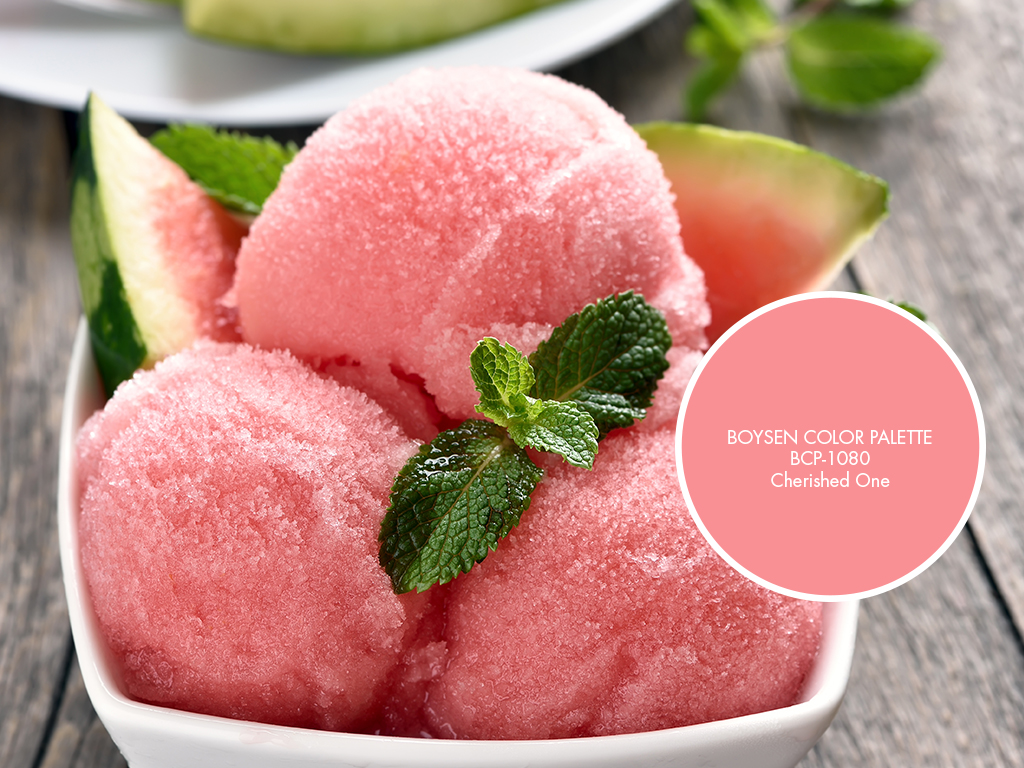 With a slice of cold watermelon in hand, plonk down on the beach right at the water's edge. Allow the waves to tickle your toes as you bite into the watermelon's fresh sweet goodness. What to do with the seeds? Just play who can spit them out the farthest. It might get messy when a brisk breeze blows them back in your face. But who cares, you can always run into the water to wash off spit and pits.
Love that paint color name Cherished One. Perfect name too for this cheerful pink color, not too pale and not too intense. Turn on Cynthia's La Mer (Beyond the Sea) and frolic around the house with a similar joie de vivre in your veins as the color and the song's lilt. A splash of this pink can brighten the home so use it on accent walls or on home decor.
Lime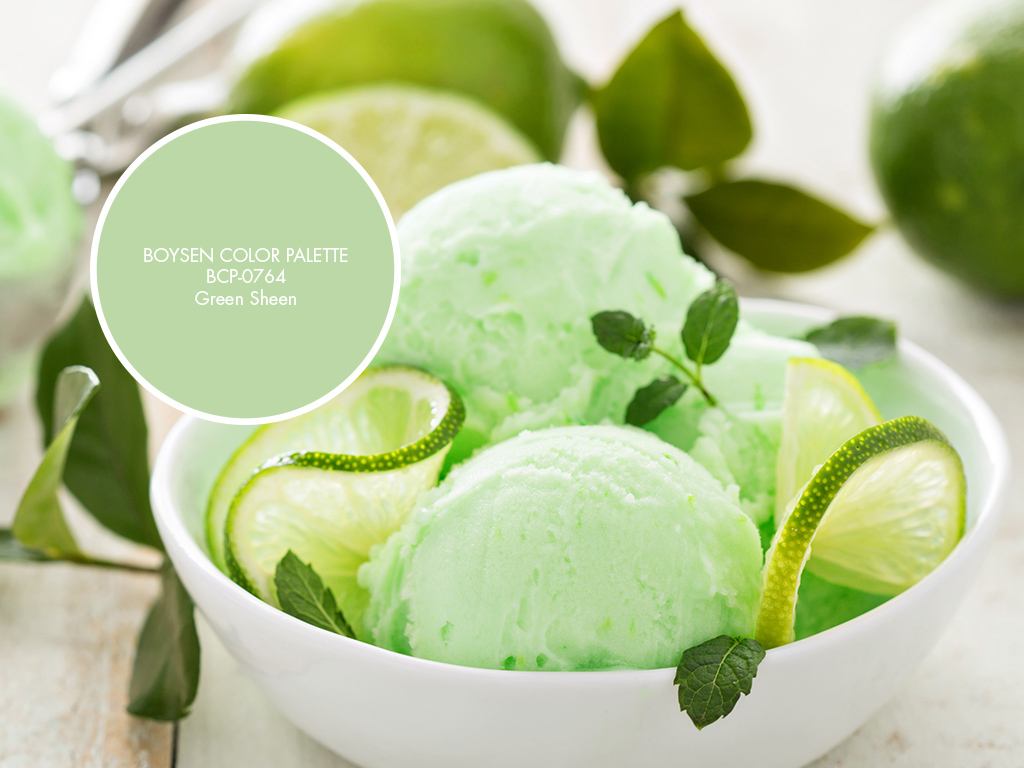 Look at that green! So fresh and inviting, like a swig of cold water on a hot summer day. That lime sherbet would be just as welcoming too. Melt a spoonful at a time in your mouth as you listen to Bella Taylor Smith sing her newly minted song just released this year.
Coat your walls with the paint Green Sheen for a fresh feel, as fresh as tiny leaves on a vine at the cusp of unfurling. This type of green goes very well with white or cream. If you want to go a dark monochromatic, then choose a deeper green like forest or bottle green. Check out the paint color Tree Hugger in the palette Renew of Boysen Color Trend 2016.
Orange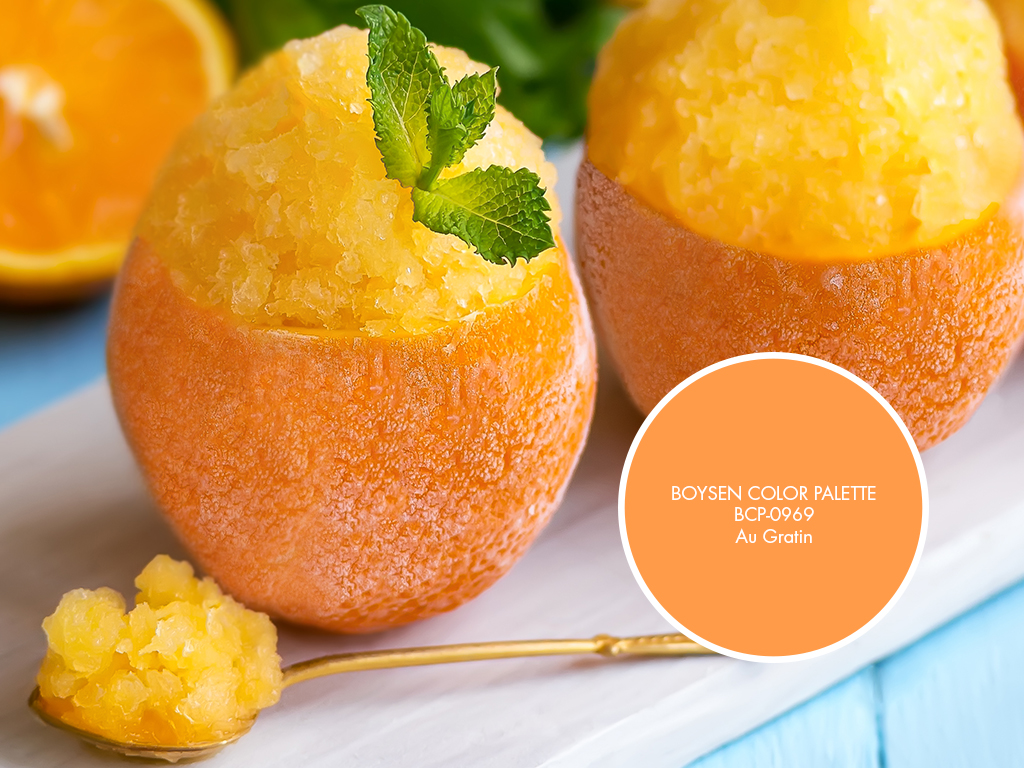 Orange has a tart but sweet taste, such a welcome tonic when you're parched. Combine orange juice and Campari in an ice-filled glass and garnish with an orange slice and you can begin your cocktail hour. Oh wait, we're talking about sherbets. Take 2: Eat orange sherbet to end a greasy meal of lechon kawali or crispy pata. You gotta have something zesty to cut the grease in your mouth. While your doing that, listen to this bouncy song by Colbie Caillat.
How can you use this intense orange paint Au Gratin? Personally, I would pair this with a bright blue like turquoise. Orange and turquoise are a winning combination. They are complementary colors that can be used to give a room high energy, so think of the living room, dining room, kitchen, the terrace, or even a powder room.  It's a combo that would fit right in our sunny climes. Hey, even our fiesta hearts beat with this effervescence.
If you are a newbie at using colors, you can have creamy white as your primary color, and use Au Gratin as tangy touches to brighten up the space. Check out some ideas on how to introduce orange and blue here.
Strawberry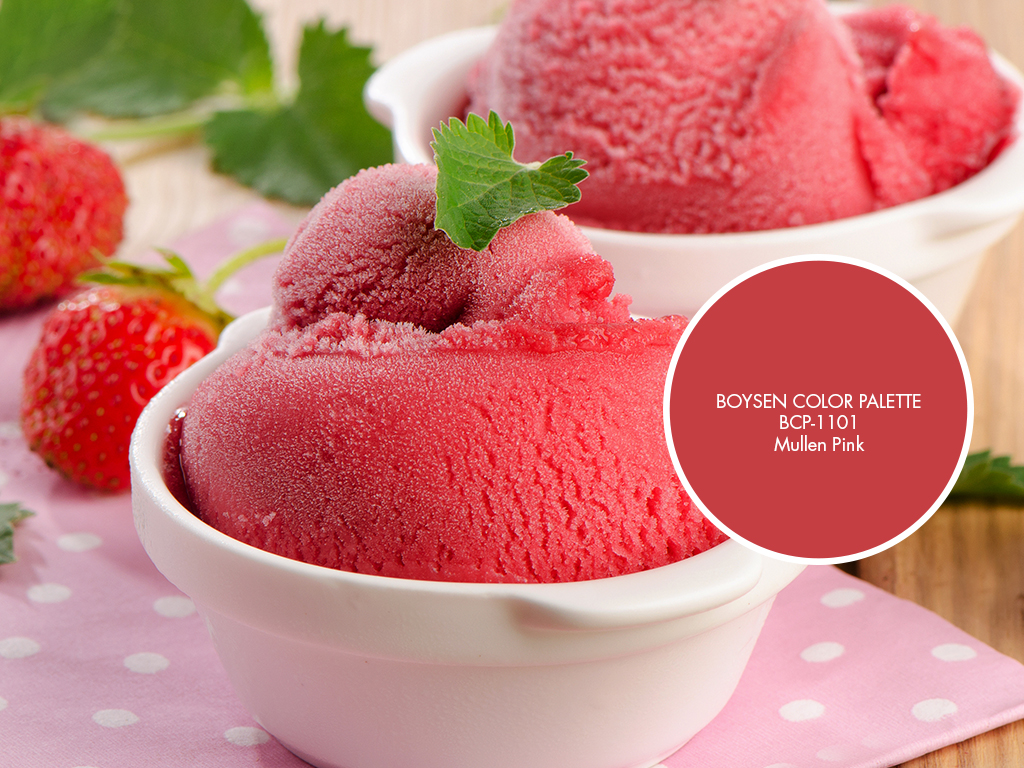 A beautiful shade of red like Mullen Pink makes a statement, the kind that says, "Eyes on me; I'm beautiful." And yes, it is beautiful which makes me think of having a dress and lipstick in that shade. But I digress. Let's go back to strawberry stories and sherbet. Easy on the eye, Mullen Pink, recommended for interiors only, is an attractive shade of red that has a deeper tint than the bright Chinese red which has a red-orange hue.
Roll the sweet and slightly sour taste of strawberry sherbet in your mouth as you listen to Enhyphen sing about an old-fashioned love that has no filters. I so don't get it but that's ok, I love the beat.
Red is such a classic color that has graced so many castles through the ages. Today, you will find red in mansions or opulent houses where it lends an air of elegance. But this is not to say that this color won't fit more modest dwellings. Red in interiors traditionally denoted status and is used in many countries. However, in the Philippines, red for home interiors is not a popular color.
If you are not afraid to try this intense color, read the post Paint Your Home a Joyful Red, and get some tips on how you can use this shade in your home.
Coconut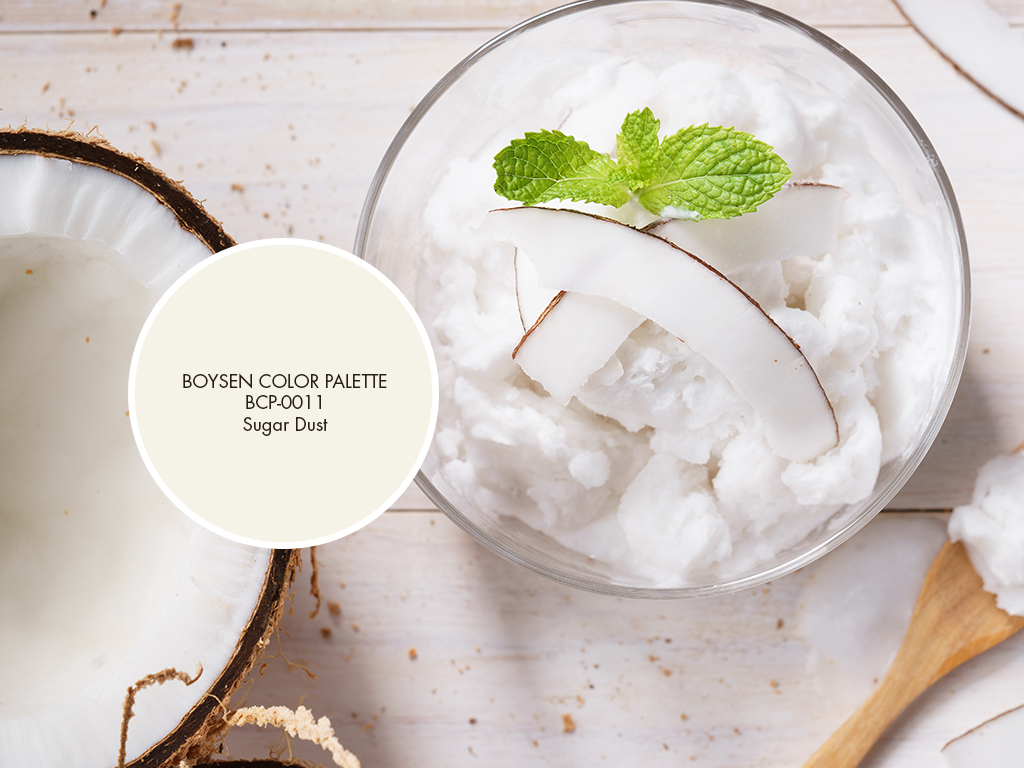 Coconut has a sweet and slightly nutty taste, and they abound in this country. Feeling hot? Quench your thirst with coconut water. Very healthy. The meat is just as scrumptious. Coconut is used in many Filipino dishes, including frozen treats. Sugar Dust is the paint color we've chosen to represent buko. If you've never slurped on a buko bar, then now is the time. You can also opt for the sherbet as you listen to Télépopmusik hypnotically go through their synthpop beats in Breathe.
Sugar Dust is the only neutral color presented in this post. It's a paint color that may become popular because of people's penchant for painting their homes white. Needless to say, you can paint your home this color inside and out. You could leave everything white, or you can use other sherbet shades to make your home more colorful.
Read about other Boysen whites here, if you think Sugar Dust is not for you.
Cantaloupe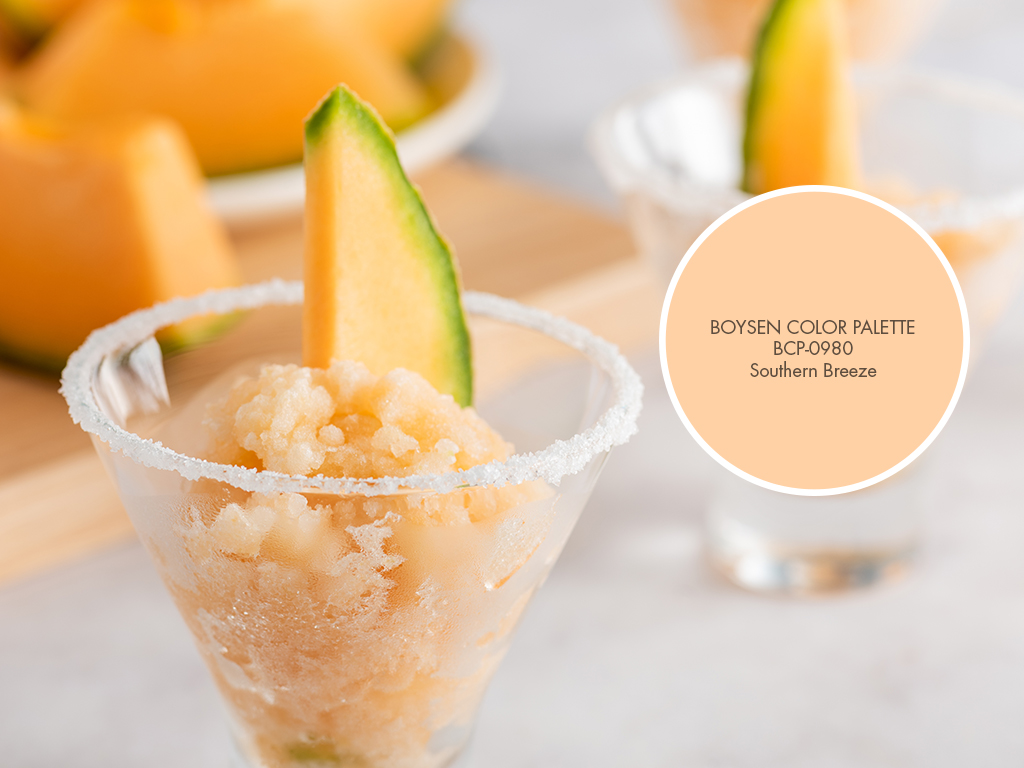 Cantaloupe sherbet is much lighter than the fruit itself, most probably coming from the milk that is one of the ingredients. The result is more burnished, lustrous, sun-kissed. Hold that in your mind as you scoop the creamy goodness while listening to this beautiful old standard by Stacey Kent.
Cantaloupe orange was a trend in 2019. Painting Southern Breeze in your home would make you feel like you're enjoying a perpetual holiday. This hue is less intense than orange and, therefore, easier to handle. This pastel color gives off an easy, breezy vibe. Because it is a pastel and an earthy color too, this makes the color versatile. Imagine this color in your home. Where do you think this paint color fits? In many rooms, right? What makes the color even more exciting is that it is easy to pair with other colors like white, tan, brown, green, pink, yellow, blue… It could make your home truly a wonderful world.
Does seeing the sherbet shades enough to make you book a vacation? If you ever find yourself waiting to board your preferred magic coach, try this quiz and find out what kind of summer treat you are. But first, hit subscribe and be part of the Let it B community. There's an abundance of good vibes and color inspirations here.